The Marsh Announces Talk Back Line Up for THE MUSHROOM CURE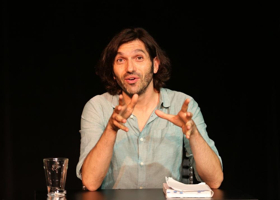 Luminaries such as Dr. James Fadiman, author Ayelet Waldman, and other unique leaders in the fields of health and psychedelics will join actor Adam Strauss following certain performances of The Mushroom Cure in Berkeley with free talkbacks April 6-21, 2018 (see specific dates and speakers below) to educate audiences on different perspectives of health pertaining to micro-dosing. The Mushroom Cure is currently playing now through April 28, 2018 with performances 8:00pm Fridays and 8:30pm Saturdays at The Marsh Berkeley, 2120 Allston Way, Berkeley. For tickets ($20-$35 sliding scale, $55-$100 reserved), the public may visit www.themarsh.org or call The Marsh box office at 415-282-3055 (open 1pm-4pm, Monday through Friday).
Inspired by a scientific study that hallucinogenic mushrooms may cure obsessive-compulsive disorder (OCD), Strauss embarked on a program of vigilante psychopharmacology. The true tale of Strauss' hilarious, harrowing, and heartrending attempts to treat his debilitating OCD with psychedelics was an Off-Broadway hit, where it was named Critics' Pick by Time Out New York, which praised it as "riveting... true-life tour de force" and hailed by The New York Times as "mining a great deal of laughter from disabling pain." Strauss will star in the Bay Area production, while The Mushroom Cure simultaneously continues its extended run in New York at Theatre 80 St. Marks with another actor taking on the lead.
Free talkback engagements following performances of The Mushroom Cure are:
Friday, April 6: "Psychedelics for PTSD, OCD, Addiction, and Depression" with Brad Burge, Director of Strategic Communications for the Multidisciplinary Association for Psychedelic Studies (MAPS), the leading psychedelic research and advocacy organization. Burge began working with MAPS in 2009, where he engages daily with journalists and media producers around the world to enhance public knowledge about psychedelic research. Burge is passionate about finding better ways for humans to work with the pharmaceutical and digital communications technologies of the 21st century.
Friday, April 13: "Psychedelics: Harm Reduction and Healing" with Emanuel Sferios, an educator, drug policy reform activist and harm reduction pioneer. In 1998 Sferios founded DanceSafe, the first nonprofit organization providing "pill testing" services to ecstasy users after counterfeit pills began killing people in the mid-90s. DanceSafe is the oldest and largest harm reduction organization in the world serving psychedelic and party drug users, with more than 35 chapters throughout North America. An outspoken critic of the drug war, Sferios has appeared on CNN, "60 Minutes," "20/20," "Dr. Drew" and many other TV shows, radio programs, podcasts, and has been featured many publications. In response to the opioid epidemic, Sferios helped test and market a new life saving harm reduction tool; fentanyl testing strips.
Saturday, April 14: "The Future of Psychedelics: Medicine, Law & Culture" with Ismail Ali sponsored by Psymposia. Ali is the Policy & Advocacy Counsel for the Multidisciplinary Association for Psychedelic Studies (MAPS) and a UC Berkeley Law Public Interest Fellow, where he advocates to eliminate barriers to psychedelic therapy and research, develops and implements legal and policy strategy, and coordinates support for clinical research in Latin America. Ali serves as Vice-Chair of the Students for Sensible Drug Policy Board of Directors.
Friday, April 20: "Microdosing for Creativity, Mood, and Love" with author Ayelet Waldman.
She is the author of A Really Good Day: How Microdosing Made a Mega Difference in My Mood, My Marriage, and My Life, the novels Love and Treasure, Red Hook Road, Love and Other Impossible Pursuits, and Daughter's Keeper, as well as of the essay collection Bad Mother: A Chronicle of Maternal Crimes, Minor Calamities, and Occasional Moments of Grace and the Mommy-Track Mystery series. She is the editor of Inside This Place, Not of It: Narratives from Women's Prisons and of the forthcoming Kingdom of Olives and Ash: Writers Confront the Occupation. Waldman was a Federal public defender and an adjunct professor at the UC Berkeley law school where she developed and taught a course on the legal implications of the War on Drugs.
Saturday, April 21: "The Psychedelic Explorer's Guide: Safe, Therapeutic and Sacred Journeys" with Dr. James Fadiman Ph.D., who began researching psychedelics with the Harvard Group, the West Coast Research Group in Menlo Park, and Ken Kesey. In 1974 he co-founded the Institute for Transpersonal Psychology, and has since continued to explore potential medical and creative uses of psychedelic drugs. In his most recent book, The Psychedelic Explorer's Guide: Safe, Therapeutic and Sacred Journeys (2011), he provides insight into safe and correct uses of psychedelic drugs. The book was inspired by his unique knowledge of psychedelic experiences and his desire to explain beneficial uses of those substances.
The Mushroom Cure, written and performed by Adam Strauss and directed by Jonathan Libman, received its West Coast Premiere in April 2017 at The Marsh San Francisco to critical acclaim and resulted in an extended 11-week run. Talkin' Broadway praised The Mushroom Cure as "a miracle of a show and a must-see," and called Strauss "a one-person tour de force." Theatrius raved it is "a hilarious ride through OCD" and "a fabulous, perceptive trip." The SF Theater Blog also noted that Strauss is "one extremely talented comedian."
The show first ran in the Edinburgh Festival Fringe garnering widespread acclaim. Critics called the show "hugely intelligent and incredibly engaging," (The Scotsman) "outstanding," (Edinburgh Festivals Magazine) and "a revelation" (Broadway Baby). Strauss' riotous tale appeared next in the New York International Fringe Festival, winning the Fringe's Overall Excellence Award for Solo Performance. It then was given its Off-Broadway premiere at New York's Cherry Lane Theatre, where it had a sold-out, extended run. The Mushroom Cure was remounted in December 2017 at Off-Broadway's Theatre 80 St. Marks. This run of the acclaimed solo show is sponsored by The Multidisciplinary Association for Psychedelic Studies (MAPS), the leading psychedelic research and advocacy organization.
The Marsh is known as "a breeding ground for new performance." It was launched in 1989 by Founder and Artistic Director Stephanie Weisman, and now annually hosts more than 600 performances of 175 shows across the company's two venues in San Francisco and Berkeley. A leading outlet for solo performers, The Marsh's specialty has been hailed by the San Francisco Chronicle as "solo performances that celebrate the power of storytelling at its simplest and purest." The East Bay Times named The Marsh one of Bay Area's best intimate theaters, calling it "one of the most thriving solo theaters in the nation. The live theatrical energy is simply irresistible."
Photo Credit: Dixie Sheridan
More Hot Stories For You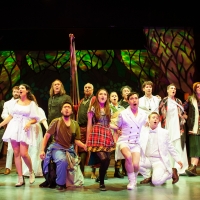 San Francisco Playhouse Resumes Performances Of AS YOU LIKE IT Musical December 3

December 2, 2022

San Francisco Playhouse resumes performances of the hit musical adaptation of William Shakespeare's As You Like It at 8pm Saturday, December 3, 2022 following a temporary pause due to breakthrough COVID-19 cases in the cast. Performances of this imaginative new musical continue through Saturday, January 14, 2023.
---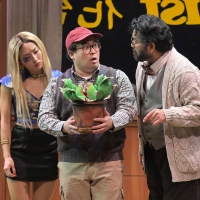 Photos: First Look at LITTLE SHOP OF HORRORS at TheatreWorks Silicon Valley

December 2, 2022

Get a first look at TheatreWorks Silicon Valley's riotous show for the holidays, Little Shop of Horrors, reset in San Francisco's Chinatown.
---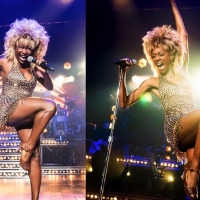 TINA: THE TINA TURNER MUSICAL to Play Limited Engagements in the SF Bay Area

December 2, 2022

TINA – THE TINA TURNER MUSICAL will play limited engagements at two venues in the San Francisco Bay Area—August 1–27, 2022 San Francisco's Golden Gate Theatre, as part of BroadwaySF's 2022/23 season and August 29–September 3, 2023 at San Jose's Center for the Performing Arts, as part of Broadway San Jose's 2022/23 season.
---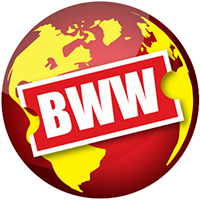 Natalie Merchant To Bring 2023 U.S. Tour To Byham Theater, April 18

November 30, 2022

The Pittsburgh Cultural Trust announces that tickets are on sale for Natalie Merchant's concert on Tuesday, April 18, 2023, at the Byham Theater, 101 6th Street, Pittsburgh, PA 15222.  This event is presented by National Artists. 
---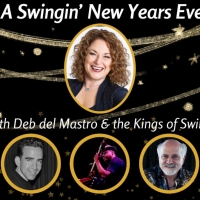 Cinnabar Theater To Host A SWINGIN' NEW YEARS EVE Concert, December 31

November 30, 2022

Petaluma's premier theater company, Cinnabar Theater, under the leadership of Artistic Director Nathan Cummings and Executive Director Diane Dragone, will host a "Swingin' New Years Eve" concert, Saturday December 31st, at 7:30pm.
---