San Francisco Opera Fall Season Continues with November–December Operas and Concerts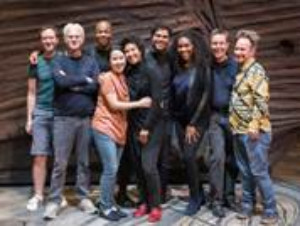 The 2017 Fall Season of San Francisco Opera continues in November and December with a new production of Jules Massenet's Manon (November 4-22), Giacomo Puccini's Turandot (November 18-December 9) and the highly anticipated world premiere of John Adams' Girls of the Golden West (November 21-December 10). Special concert presentations include the San Francisco Opera Chorus (November 30), the popular award-winning New Zealand vocal trio Sol3 Mio performing with the San Francisco Opera Orchestra (December 1) and The Future Is Now: Adler Fellows Concert (December 8). The Company's 95th season culminates in June 2018 with Wagner's Der Ring des Nibelungen.
Massenet: Manon (November 4-22)
After an absence of nearly two decades, Massenet's Manon returns to the War Memorial Opera House stage on November 4 in a new production by Vincent Boussard. Composed at the height of the Belle Époque, Massenet's romantic tragedy follows a young beauty who forsakes true love for a life of wealth and extravagance as the toast of Paris. Manon features soprano Ellie Dehn in the title role and tenor Michael Fabiano as Chevalier des Grieux. French conductor and Massenet specialist Patrick Fournillier leads the San Francisco Opera Orchestra.
Ellie Dehn thrilled San Francisco Opera audiences last summer in what the San Francisco Chronicle called a "sumptuous, sparkling turn as the sexually irresistible Musetta" in Puccini's La Bohème. In her sixth leading role with the Company, the American soprano takes on the ebullient and capricious Manon for the first time. In another exciting role debut, internationally-acclaimed American tenor Michael Fabiano, who was recently praised by the New York Times for his "sensitive, vibrant lyric tenor," adds the role of Chevalier des Grieux to his expanding repertory.
San Francisco Opera's cast for Manon also features baritone David Pershall as Manon's cousin Lescaut, bass James Creswell as Comte des Grieux, baritone Timothy Mix as the wealthy tax collector De Brétigny and tenor Robert Brubaker as Guillot de Morfontaine. Soprano Monica Dewey makes her Company debut as Pousette, soprano Laura Krumm is Javotte and mezzo-soprano Renée Rapier is Rosette.
French director Vincent Boussard, whose staging of Bellini's I Capuleti e i Montecchi was presented at San Francisco Opera in 2012, returns to direct his sensual interpretation of Manon, a co-production with the Lithuanian National Opera and Ballet Theatre and the Israeli Opera. Boussard noted: "I believe that the story of a young lady who wants to listen to a call for freedom and pleasure belongs to our period of time." The production features sets designed by Vincent Lemaire, costumes designed by Boussard and lighting by Gary Marder.
Puccini: Turandot (November 18-December 9)
After opening the 2017 Fall Season in a revival of David Hockney's vivid and colorful production, which "continues to underscore perfectly the alarming power of Puccini's work" (San Francisco Chronicle), Turandot returns November 18. Bringing her acclaimed portrayal of Princess Turandot to the War Memorial Opera House stage for the first time, internationally renowned Swedish soprano Nina Stemme heads the cast. During her previous Company appearances as Brünnhilde in Wagner's Ring, the Mercury News praised Stemme as "a singer of arresting power and sheer delicacy, her voice both spacious and focused. And filled with color."
American tenor Brian Jagde, who "sounded radiant and hit all his high notes with aplomb" (San Francisco Examiner) when he performed his first Calaf on opening night of San Francisco Opera's 2017-18 Season, reprises the role. Leah Crocetto sings Liù, a breakout role for the American soprano when she first essayed the part on the stage of the War Memorial Opera House in 2011. Crocetto also won acclaim for her portrayal of the tragic heroine at her Metropolitan Opera debut in 2015. Cast members also include American bass Soloman Howard in his Company debut as Timur and conductor Christopher Franklin who makes his first appearance leading the San Francisco Opera Orchestra.
Adams: Girls of the Golden West (November 21-December 10)
From the composer of Nixon in China, The Death of Klinghoffer and Doctor Atomic, comes "the most eagerly anticipated new opera of the season" (New York Times): the world premiere of John Adams' Girls of the Golden West. With a libretto by director Peter Sellars, the work explores the true and often brutal stories of pioneers during the California Gold Rush. Created expressly for San Francisco Opera, the opera is a co-production with the Dallas Opera and Dutch National Opera, Amsterdam.
Set in historic mining sites high in the Sierra Nevada Mountains only 200 miles away from San Francisco, Girls of the Golden West premieres in the city which owes much of its early growth and enterprising spirit to the Gold Rush, a global event that attracted unprecedented multitudes from around the world. Dramatizing the 49ers' humorous, heroic and violent experiences on California's challenging frontier, the libretto for Girls of the Golden West is drawn from period sources including The Shirley Letters, Louise Clappe's elegant and vivid accounts, written under the pen name "Dame Shirley," about the rugged conditions in the gold fields; abolitionist Frederick Douglass' speech "What to a slave is the fourth of July?"; diaries of Chilean miners; poetry of Chinese and Argentinian settlers; songs of the period; and Mark Twain's Roughing It.
Conductor and frequent Adams collaborator Grant Gershon leads the San Francisco Opera Orchestra and an exceptional cast, including Julia Bullock (Dame Shirley), Hye Jung Lee (Ah Sing), J'Nai Bridges (Josefa Segovia), Paul Appleby (Joe Cannon), Davóne Tines (Ned Peters), Elliot Madore (Ramón), Ryan McKinny (Clarence King) and dancer Lorena Feijóo (Lola Montez). Sellars anchors a production team from the worlds of opera, theater and cinema, including set designer David Gropman, costume designer Rita Ryack, lighting designer James F. Ingalls, sound designer Mark Grey and choreographer John Heginbotham.
In support of the premiere, San Francisco Opera and other leading cultural institutions will present an array of public events and exhibitions from September through December, including an all-day, multidisciplinary symposium at the Dianne and Tad Taube Atrium Theater on October 28. Girls of the Golden West ancillary activities range from discussions with the opera's creators and cast to public exhibitions and examinations of the work's rich historical setting and sources, especially the California history classic The Shirley Letters. For a full calendar of Girls of the Golden West ancillary activities, please visit sfopera.com/ggwevents.
SAN FRANCISCO OPERA CHORUS CONCERT
Taube Atrium Theater, November 30
On Thursday, November 30 at 8 p.m., the San Francisco Opera Chorus will perform in the intimate Taube Atrium Theater. Under the baton of Chorus Director Ian Robertson and with Associate Chorus Master Fabrizio Corona at the piano, the 47-member chorus will perform sacred, secular and operatic music by J.S. Bach, di Lasso, Elgar, Ešenvalds, Massenet, O'Regan, Poulenc, Praetorius, Puccini, Purcell, Verdi and Wagner. For more information, visit sfopera.com/chorusconcert.
SOL3 MIO WITH THE SAN FRANCISCO OPERA ORCHESTRA
War Memorial Opera House, December 1
The critically-acclaimed New Zealand trio Sol3 Mio will take to the War Memorial Opera House stage on Friday, December 1 at 7:30 p.m. for a special holiday concert. This exclusive San Francisco Opera presentation of Samoan brothers and Adler Fellow tenors Pene Pati and Amitai Pati, and their Samoan cousin baritone Moses Mackay, will feature the popular trio in a program of holiday favorites, operatic works, crossover hits and songs from the South Pacific. Robert Mollicone, a former San Francisco Opera Adler Fellow, makes his mainstage debut conducting the San Francisco Opera Orchestra.
Known for their impassioned singing and brotherly bonhomie onstage, Sol3 Mio brings classically trained voices and operatic credentials (Pene Pati was the Duke of Mantua in Verdi's Rigoletto at San Francisco Opera last summer) to a wide repertory. The group's multi-platinum album sales in New Zealand, performances throughout the country and visits to Australia, Japan, Europe and Hawaii have earned them an enormous audience at home and abroad. To learn more about Sol3 Mio and hear excerpts, visit sol3mio.com. For more information, visit sfopera.com/sol3mio.
THE FUTURE IS NOW: ADLER FELLOWS CONCERT
War Memorial Opera House, December 8
The annual concert showcasing the San Francisco Opera Center Adler Fellows, The Future Is Now, will be held on Friday, December 8 at 7:30 p.m. at the War Memorial Opera House. Stage director and first-year Adler Fellow Aria Umezawa stages this program of arias and operatic scenes featuring the 2017 class of Adler Fellows accompanied by the San Francisco Opera Orchestra. Conductor James Gaffigan leads the Orchestra in his Company debut. For more information, visit sfopera.com/futureisnow.
TICKETS AND INFORMATION
Tickets for Manon, Turandot and Girls of the Golden West are priced from $26 to $398. Please visit sfopera.com for further details or call the Opera Box Office at (415) 864-3330. San Francisco Opera Box Office hours are Monday 10 a.m.-5 p.m.; Tuesday through Friday 10 a.m.-6 p.m.; Saturday 10 a.m.-6 p.m. during performance season. Standing Room tickets go on sale at 10 a.m. on the day of each performance; standing room tickets are $10 each, cash only and limited to two tickets per person. Casts, programs, prices and schedules are subject to change.
All War Memorial Opera House opera performances are preceded by an informative Pre-Opera Talk beginning 55 minutes prior to curtain. Pre-Opera Talks are free of charge to patrons with tickets for the corresponding performance. Visit sfopera.com/learn for information about the Company's lectures, preview events and enrichment programs.
OperaVision screens, suspended from the ceiling of the balcony section at selected performances, provide close-up and mid-range ensemble shots in high-definition video; English subtitles appear at the bottom of each screen. OperaVision is made possible by the Koret-Taube Media Suite.
Tickets for the San Francisco Opera Chorus Concert on November 30 at the Taube Atrium Theater are $35 and seating is general admission. Tickets for the Sol3 Mio concert on December 1 at the War Memorial Opera House range from $20 to $100. Tickets for The Future Is Now: Adler Fellows Concert on December 8 at the War Memorial Opera House range from $30 to $80.
The War Memorial Opera House is located at 301 Van Ness Avenue. The Dianne and Tad Taube Atrium Theater is in Diane B. Wilsey Center for Opera, which is located on the fourth floor of the Veterans Building at 40t Van Ness Avenue. Patrons are encouraged to use public transportation to attend San Francisco Opera performances. The War Memorial Opera House and Veterans Building are within walking distance of the Civic Center BART Station and near numerous bus lines, including 5, 21, 47, 49 and the F Market Street. For further public transportation information, visit bart.gov and sfmta.com.