Photo Flash: ThetareWorks Presents West Coast Premiere of 'Grey Gardens'
TheatreWorks presents the first post-Broadway production of the Tony Award-winning and scandalously delicious musical Grey Gardens. Adapted for the stage by Pulitzer Prize-winning playwright Doug Wright, composer Scott Frankel, and lyricist Michael Korie, the enigmatic and musically-astounding Grey Gardens, winner of three Tony Awards, takes us on the alternately heart-warming and heart-breaking journey of the eccentric Edith and Edie Bouvier Beale (aunt and cousin to Jacqueline Kennedy) who became East Hampton's most notorious recluses.

Helmed by acclaimed Bay Area director Kent Nicholson, TheatreWorks has assembled a stellar cast that includes New York actors Dale Soules (from the original New York cast of Grey Gardens) Beth Glover, Nicholas Galbraith, Elisa Van Duyne, and Michael Winther, along with Bay Area actors Michael LeRoy Brown, Kathryn Foley, Carolyn Di Loreto, Isabella Wilcox, and Paul Myrvold. Grey Gardens plays August 20-September 14 (press opening: August 23) at TheatreWorks at the Mountain View Center for the Performing Arts. For tickets ($26-$64) and information, the public may call (650) 903-6000 or visit TheatreWorks.org.

Edith ("Big Edie") Ewing Bouvier Beale and her daughter Edith ("Little Edie") Bouvier Beale were once the toast of the New York social circle of the 1940s. Grey Gardens brings to life a delightfully eccentric tale of fallen American royalty. Once among the brightest names in the pre-Camelot social register, the Beales became East Hampton's most notorious recluses. This alternately hilarious and heartbreaking saga, called "An experience no passionate theatergoer should miss" by The New York Times, chronicles their journey from giddy fortune to seclusion. The story was first told in the 1975 documentary "Grey Gardens," which was adapted into this musical by composer Scott Frankel, and lyricist Michael Korie, with book by Doug Wright. Grey Gardens opened off-Broadway at Playwrights Horizons in 2006, and transferred to Broadway later that year. The show ran for 33 previews and 307 performances, and went on to be nominated for ten Tony Awards in 2007, winning three.
TheatreWorks is happy to welcome Dale Soules, who will play the role of "Big Edie" Bouvier Beale (Act 2), the part she understudied and went on to play on Broadway. A veteran of more than 40 years on the New York stage, she made her Broadway debut in HAIR. Her other Broadway credits include THE CRUCIBLE and THE MAGIC SHOW, in which she introduced the Stephen Schwartz songs "The Lion Tamer" and "West End Avenue." Her Off-Broadway, regional, film and television credits are extensive.

Joining TheatreWorks in Grey Gardens as Edith Bouvier Beale (Act 1) and "Little" Edie Beale (Act 2) is Beth Glover, whose career has spanned film, television, and stage. She has been featured in several national tours, including ALL SHOOK UP; DIRTY BLONDE; PROMISES, PROMISES; and ANYTHING GOES, and even opened for Ray Charles. Some of her off-Broadway work includes the Drama Desk Award-nominated TAKE ME ALONG, HEARTBREAK, PRIME TIME PROPHET, and THE FALL.

Also making her TheatreWorks debut is Elisa Van Duyne as the youngest Edie Beale (Act 1) in Grey Gardens. Van Duyne's credits include roles on Broadway in productions of 110 IN THE SHADE, BEAUTY & THE BEAST, and 42ND STREET, in addition to the off-Broadway New York City premiere of Christopher Durang's ADRIFT IN MACAO. She has toured nationally and internationally in WHITE CHRISTMAS, as Betty, and PHANTOM OF THE OPERA, as Christine, and with Tommy Tune in DOCTOR DOLITTLE.

Director Kent Nicholson is Director of New Works for TheatreWorks, where he most recently helmed Ambition Facing West, Vincent in Brixton, and an acclaimed revival of Arthur Miller's All My Sons. Other recent directing credits include the West Coast Premiere of The Good German at Marin Theatre Company and the World Premiere of We Are Not These Hands at Crowded Fire Theatre Company, where he acts as the co-Artistic Director. Additional directing credits include Sacrament! with Dave Eggers at Campo Santo, Five Flights starring Alice Ripley at the Rattlestick Theatre in New York, the World Premiere of Kissing the Witch and the American Premiere of Stones in His Pockets, both for the Magic Theatre, where he served as Associate Artistic Director. Nicholson has also directed notable productions of Barrio Hollywood for Borderlands Theatre and Swimming in the Shallows by Adam Bock (winner of Bay Area Critics Circle Awards for Best Production, Best New Play, and Best Ensemble) for Shotgun Players, where he also directed David Mamet's The Water Engine. New play development credits include pieces for TheatreWorks, Theatre of NOTE (LA), Playwrights Horizons (NY), and The Lark (NY).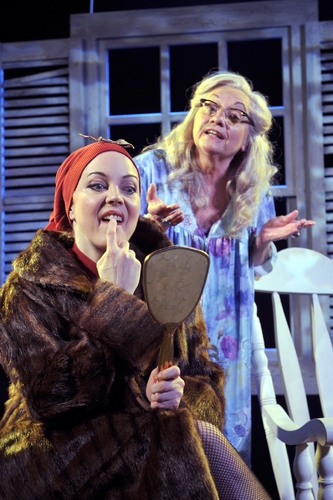 Beth Glover and Dale Soules

Beth Glover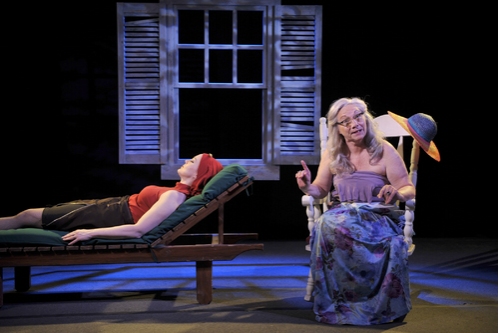 Beth Glover and Dale Soules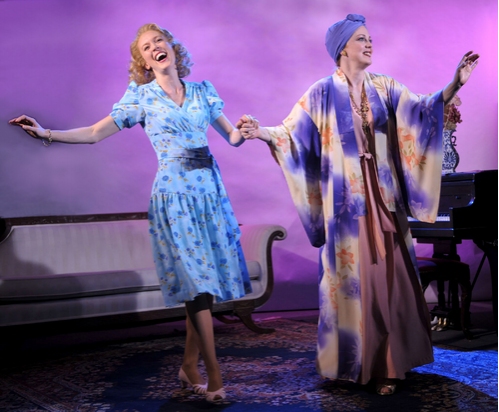 Eliza Van Duyne and Beth Glover

Eliza Van Duyne, Nicholas Galbraith and Beth Glover

Eliza Van Duyne, Nicholas Galbraith and Beth Glover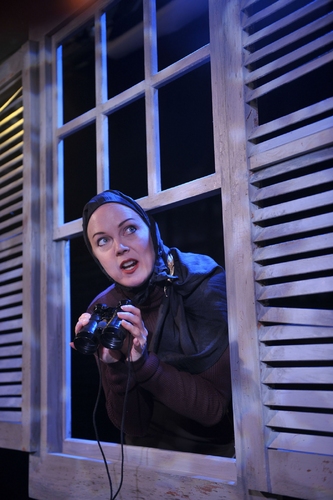 Beth Glover

Photos by David Allen