Click Here for More Articles on OPERA - SAN FRANCISCO
Photo Flash: New Staging of ELEKTRA Thrills at San Francisco Opera
San Francisco Opera's production of Richard Strauss'Elektra opens in a new staging by acclaimed English director Keith Warner at the War Memorial Opera House on Saturday, September 9. Absent from the Company's repertory for two decades, Strauss' 1909 opera, with a libretto by Hugo von Hofmannsthal and based on the Greek tragedy by Sophocles, returns with a powerful cast headlined by soprano Christine Goerke in the title role. Hungarian conductor Henrik Nánási makes his Company debut leading the San Francisco Opera Orchestra.
With recent performances as Brünnhilde in the Ring at Canadian Opera Company, Houston Grand Opera and Washington National Opera, Christine Goerke has emerged as one of today's leading Wagnerian sopranos. Her Straussian credentials are equally impressive, including the Dyer's Wife in Die Frau ohne Schatten at the Metropolitan Opera and Elektra, which she has performed to considerable acclaim at the Royal Opera, Covent Garden, Lyric Opera of Chicago and in concert at Carnegie Hall. New York's The Observer proclaimed, "To the rarefied society of superb interpreters of Elektra, consisting of perhaps two or three singers in each generation, we can now welcome Ms. Goerke. Her dark, grainy soprano has developed into a mighty battering ram of sound, vaulting from thundering low tones to brilliant, steely shafts of tone on top." Goerke last appeared with San Francisco Opera in 2006 as Rosalinde in Die Fledermaus and returns this season in one of her greatest portrayals.
Mezzo-soprano Michaela Martens made her 2015 San Francisco Opera debut as Cassandre in Berlioz's towering Trojan War epic, Les Troyens. She returns to the Company to sing her first performances of another demanding operatic role, Klytemnestra, the murderous and guilt-ridden mother of Elektra. Known for her vivid portrayals of some of the most challenging mezzo-soprano roles in the repertory, Martens has performed on many of the world's leading stages including the Metropolitan Opera, Munich's Bavarian State Opera, Vienna State Opera, Grand Théâtre de Genève and English National Opera.
Canadian soprano Adrianne Pieczonka performs as Elektra's sister Chrysothemis, a role she has sung around the world. The New York Times observed: "Pieczonka's rich, clear voice conveys Chrysothemis's affecting vulnerability. Yet in moments of frustration and despair, her singing has bright piercing power." American bass-baritone AlFRed Walker makes his Company debut as the avenging Orest and tenorRobert Brubaker is Aegisth.
Along with a cohort of commanding singing actors, Elektra requires a large orchestra capable of playing its complex textures throughout a wide, dynamic range. Hungarian conductor Henrik Nánási, in his premiere engagement with the Company, will lead the San Francisco Opera Orchestra in Strauss' pyrotechnic score. The San Francisco Opera Chorus is prepared by Ian Robertson.
The production by original director Keith Warner, a co-production with the National Theatre of Prague and Badisches Staatstheater Karlsruhe, is staged for San Francisco Opera by director Anja Kühnhold in her Company debut. Warner said of his interpretation of the opera: "On one hand, Elektra is really an amazingly complex, deep piece and on the other it is an almost horror movie kind of thriller. We have decided to set the piece in a modern museum where a girl is going through and reading about Sophocles' Electra and Carl Jung's Electra complex. The artifacts and information trigger a series of memories in her and we go back into her story. She must confront the truth by confronting the terrible events that started this whole chain reaction of murder and mayhem."
The production features the work of several artists who are new to San Francisco Opera, including set designer by Boris Kudli?ka, costume designer Kaspar Glarner, lighting designer John Bishop and video designer Bartek Macias.
Now In its 95th season, San Francisco Opera has presented Richard Strauss' Elektra in nine previous seasons beginning in 1938 when conductor Fritz Reiner led a brilliant cast headlined by Hungarian soprano Rose Pauly-one of the past century's ideal interpreters of the title role-and Swedish mezzo-soprano Kerstin Thorborg as Klytemnestra. An equally starry cast figured in the Company's 1953 revival when Georg Solti conducted Inge Borkh in the title role, veteran German mezzo-soprano Margarete Klose as Klytemnestra-each in their United States debuts-and Paul Schöffler as Orest.
Sung in German with English subtitles, six performances of Elektra are scheduled for September 9 (7:30 p.m.), September 13 (7:30 p.m.), September 17 (2 p.m.), September 19 (7:30 p.m.), September 22 (7:30 p.m.) and September 27 (7:30 p.m.).
TICKETS AND INFORMATION
Single tickets for Elektra are priced from $26 to $398 and may be purchased at sfopera.com, the San Francisco Opera Box Office at 301 Van Ness Avenue and by phone at (415) 864-3330. Standing Room tickets go on sale at 10 a.m. on the day of each performance; tickets are $10 each, cash only, and limited to two tickets per person.
Each presentation at the War Memorial Opera House features an informative 25-minute Pre-Opera Talk. Beginning 55 minutes prior to curtain and free of charge to patrons with tickets for the corresponding performance, each Elektra Pre-Opera Talk will be presented by Dr. Bruce Lamott, Chorus Director for Philharmonia Baroque Orchestra and music history teacher at the San Francisco Conservatory of Music.
The War Memorial Opera House is located at 301 Van Ness Avenue. Patrons are encouraged to use public transportation to attend San Francisco Opera performances. The War Memorial Opera House is within walking distance of the Civic Center BART Station and near numerous bus lines, including 5, 21, 47, 49 and the F Market Street. For further public transportation information, visit bart.gov and sfmta.com.
Casting, programs, schedules and ticket prices are subject to change. For further information aboutElektra and San Francisco Opera's 2017-18 Season, please visit sfopera.com
Photo Credit: Cory Weaver/San Francisco Opera


Adrianne Pieczonka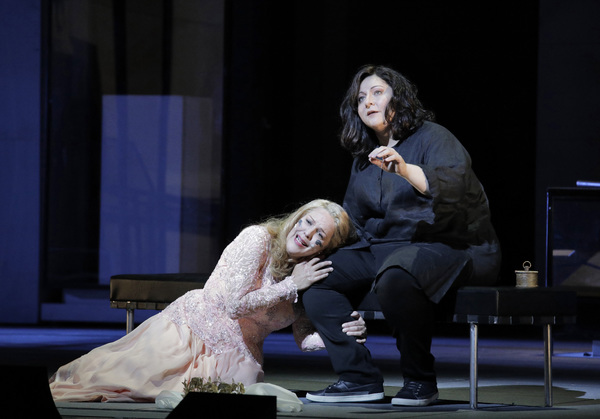 Adrianne Pieczonka and Christine Goerke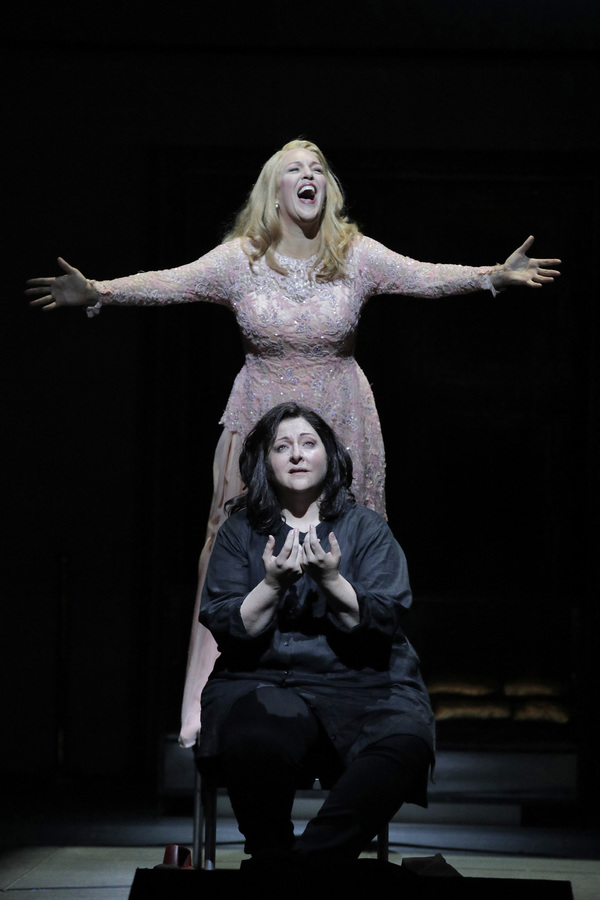 Adrianne Pieczonka and Christine Goerke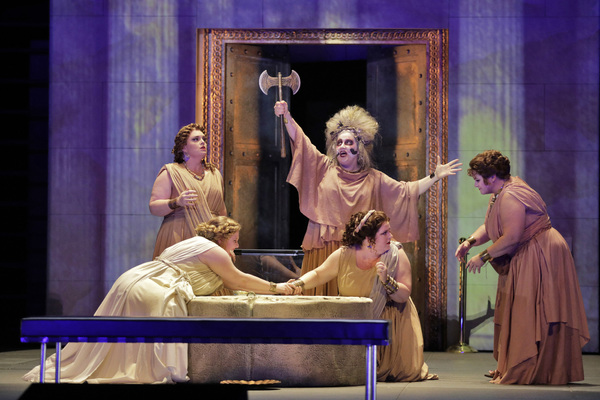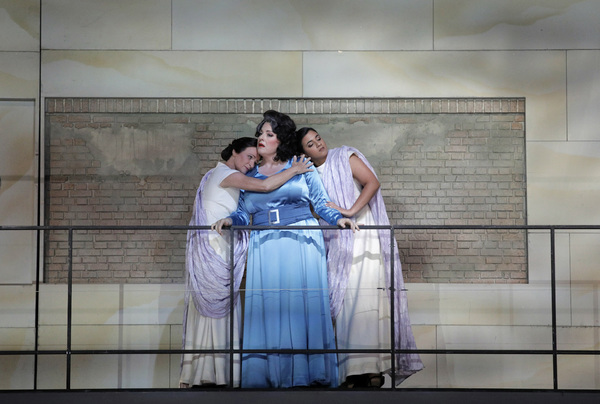 Erin Neff, Michaela Martens, and Amina Edris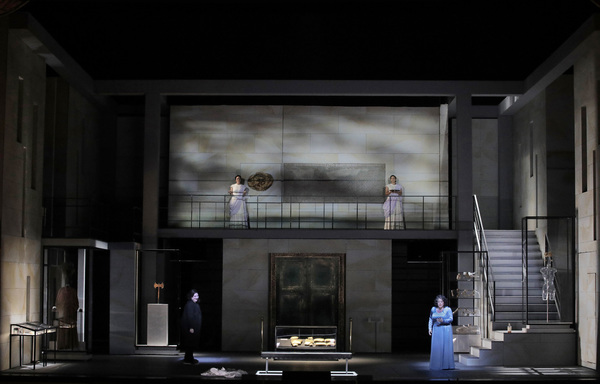 Michaela Martens and Christine Goerke

Christine Goerke and Adrianne Pieczonka

Christine Goerke and AlFRed Walker

AlFRed Walker and Christine Goerke

Christine Goerke, Adrianne Pieczonka, and AlFRed Walker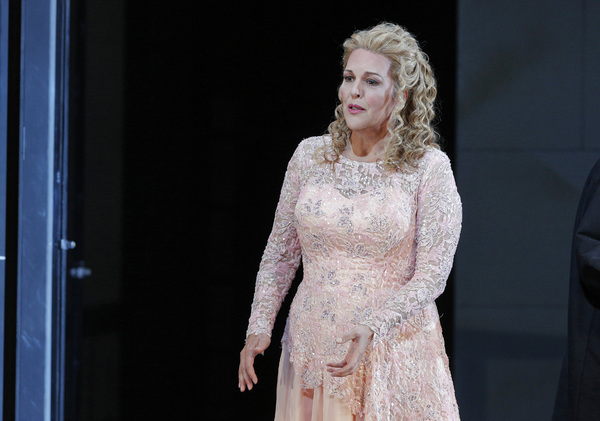 Adrianne Pieczonka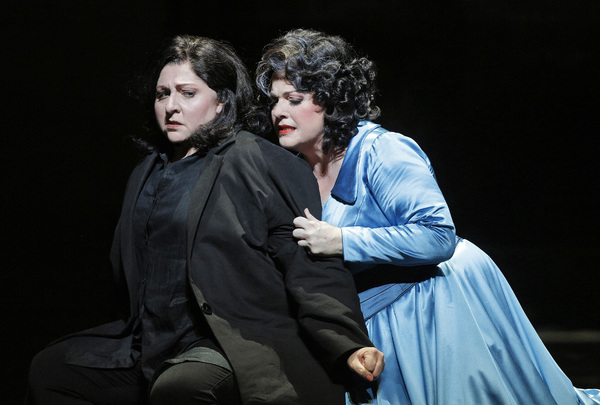 Christine Goerke and Michaela Martens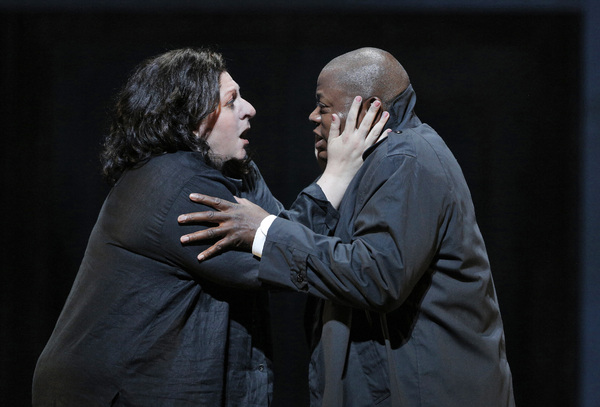 Christine Goerke and AlFRed Walker