Idiot String Announces Full 2019 Workshop Series In Port Costa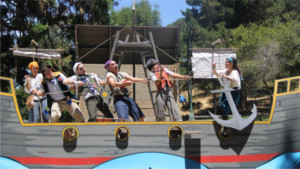 In connection with their residency at the Port Costa Schoolhouse, sponsored by the Port Costa Conservation Society, Idiot String (Founding Producers Joan Howard and Rebecca Longworth) is proud to announce their 2019 Workshop Series in Port Costa, California. This workshop series is supported by generous funding from the Crockett Community Foundation, whose support includes providing reduced-price tickets for residents of Port Costa, Crockett, and Tormey. All workshops will take place at the Port Costa Schoolhouse, located at 1 Plaza del Hambre, Port Costa, CA 94569.
For up-to-date information on the specific workshops, visit idiotstring.org/2019-workshop-series/.
FULL 2019 WORKSHOP SCHEDULE:
Sunday, March 17 @ 12:00 p.m. 4:00 p.m.
o Physical Comedy with the Peripatetic Players
The Peripatetic Players also never met a situation they couldn't turn to chaotic comic gold. Led by Idiot String Co-Founder Joan Howard, this workshop for all levels will teach you to trip, slip, fall, and bounce right back! Learn more and sign up at peripateticplayers.org/physical-comedy.
Sunday, May 19 @ 12:00 p.m. 4:00 p.m.
o Creative Exploration on the Carquinez Strait
In this multidisciplinary workshop, participants will write texts inspired by the landscape and history of Port Costa, and create site-specific mini-performances.
Sunday, June 16 @ 12:00 p.m. 4:00 p.m.
o Story Adaptation
In this workshop, we'll explore some tools for adapting stories -- both old favorites and new -- to the stage. Take this one with Dad!
Every workshop is an all-levels creative workout, geared to accommodate participants with little to no performing experience and to challenge veteran performers. Individualized attention at each workshop will ensure that all participants may come as they are. Everyone involved is sure to leave inspired!
Most workshops are suitable for ages 14 to adult. Participants under 18 must have their parents' permission. Port Costa, Crockett, and Tormey residents can attend any workshop for just $10!
After the workshops, participants can explore the wonderful and tiny town of Port Costa: hike the hills, relax with a book, or discover whimsical artwork and fabulous antiques make the whole day an invigorating experience. About the March 17 Physical Comedy Workshop In the Physical Comedy workshop, participants will learn the basics of physical comedy and knockabout clowning, from solo slapstick to group melees and building comedic bits. They will build essential skills like tripping, tumbling, falling, and running into walls. The workshop is led by String Co-Founder Joan Howard, and will also cover comic slaps, hair pulls, foot stomps, and head bonks. Finally, participants will explore comic structure, and learn to string their skills together to create a short slapstick performance with other workshop participants that will serve to develop character and tell a story.
This workshop is for actors, improvisers, clowns, comedians, and anyone who is excited to develop their physical funny. Open to all skill levels and ages 15 and up. Learn more and sign up at peripateticplayers.org/physical-comedy! About Joan Howard Joan Howard is a physical theatre performer and clown. She plays Thumper of the Samuel Peaches Peripatetic Players, and is one-half of the acrobatic clown duo Max & Antoinette, who have appeared at San Francisco Theater Pub and the foolsFURY Factory Parts Festival. Joan teaches the next generation of professional clowns at San Francisco Circus Center's Clown Conservatory, where she is co-director of a new social clowning program called ClownCorps. Joan also feels particularly fortunate to visit hospitals with the Medical Clown Project.
She has performed with We Players and foolsFURY, and has presented original performances at Physical Theatre Salon at Main Street, LEVYSalon, Barbary Coast Amusements, Literary Clown Foolery, The Clown Cabaret, and Ei8ht. In 2010, she co-founded Main Street Theatre in San Francisco's Excelsior district, an alternative performance venue dedicated to physical theatre and the variety arts. Joan studied clowning and pedagogy with Giovanni Fusetti of Helikos, is a graduate of Flying Actor Studio's Physical Theatre Conservatory, and holds a BFA in Sculpture/Performance Art from California College of Arts & Crafts. She is co-creator of Idiot String. About Idiot String Idiot String is a collaborative ensemble theatre company created by Joan Howard and Rebecca Longworth that is devoted to inciting delight and activating meaningful human connection through play. Their adaptations of popular stories featuring the Peripatetic Players have toured Bay Area parks and public spaces each summer since 2014. Elixir of Life, an original, interactive play, toured Bay Area parks in the autumn of 2017; a new site-specific play, tentatively titled Port Stories, will premiere in Port Costa in June, 2019. Continuing Idiot String's tradition of interactive performances, the Port Stories audience will follow the action from the Port Costa School to sites throughout the historic downtown, interacting with characters to uncover the story of the play. Idiot String is fiscally sponsored by Independent Arts & Media, a San Francisco nonprofit organization dedicated to building community through media and the arts.
More information on supporting Idiot String and the Peripatetic Players can be found online at idiotstring.org/donate or by calling 510-542-9009. FOR CALENDAR
Related Articles View More San Francisco

Stories

Shows
More Hot Stories For You