Diablo Ballet Presents Final Performance of 24th Season May 4 And 5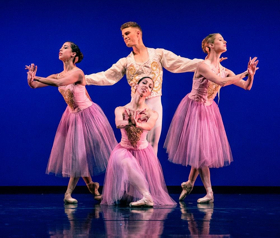 Diablo Ballet presents the final program of its 2017-18 Season with Celebrated Masters, May 4-5th at the Del Valle Theatre in Walnut Creek.
The program will feature the highly anticipated World Premiere of Red Shoes, choreographed by Diablo Ballet's Resident Choreographer, Robert Dekkers.
Robert Dekkers new ballet, Red Shoes, is an imaginative interpretation of Hans Christian Andersen's timeless fairy tale. Set to the thrilling score by Academy Award nominated composer Philip Glass, the ballet explores the birth, evolution, and ultimate demise of the ego. Red Shoes will feature costumes designed by celebrity fashion designer, Cassidy Haley, who has created for P!nk and Fergie to name a few.
The program also features the stylish quartet from Val Caniparoli's Stolen Moments (Excerpts), which was originally choreographed for the Richmond Ballet in 2015, with music by Jean-Philippe Rameau. Caniparoli states, "Jean-Philippe Rameau's music, so graceful and attractive, contradicts the man's public image and what we know of his character. As a man he was secretive, solitary, irritable, proud of his own achievements, brusque, quick to anger and was considered a monomaniac. His music was his passport, and it made up for his lack of social graces".
Also included on the program is the charming and lyrical pas de deux, Four Norwegian Moods, by Lew Christensen, originally created for the San Francisco Ballet in 1976 in celebration of Christensen's 25-year anniversary as Artistic Director of that company. The ballet is set to Igor Stravinsky's Four Norwegian Moods for Orchestra, which was written in 1941 and intended for a film (which never materialized) about Norway during World War II.
Immediately following each performance, ticket holders are invited to stay for a post-performance Q&A with our dancers, choreographers and musicians followed by a dessert and coffee reception where you can meet and mingle with the dancers.
Tickets are $25-47. Early Bird pricing is available now through April 12th. For tickets, call 925-943-SHOW (7469) or visit www.lesherartscenter.org or www.diabloballet.org.
Celebrated Masters performs May 4-5 at the Del Valle Theatre, 1963 Tice Valley Blvd. in Walnut Creek.
The performances are:
Friday, May 4 at 8:00 pm
Saturday, May 5 at 2:00 pm & 8:00 pm
ABOUT DIABLO BALLET
For 24 years, Diablo Ballet has been the award-winning, professional dance company for Contra Costa County. Presenting acclaimed classical and contemporary ballets, the company is committed to exposing youth to the arts through its renowned PEEK Outreach Program, reaching over 68,000 under-served school children in Alameda and Contra Costa counties since 1995. In addition, Diablo Ballet has served at-risk teenage girls incarcerated within the Juvenile Justice system since 2015.
Photo: Rosselyn Ramirez, Amanda Farris, Raymond Tilton & Larissa Kogut in George Balanchine's Valse Fantaisie.
Photo Credit: Bilha Sperling
More Hot Stories For You