Click Here for More Articles on ANDREW LLOYD WEBBER
Photo Flash: Production Photos of JESUS CHRIST SUPERSTAR Starring Ted Neeley; Opens at Civic Center 1/15
JESUS CHRIST SUPERSTAR, the first masterpiece from the legendary writing team of Tim Rice and Andrew Lloyd Webber, exploded onto the scene in 1971 changing the world of musical theatre forever. With a score of amazing songs - "I Don't Know How to Love Him", "Hosanna", "Everything's Alright", "What's the Buzz", "Superstar", and "Heaven on Their Mind", this original groundbreaking production stars Ted Neeley in the title role. This Broadway/San Diego ~ A Nederlander Presentation will return for five performances only, at San Diego Civic Theatre, January 15 - 17, 2010.
JESUS CHRIST SUPERSTAR is one of the most popular and enduring works ever created for the musical theatre, and leaves audiences captivated by its power. It tells the story of the final seven days in the life of Jesus of Nazareth. JESUS CHRIST SUPERSTAR dramatizes Jesus' entry into Jerusalem, the unrest caused by his preaching and popularity, his betrayal by Judas, the trial before Pontius Pilate, and his ultimate crucifixion.As relevant and timeless as ever, this rock opera vision of "the greatest story ever told" is perhaps more potent in today's troubled world than when it was first produced. Now, this magnificent story, which earned five Tony® nominations, comes once again vividly to the stage with internationally beloved star
Ted Neeley
recreating his unforgettable performance. Neeley, best known for his Golden Globe-nominated role as Jesus in the
Norman Jewison
film of SUPERSTAR, has enjoyed a distinguished career in resident theatres throughout America, appearing in a wide variety of productions from Hair to the works of
Samuel Beckett
. He is world renowned for this title role in JESUS CHRIST SUPERSTAR, with a fan base that borders on a cult-like phenomenon. Already seen and loved by thousands, don't miss the opportunity to introduce a new generation to this exhilarating and significant piece of musical theatre, JESUS CHRIST SUPERSTAR, the original rock opera. thejcstour.com JESUS CHRIST SUPERSTAR will run from January 15 – 17, 2010 at the San Diego Civic Theatre, 3rd and B Street, downtown San Diego. Performances are Friday at 8PM; Saturday at 2PM & 8PM; Sunday at 1PM & 6PMTickets range from $20-$79. To purchase, please call the Civic Theatre Ticket Office, (619) 570-1100; Monday - Friday, 10AM - 6PM or Ticketmaster (800) 982-2787. Group Discounts (619) 564-3001.
For more information, please visit thejcstour.com

Overture ~ Ted Neeley and The Company; Photo © Joan Marcus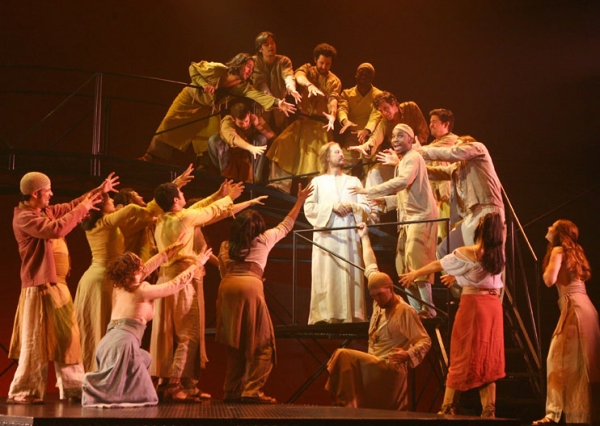 Simon Zealots ~ Ted Neeley and The Company; Photo © Joan Marcus

Related Articles
More Hot Stories For You