Mendocino Theatre Company Presents Zuzka Sabata's THE SECRET LIFE OF SPANTSA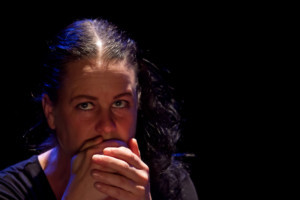 The Mendocino Theatre Company is pleased to present The Secret Life of Spantsa, an original one-woman play created and performed by Dell'Arte Company member and teacher Zuzka Sabata, on May 17th, 18th, and 19th. The play is based on the true events of the life of Olive Oatman, an American woman of European descent who became famous across the still-forming United States for having lived with Native Americans from 1851-1856. This highly physical performance delves into the seamy side of American expansionary history by moving beyond the standard narrative of so-called captivity stories into the inner world of a woman caught between cultures and permanently marked by murder.
Olive Oatman was a white American migrant who, in 1852, found herself adopted by the Mohave Tribe at the age of 15. Upon returning to white society, she traveled the country lecturing about her experiences to audiences that were both horrified by and hungry to know more about indigenous culture. There are at least two biographies of her life: The first, The Captivity of the Oatman Girls among the Apache and Mohave Indians, is a sensational best-seller penned by Rev. R.B. Stratton in 1857 who interviewed Olive about the events of her life shortly after she returned to white society and which became one of the most popular stories of the so-called "captivity genre" of the time. The second was published in 2009 by the journalist and tattoo enthusiast Margot Mifflin, entitled The Blue Tattoo. "This second book was what inspired me to begin work on the play in 2015", says Ms. Sabata.
Ms. Sabata has taken the show-which she still considers a "work-in-progress"-to many venues in Humboldt and Trinity counties, engaging in talkbacks after each performances. Recently, she performed in Arizona, where she visited the Aha Macav Cultural Society. "Visiting with the Aha Macav Cultural Society of the Fort Mojave Indian Tribe in Arizona was an enlightening and heartening experience. I am looking forward to sharing material and continuing a dialogue with them as the play develops."
The Secret Life of Spantsa will be performed on the Mendocino Theatre Company stage, on the campus of the Mendocino Art Center, on May 17, 18 & 19 at 8pm. There will be a talkback with Ms. Sabata immediately after each show. Tickets are available online at mendocinotheatre.org or by phoning the box office at 707-937-4477.
Zuzka Sabata is a performer, writer, and singer who has generated community-engaged original work for over 15 years. She received her Master's of Fine Arts in Ensemble-based Physical Theatre at Dell'Arte International in 2008. She has coordinated community-based collaborative projects for Dell'Arte since 2010, and is currently the organization's Arts Engagement Director and on faculty. She is a member of the Dell'Arte Company which she has performed with and written for for 7 years. In partnership with fellow faculty member Janessa Johnsrude, Zuzka Sabata co-founded Pelican Bay State Prison's first theatre program under the California Arts Council Arts-in-Corrections program and with the support of the William James Association in 2016. She is lead artist in a multi-year collaboration and cultural exchange with the Wiyot Tribe at Table Bluff. She is a practitioner of Qi Gong, an ancient Chinese form of medicinal movement meditation, and is developing her first solo work based on events in the life of historical figure Olive Oatman.