Review: THE PHANTOM OF THE OPERA National Tour at Durham Performing Arts Center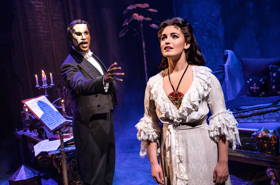 Based on Gaston Leroux's 1910 horror novel of the same name, The Phantom of the Opera follows a deformed composer who haunts the grand Paris Opera House. Sheltered from the outside world in an underground cavern, the lonely, romantic man tutors and composes operas for Christine Daaé, a gorgeous young soprano star-to-be. As Christine's star rises, and a handsome suitor from her past enters the picture, the Phantom grows mad, terrorizing the opera house owners and company with his murderous ways. Still, Christine finds herself drawn to the mystery man.
The original production directed by Hal Prince opened in London's West End on October 9th, 1986, where it became an enormous hit. The musical then transferred to Broadway on January 26th, 1988, where it went on to win 7 Tony Awards (including Best Musical). To this day, The Phantom of the Opera is still running in London as it has become one of the longest-running musicals in the world. In America, it's actually the longest-running show in Broadway history as it had recently celebrated its 30th anniversary.
This national touring production is actually a revamped staging that isn't radically different from the original like the current Les Misérables tour which recently came to DPAC. In fact, the staging here from director Laurence Connor is a pretty mixed bag to me. There are some nice alterations he's made where we the audience get a different way of looking at certain scenes, though other moments didn't seem to be as well-executed as they were in the original. The pacing in the first act can be pretty slow moving, though it definitely picked up in the second act. Which was interesting to me given how Connor was not only able to keep Les Misérables (which he co-directed with James Powell) moving, but also School of Rock. Though with that being said, there's also some stunning lighting designed by Paule Constable, some elegant sets designed by Paul Brown, and most of Maria Björnson original costume designs have been preserved for this production.
The entire cast is also able to bring Andrew Lloyd Webber & Charles Hart's soaring score to glorious life. Quentin Oliver Lee makes for a captivating Phantom not only vocally, but also in appearance. Eva Tavares makes for a lovely Christine Daaé, she's also got such a beautiful voice to prove it. Jordan Craig gives a caring as Christine's childhood friend, Raoul. Trista Moldovan offers up some great comic relief as prima donna, Carlotta Giudicelli. She is also perfectly matched with Phumzile Sojola, who plays her husband, Ubaldo Piangi. Kristie Dale Sanders is perfectly cast as the strict ballet mistress, Madame Giry.
While the production may not be perfect, the musical isn't really either as it takes a few minutes before the story officially begins. If you're a fan of The Phantom of the Opera, I'd say this revamped staging is worth checking out. If you're not a fan of The Phantom of the Opera due to either its content or the quality of the material, I don't think the revamped staging is going to win you over. This national touring production is currently playing at the Durham Performing Arts Center through March 11th.
For more information, please visit:
https://www.dpacnc.com/events/detail/phantom-of-the-opera-1
https://ustour.thephantomoftheopera.com/#_ga=2.2835696.1125335397.1520173475-443585490.1516661803