Jeffrey Kare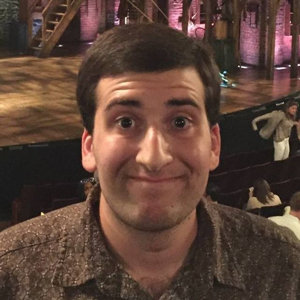 Jeffrey Kare currently resides in Raleigh, North Carolina. Having been born and raised in Northeast Ohio, Jeffrey took interest in live theater at age 11. He also had the great pleasure of seeing shows at Playhouse Square in Cleveland, enjoying many trips to New York, participating in local theaters both onstage and off, even worked on backstage crew at the Players Guild Theater in Canton, where he earned himself a Golden Guild nomination. Jeffrey also has such a vast knowledge of the theater world, even getting to know about lots of shows and people in the broadway community past and present.
Review: Theatre Raleigh's YELLOW FACE

July 1, 2022

What did our critic think? Yellow Face follows Asian-American playwright DHH. Fresh off his Tony Award win for M. Butterfly, he leads a protest against the casting of Jonathan Pryce as the Eurasian pimp in the original Broadway production of Miss Saigon, condemning the practice as 'yellowface.' His position soon comes back to haunt him when he mistakes a Caucasian actor, Marcus G. Dahlman, for mixed-race, and casts him as the lead Asian role of his own Broadway-bound comedy, Face Value. When DHH discovers the truth of Marcus' ethnicity, he tries to conceal his blunder to protect his reputation as an Asian-American role model by passing the actor off as a 'Siberian Jew.'
---
BWW Review: MY FAIR LADY National Tour at Durham Performing Arts Center

May 4, 2022

Based on George Bernard Shaw's 1913 play, Pygmalion, My Fair Lady is set in London in the year 1912. Read what our critic has to say.
---
BWW Review: North Carolina Theatre's RING OF FIRE

April 30, 2022

Ring of Fire is a musical presented as a concert by a group of five performers playing the songs of legendary country music artist Johnny Cash. The show, which was conceived by William Meade and created by Richard Maltby, Jr., opened on March 12th, 2006 at the Ethel Barrymore Theatre on Broadway. Sadly, it only ran for 57 performances after closing on April 30th of that year. This production presented by North Carolina Theatre happens to be directed by Randy Redd, who was a member of the original Broadway cast.
---
BWW Review: RENT National Tour at Durham Performing Arts Center

January 29, 2022

Loosely based on Giacomo Puccini's 1896 opera, La bohème, Rent follows a group of impoverished young artists struggling to survive and create a life in New York City's East Village in the thriving days of Bohemian Alphabet City, under the shadow of HIV/AIDS.
---
BWW Review: AIN'T TOO PROUD National Tour at Durham Performing Arts Center

December 11, 2021

Ain't Too Proud follows the journey of The Temptations from the streets of Detroit to the Rock & Roll Hall of Fame. With their signature dance moves and unmistakable harmonies, they rose to the top of the charts creating an amazing 42 Top Ten Hits with 14 reaching number one.
---
BWW Exclusive: A History of ANNIE on Broadway and Beyond

December 2, 2021

Tonight, NBC will air its sixth live musical production. Following in the footsteps of The Sound of Music, Peter Pan, The Wiz, Hairspray, and Jesus Christ Superstar, the peacock network will be presenting Annie. Based on Harold Gray's comic strip titled Little Orphan Annie, this musical tells the story of a little orphan with equal measures of pluck and positivity who charms everyone's hearts, despite a next-to-nothing start in New York City in the year 1933.
---
BWW Interview: Arnetia Walker on THE WIZ, DREAMGIRLS, & YES, VIRGINIA

November 11, 2021

From November 18th-21st, Judson Theatre Company will be presenting a new holiday comedy by Stan Zimmerman & Christian McLaughlin titled YES, VIRGINIA at Owens Auditorium inside the Bradshaw Performing Arts Center. Actress Arnetia Walker stars in the production opposite Mindy Sterling. She has appeared on Broadway in THE SIGN IN SIDNEY BRUSTEIN'S WINDOW, TWO GENTLEMEN OF VERONA, RAISIN, THE WIZ, and DREAMGIRLS. Her TV credits include: QUANTUM LEAP, NURSES, THE FRESH PRINCE OF BEL-AIR, MAD ABOUT YOU, NYPD BLUE, MALCOLM & EDDIE, JUST SHOOT ME!, THE STEVE HARVEY SHOW, TOUCHED BY AN ANGLE, CITY OF ANGELS, JUDGING AMY, EVERYBODY LOVES RAYMOND, and DYNASTY. Her film credits include: THE BEST LITTLE WHOREHOUSE IN TEXAS, THE WIZARD OF SPEED AND TIME, SCENES FROM THE CLASS STRUGGLE IN BEVERLY HILLS, LOVE CRIMES, FOR LOVE OF THE GAME, and COLLEGE ROAD TRIP. I had the great pleasure of interviewing her about all of this and more.
---
BWW Interview: Stan Zimmerman on THE GOLDEN GIRLS and YES, VIRGINIA

November 2, 2021

Stan Zimmerman is a playwright who has two events coming up at Owens Auditorium inside Bradshaw Performing Arts Center, both of which will be presented by Judson Theatre Company in Pinehurst, North Carolina. On November 14th, he'll be sharing some behind the scenes stories from his days of working as a writer on the first season of THE GOLDEN GIRLS in an event titled AN EVENING ON THE LANAI. Meanwhile, a new holiday comedy he co-wrote with Christian McLaughlin titled YES, VIRGINIA starring Mindy Sterling & Arnetia Walker will be running from November 18th-21st. I had the great pleasure of interviewing him about all of this and more.
---
BWW Review: TOOTSIE National Tour at Durham Performing Arts Center

October 20, 2021

Based on Sydney Pollack's 1982 Academy Award-winning film of the same name, Tootsie follows Michael Dorsey, a skilled actor with a talent for not keeping a job. Desperate and out-of-work, Michael makes a last-ditch effort at making his dreams come true...by disguising himself as actress Dorothy Michaels. In a meteoric rise to Broadway stardom, Dorothy soon has audiences falling at her feet while Michael (disguised as Dorothy) is falling for his co-star, Julie Nichols. It isn't long before Michael realizes that maintaining his greatest acting success is going to be much harder than he expected.
---
BWW Review: North Carolina Theatre's 9 TO 5: THE MUSICAL

October 13, 2021

Based on Colin Higgins' 1980 Academy Award nominated film of the same name, 9 to 5 follows three female coworkers in the late 1970s. Pushed to the boiling point, they team up to concoct a plan to get even with the sexist, egotistical, lying, hypocritical bigot they call their boss. In a hilarious turn of events, Violet, Judy, and Doralee live out their wildest fantasy - giving their boss the boot! While Franklin Hart remains 'otherwise engaged,' the women give their workplace a dream makeover, taking control of the company that had always kept them down.
---
BWW Interview: Ben Davis of North Carolina Theatre's 9 TO 5: THE MUSICAL

October 12, 2021

From October 12th-17th, North Carolina Theatre will be presenting a production of 9 TO 5: THE MUSICAL at Raleigh Memorial Auditorium, which is located inside Duke Energy Center for the Performing Arts. The show features a book penned by Patricia Resnick, who was one of the screenwriters behind the original movie, and an original score written by Dolly Parton. North Carolina Theatre's production stars Sara Jean Ford as Judy Bernly (the Jane Fonda role), Lauren Kennedy, the Producing Artistic Director of Theatre Raleigh, as Violet Newstead (the Lily Tomlin role), and Ryah Nixon as Doralee Rhodes (the Dolly Parton role). Not to mention that Raleigh's own Ira David Wood III, the Artistic and Executive Director of Theatre in the Park, will be making a special appearance in the show as the Chairman of the Board. I recently had the great pleasure of interviewing actor Ben Davis, who will be taking on the role of Franklin Hart, Jr. Ben has previously appeared on Broadway in LES MISÉRABLES, LA BOHÈME (which earned him along with his fellow cast members a special Tony Award in 2003), THOROUGHLY MODERN MILLIE, A LITTLE NIGHT MUSIC, VIOLET, and DEAR EVAN HANSEN.
---
BWW Review: Theatre Raleigh's PEACE OF CLAY

October 3, 2021

Peace of Clay explores the pressures, hopes, and aspirations of a young man coming of age in a southern city in the 1980s. Raised by a devoted mother in the projects, Clay tries to pursue his path in the midst of obstacles large and small while also discovering his own power and strength.
---
BWW Interview: Dylan Bailey of Seed Art Share's THE MANY ADVENTURES OF PETER RABBIT

September 2, 2021

Seed Art Share will be presenting Dylan Bailey's latest Theatre for Youth adaptation, THE MANY ADVENTURES OF PETER RABBIT, from September 11th-25th in community gardens throughout the Triangle area.
---
BWW Interview: Bob Beshere, A.J. Schraeder, & Rankin Willard of CRAFT STORE SITCOM: THE PLAY

August 26, 2021

.
---
BWW Review: Raleigh Little Theatre's BEEHIVE: THE 60S MUSICAL

August 13, 2021

Beehive: The 60s Musical is a revue that celebrates the powerful female voices of the 1960s with such timeless hits as 'My Boyfriend's Back', 'Be My Baby', 'Son of a Preacher Man', and 'Me and Bobby McGee'. Told from the perspective of six young women who come of age in this enigmatic decade, Beehive takes us from their first Beehive Dance to the challenges we faced as a nation.
---
BWW Interview: Dustin Britt of St. John's Metropolitan Church's MARAT/SADE

July 20, 2021

.
---
BWW Review: Burning Coal Theatre Company's GIRLS AND BOYS

June 28, 2021

Loosely based on Euripides' Medea, Girls and Boys tells the harrowing tale of a young upwardly mobile lady who is a business woman, a wife, and a mother of two young children. In short, she has it all. But can she keep it? This one-woman play written by Dennis Kelly originally premiered at The Royal Court Theatre in London on February 8th, 2018 with Carey Mulligan in the starring role.
---
BWW Review: Burning Coal Theatre Company's NINE LIVES

June 25, 2021

Nine Lives follows the journey of a young gay African man who is seeking asylum in the U.K. The young man, Ishmael, lives out of a suitcase. As he struggles to convince the government of his need for asylum, he comes to see the U.K. as a cold, aloof, and heartless place. Until he meets a young woman from the wrong side of the tracks. A single mother with a low-paying job, she represents for him a lifeline to the future. But how can their friendship ever be what each needs it to be?
---
BWW Interview: 2021 Triangle Rising Star Award Winners Elena Holder & Joshua Messmore
June 20, 2021
---
BWW Review: 2021 Triangle Rising Star Awards

May 21, 2021

In 2016 and 2017, I had the great pleasure of attending the Triangle Rising Star Awards at the Durham Performing Arts Center. In 2018 and 2019, I wasn't able to do so due to other commitments I had when they were being held. Last year, the 10th annual show was set to take place on May 28th with former American Idol runner-up, Broadway alum, and Raleigh native Clay Aiken serving as guest host. However, the COVID-19 pandemic (which took full swing in March of 2020) ended up forcing DPAC to suspend performances until further notice. Though this year, the Triangle Rising Star Awards have returned (albeit, virtually), and I was able to tune in from the comfort of my home.
---