BWW Review: TINY BEAUTIFUL THINGS Reminds Us of the Power of Empathy, at Portland Center Stage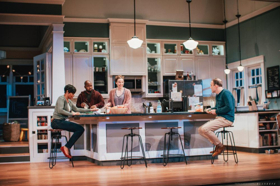 In an interview in the playbill for Portland Center Stage's production of TINY BEAUTIFUL THINGS, local author Cheryl Strayed, on whose book the play is based, asks us to "Imagine what the world would be if we led with love and kindness." That may seem like an impossible fantasy right now. But this play suggests that it doesn't have to be, and even shows us how to get there: through the simple act of listening.
The play is based on an advice column, Dear Sugar, which Strayed wrote anonymously between 2010 and 2012 for the website The Rumpus. The column was turned into a bestselling book: Tiny Beautiful Things: Advice on Love and Life from Dear Sugar.
For those of you whose idea of advice columns is Dear Abby, rest assured that TINY BEAUTIFUL THINGS is not anything like that. Dear Sugar became a phenomenon because Strayed threw the typical advice column format out the window and instead wrote to her readers as if they were her closest friends, using her personal history of sexual abuse, drug use, and grief to help them not feel so terribly alone. No matter what the questions were about -- relationship issues, family troubles, dealing with loss -- Strayed approached them all from a position of acceptance and empathy.
So, how do you turn an advice column into a play? Nia Vardalos, best known for the film My Big Fat Greek Wedding, chose to simply use the Q&As as is. Sugar is in her home, answering questions from people who come in and out, sometimes standing awkwardly in a corner, sometimes getting comfortable in the living room or the kitchen. As Sugar answers the questions, she also tends to the daily responsibilities of life -- folding clothes, packing lunches. It's a very intimate experience, like being at the home of a friend with whom you can share your deepest hopes and fears and also who's comfortable enough with you to not worry that there's laundry everywhere.
Portland Center Stage's production stars Dana Green as Sugar, pretty much guaranteeing no eyes will escape completely dry. Green does an excellent job of portraying Strayed's struggle with what to say to all of the people in pain, while also nailing her wicked sense of humor. The result is an emotional roller coaster that elicits plenty of laughter, often followed by a collective intake of breath at a painful revelation or sometimes just a beautiful turn of phrase. Leif Norby, Lisa Renee Pitts, and Brian Michael Smith are also well cast as the three letter writers. They're all able to successfully create a whole slew of distinct characters, many of whom only appear for a minute or two.
I highly recommend TINY BEAUTIFUL THINGS. The NYT review of the original 2016 production called it a "sustained theatrical exercise in empathy." I felt the same way about the PCS production. It made me feel both like I'd just gotten a big hug and like I wanted to hug everyone I saw. I've also found myself trying a little bit harder to lead with love and kindness.
TINY BEAUTIFUL THINGS runs through March 31. More details and tickets here.
Photo credit: Patrick Weishampel/blankeye.tv/. Courtesy of Portland Center Stage at The Armory.