BWW Review: Portland Playhouse's A CHRISTMAS CAROL Continues to Surprise and Delight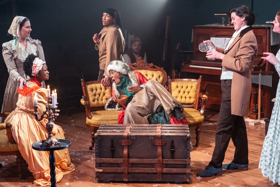 Last year, I saw Portland Playhouse's A CHRISTMAS CAROL for the first time and declared it my new favorite version of the holiday classic. After seeing it this year, I've changed my mind -- it's now my favorite Christmas show. This production, directed again by Brian Weaver, is absolutely delightful. And somehow, it manages to still be surprising. If you're the type who's skeptical about holiday shows in general, do yourself a favor and give this one a chance.
What makes this A CHRISTMAS CAROL so special is the way they evoke strong emotions, even with a story we all know so well. They do this using music both before and during the show (get there early!) and by not being afraid of darkness (which, if you've read the book, is exactly right). This isn't Disney -- when Marley's ghost arrives, it's scary. There are also several parts that are deeply sad on a personal level (when Belle releases Scrooge from their marriage contract) as well as on a human one (the depictions of the desperately poor people of London). On the flip side, the joy also brims over. You might find yourself crying at the most unexpected places.
This year's cast -- featuring both new and returning faces -- benefits from the addition of Cycerli Ash, who plays all of the ghosts. Her anguish as Marley is balanced only by the happiness she spreads as the Ghost of Christmas Present. The entire cast is excellent, but Ash's performance is transcendent.
A CHRISTMAS CAROL runs through December 29. I highly recommend you experience the magic for yourself. More details and tickets here.
Photo credit: Reina Solunaya