BWW Review: A Harrowing True Story and Imaginative Direction a Winning Formula for LIFEBOAT, at Corrib Theatre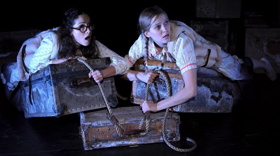 During WWII, the Children's Overseas Reception Board evacuated more than 2600 children out of Britain to save them from the bombings. In 1940, 87 of those children were bound for Canada aboard the SS City of Benares when the ship was torpedoed. Only 11 of the children survived, including 15-year-old Bess Walder and 14-year-old Beth Cummings, who spent 18 hours hanging onto an overturned lifeboat before they were rescued. The women were lifelong friends (Bess married Beth's brother) until they died just a few years ago.
Nicola McCartney's LIFEBOAT, now playing at Corrib Theatre, tells Bess and Beth's story - from their growing up to their harrowing journey, and beyond. It's an exhilarating and ultimately uplifting play about courage, resilience, and friendship.
For this show, Corrib Theatre hired an outside director - the first time they've done so. Avital Shira brings a wonderful imagination to this work, constructing a sort of intricate dance between the two actors - Kayla Lian and Britt Harris - who play not only Bess and Beth (respectively) but also all of the members of their families and the people on the boat, while also constantly renovating the space to create different settings. The actors are almost never not in motion, which gives the performance a fluidity kind of the like the waves that rock (and sometimes crash against) the lifeboat they hang onto for dear life. Especially since the pace is fast and the actors move quickly between characters, it's an impressive exercise in timing.
Lian and Harris perform the dance very well. They move over, around, and sometimes through the trunks and suitcases that serve as the set so gracefully it looks easy. And Bess and Beth, though very different, are both charming and relatable. Lian is adept at making you laugh at the smallest things, while Harris gets most of the tug-at-your-heartstring moments. They're both a pleasure to watch.
LIFEBOAT runs through February 4 in the downstairs theatre at Northwest Children's Theatre. When you go, which you should, be sure to get there early. The venue is small and the seating consists of several rows of chairs on two levels of risers. If you're short, like I am, you'll want to be in the first few rows; otherwise, you can plan on experiencing parts of the show as a radio play.
More details and tickets here.
Photo credit: Adam Liberman
Related Articles View More Portland

Stories

Shows