BWW Review: ANG LARAWAN Is Lavish, Absorbing Family Drama
Manila, Philippines--The musical pedigree of "Ang Larawan," an official entry to the 2017 Metro Manila Film Festival (MMFF), traces back to Culturtain Musicat Productions' (formerly Musical Theatre Philippines) 1997 musical adaptation of Nick Joaquin's 1950 landmark play "A Portrait of the Artist as Filipino." Why such a masterwork has stood the test of time is what this film adaptation wants you to fully grasp.
Directed by Loy Arcenas, "Ang Larawan" is a lavish, absorbing family drama whose original lengthy English dialogues were translated into mostly colloquial Tagalog by Rolando Tinio and set to music by Ryan Cayabyab.
Its story follows the plight of spinster sisters Candida Marasigan (Joanna Ampil) and Paula Marasigan (Rachel Alejandro), daughters of the celebrated visual artist Don Lorenzo Marasigan (Leo Rialp) who chooses to live as a recluse in the walled city of Intramuros, right before the Second World War.
Since Don Lorenzo has not produced a single painting for a long time, his daughters are in dire financial trouble. The artist's self-portrait, which is his gift to his daughters, catches the attention of the prying public--including journalist Bitoy Camacho (Sandino Martin) and bodabil pianist Tony Javier (Paulo Avelino)--and fetches a huge sum of money from several art bidders, which could be (or maybe not) Candida and Paula's ticket out of near poverty.
The film brings you back--somewhat eerily (both musically and visually)--to the famed cobblestoned streets and Spanish colonial houses with their large casement windows and heavy French doors in Intramuros in the early 1940s. It's that era where the most stylish women wore the traditional terno on an ordinary Sunday and one of the forms of variety entertainment was Tony's playground, the bodabil.
Director Loy Arcenas, together with production designer Gino Gonzales, cinematographer Boy Yñiguez, and colorist Marilen Magasaysay, vividly captures--albeit in a nearly sepia film color temperature and with set pieces and props of the same color scheme--that wistful spirit of Old Manila.
Supporting the film's elaborate feast for the eyes are Rolando Tinio's elegantly-written lyrics (some are spoken, but most are sung), where Ryan Cayabyab's affecting, soaring score has found its heartbeat and the film's musical rhythm specific to its dramatic storyline.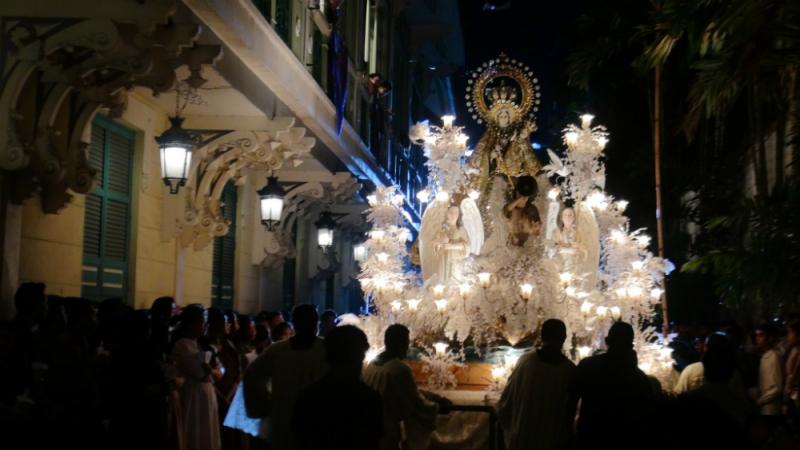 But in the center of it all is the brilliant Joanna Ampil as Candida--her first film role. Her Candida is strong-willed, but brittle--somewhat a cuckoo if you read between the lines. Her Candida and Rachel Alejandro's Paula, the younger sibling, make a pair of complementing heroines whose life choices--whether they're right or wrong--and their instinctive spoken lines and impassioned singing keep you in the palm of their hands in the film's entirety. They both keep the movie moving and authentic, even though the sisters and the other characters: Nonie Buencamino's Manolo, Menchu Lauchengco-Yulo's Pepang, Robert Arevalo's Don Perico, and Zsa Zsa Padilla's Elsa Montes, among others, burst into rapturous songs and delightful dances in between the characters' sparsely spoken conversations.
Joanna Ampil is at her shining best in the scene where the two sisters find themselves in the dark, without electricity, in their ancestral home. That scene alone, which delectably works because she's that crazy good shifting her emotions in seconds--while singing at that!--is worth the admission ticket.
The film's extravagant finale: the grand procession of the Lady of La Naval, featuring the actual religious image of the miraculous Virgin Mary and around 700 extras, which also triggers Leo Rialp's Don Lorenzo to break away from being a recluse, literally and figuratively finishes the film on a high note, despite the rather bittersweet mood as the war looms on the horizon.