Latest News on Bruno Quinson
Latest News on Bruno Quinson
Bruno Quinson News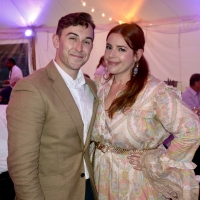 Photos: Barrington Stage Company Raises $535K at Bon Voyage, Julie! Gala
by Stephi Wild - Jul 22, 2022
Barrington Stage Company (BSC), the award-winning theatre in Downtown Pittsfield, MA, announces that Gala 2022: Bon Voyage, Julie!, in celebration of BSC Founder and Artistic Director Julianne Boyd raised over $237K for BSC's Education and Community Engagement Programming.
Photo Coverage: Barrington Stage Co. Honors Julianne Boyd at 25th Anniversary Gala & Raises 500K
by Stephen Sorokoff - Jun 25, 2019
Pittsfield's Mayor Linda Tyer officially declared June 24th as Barrington Stage Day as Barrington Stage Company celebrated its 25th Anniversary Season with its most successful Summer Gala honoring Founding Artistic Director Julianne Boyd.  The completely oversold event also raised 160K for The Julianne Boyd New Works Fund.

Photo Coverage: Barrington Stage Co. Celebrates Opening Night of THE CAKE
by Stephen Sorokoff - Jun 25, 2018
To pun the title of the current hit show on the Boyd/Quinson Main Stage, Debra Jo Rupp is an esteemed member of 'The Royal Family of Barrington Stage Company' inasmuch she is a BSC Associate Artist. She is brilliant in The Cake!
Photo Coverage: THE ROYAL FAMILY OF BROADWAY Celebrates Opening Night at Barrington Stage Company
by Stephen Sorokoff - Jun 14, 2018
BroadwayWorld has a first look at Barrington Stage Company's THE ROYAL FAMILY OF BROADWAY. The show is now on stage through July 7 on the Boyd-Quinson Mainstage.  See the cast take their opening night bows below!

Photo Coverage: Jamie deRoy's 'Jews Don't Camp' - Except When They Hike To See Her Holiday Show at Birdland
by Stephen Sorokoff - Dec 12, 2017
Although there wasn't any seltzer in the brook, at Jim Caruso's Broadway at Birdland Series there sure was a lot of wine on the tables in the world famous night club as Jamie deRoy hosted the latest installment of her Jamie deRoy & friends variety show titled 'Tis the Season. BroadwayWorld attended the event and you can check out photo coverage here!

Photo Coverage: Inside The Barrington Stage Co. NYC Benefit at The Friars Club
by Stephen Sorokoff - Nov 14, 2017
The invitation proclaimed An Evening of Pure Joy and the Barrington Stage Company's NYC Benefit held at The Friars Club last night surpassed all expectations. A star studded roster from the BSC actors bench filled the Friars Club with song as Tony Award Winning Composer/Lyricist William Finn presented Joe Iconis with the William Finn Award for Innovation and Excellence in Musical Theatre. Julianne Boyd, artistic director and founder of Barrington Stage Company, Mary Ann Quinson, Board Chair, and Marita O'Dea Glodt, opened the evenings festivities. The SRO guests in the legendary Friars Club were entertained by BSC performers, Jennette Bayardelle, Allison Blackwell, Ellen Harvey, Lauren Marcus, Kyle Dean Massey, Jeff McCarthy, Anastasia Mccluskey, Anne L. Nathan, Will Roland, Scarlett Strallen, Will Swenson,Jason Sweetooth Williams,Eric William Morris, and Stephanie Umoh. Musical direction was by Darren Cohen.

Photo Coverage: COMPANY & HELLO DOLLY Tie For Best Musical at Berkshire Theatre Critics Awards
by Stephen Sorokoff - Nov 7, 2017
Critics J. Peter Bergman and Macey Levin once again hosted the ceremony, which saw top honors for Best Play go to the Berkshire Theatre Group's production of David Auburn's Lost Lake, and a tie between Barrington Stage Company's production of Stephen Sondheim's Company and the Mac-Haydn Theatre's production of Hello, Dolly! for Best Musical.

Photo Coverage: The Mebel Mercer Foundation Celebrates the High Life Of Victor Lownes
by Stephen Sorokoff - Oct 23, 2017
Everyone knows Hugh Hefner, but the man at Hefner's side for all those ground-breaking Playboy years was Victor Lownes, who passed away January 11, 2017. A Celebration of this extraordinary man's life was organized by The Mabel Mercer Foundation and Victor's wife Marilyn Cole Lownes. It was quite fitting, since Victor Lownes and Hugh Hefner bonded at the beginning of Playboy Magazine because of their love of the cabaret artist Mabel Mercer.
Photo Coverage: Joe Iconis and Family Take Over The Mainstage at Barrington Stage Co.
by Stephen Sorokoff - Sep 5, 2017
Stephen Sondheim was in the audience at Barrington Stage Company's production of COMPANY the night before, but last night it was all about Joe Iconis and family appearing on the dark Mainstage for a one night concert as COMPANY rested for the evening.  Mr. Sondheim was  highly enthusiastic for the Julianne Boyd directed COMPANY and spent time with Aaron Tveit and the cast after the show.  It was an historic evening for the BSC community as Stephen Sondheim was generous with his praise for all involved with the production, which is the talk of the Berkshires this season. 
Photo Coverage: Barrington Stage Company Celebrates Opening Night of COMPANY with Aaron Tveit!
by Stephen Sorokoff - Aug 14, 2017
Barrington Stage Company (recently voted Best of The Berkshires) set a new record at the opening night of Stephen Sondheim's COMPANY last night. There appeared to be more selfie photos attempted of Aaron Tveit the show's star and cast leaving the stage door of the Boyd-Quinson Mainstage than happen by the ever present throngs in Broadway's Shubert Alley a show. Aaron, who was Bobby in the extraordinary production directed by BSC's founder and artistic director Julianne Boyd, was mobbed by  what seemed like the entire audience asTveit and the cast tried exit the stage door and continue on to the after party at the home of BSC Chair, Minky and Bruno Quinson.