Click Here for More Articles on SHAKESPEARE SPOTLIGHT
Photo Flash: First Look at THE MERRY WIVES OF WINDSOR, Opening Tonight at Orlando Shakespeare
William Shakespeare's The Merry Wives of Windsor runs tonight, February 4, through March 7, 2015 at Orlando Shakespeare Theater. BroadwayWorld has a first look at the cast in action below!
Set in the fictional town of Windsor in late 1950''s America, The Merry Wives of Windsor centers on the pompous and rotund John Falstaff. Hard up for money, he conspires to woo the two wealthiest wives in town and pocket their riches-with disastrous and hilarious consequences. Shakespeare''s comedy meets 1950s sitcom in this high-spirited romp full of mistaken identities, cross-dressing, and lots of canned laughter.
In the cast are: Mistress Margaret Page - Suzanne O'Donnell; Master George Page - Jamil A.C. Mangan; Anne Page - Danielle Reneè; Mistress Alice Ford - Jean Tafler; Master Frank Ford - Warren Kelley; Doctor Caius - Chris Mixon; Mistress Quickly - Allison DeCaro; John Rugby - Liz Mignacca; Sir Hugh Evans - Eric Hoffmann; Host of the Garter - Christopher Niess; Sir John Falstaff - John Ahlin; Robin - Luke Timmel; Bardolph/ Ford Servant - Anna Carol; Pistol - Michael Sheehy; Nym/Ford Servant - Ryan M. Skiles; Master Fenton/ Ford Servant - Christopher Joel Onken; Master Robert Shallow - Mark Ferrera; Master Abraham Slender - Rashad Guy; and Peter Simple - Chris Metz.
The creative team features director Brian Vaughn, scenic designer Bert Scott, costume designer Holly Payne, lighting designer Kevin Griffin, sound designer Britt Sandusky, and wig designer Megan J. Moore.
All performances run at the Orlando Shakespeare Theater in the Margeson Theate, Lowndes Shakespeare Center, 812 East Rollins Street, Orlando, FL 32803. Tickets to The Merry Wives of Windsor are on sale now and may be purchased at www.orlandoshakes.org, by calling (407) 447-1700 ext. 1, or in person at the Box Office.
Photo Credit: Tony Firriolo
Anna Carol,
John Ahlin
, and Ryan M. Skiles
Jean Tafler
and
Suzanne O''Donnell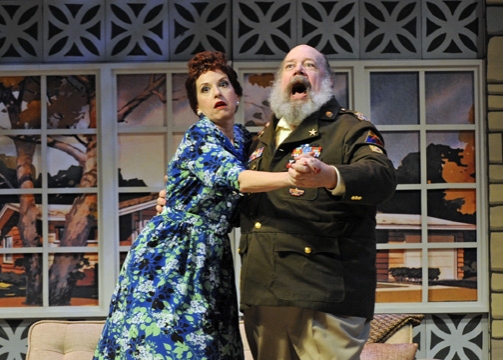 Jean Tafler
and
John Ahlin
Warren Kelley
and
John Ahlin