BWW Exclusive: ALADDIN's Adam Jacobs and Arielle Jacobs Surprise Students at Disney Performing Arts
Adam Jacobs and Arielle Jacobs, stars of Disney's ALADDIN on Broadway, surprised a group of students at Walt Disney World this Friday, and there are a few things I want you to know about it:
1. The kids were there for a Broadway Workshop put on by Disney Performing Arts, a program that lets students travel to the Walt Disney World or Disneyland Resorts for hands-on educational experiences with professionals in the worlds of theatre, music, dance, and live entertainment.
2. The Jacobs siblings are kind of a big deal. Adam originated the title role in Disney's ALADDIN on Broadway. Arielle, meanwhile, originated the role of Jasmine... in Australia. (Don't worry, they never rode that magic carpet together, as they're both quick to point out.) Once Adam wrapped his time in the show (opposite Courtney Reed and, briefly, Isabelle McCalla), Arielle entered as Broadway's Jasmine, and she's still starring in ALADDIN there today.
3. This wasn't just some big PR stunt. The whole thrust of this surprise was toward making a special moment just for these few dozen kids. To my knowledge, I was the only outside media representative there, and even my invitation was more of a "Hey, if you wanna swing by, this is going to be a pretty cool moment..."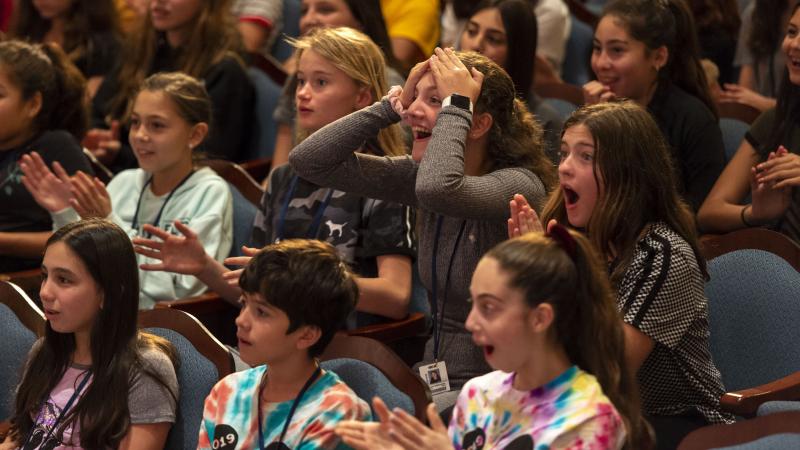 It was a cool moment. When I walked into the performance hall at Disney's Saratoga Springs Resort & Spa, I found a few girls finishing a dance class with Goofy. (Clearly, Adam and Arielle weren't the only celebrities on tap for the day.) They filed out and the next class filed in - business at usual, it seemed.
Enter Betsy Ervin (Manager, Disney Performing Arts). "I have some friends at Disney on Broadway in New York," she told the kids, who already seemed pretty jazzed to be there.
"They heard that you guys were coming down today to do our Disney Performing Arts Broadway Workshop," Ervin continued, "and they sent down a little something they wanted to show you before you start... so if you guys could take a look up at the screen, we have a special video for you."
"Oh cool!" the students exclaimed (genuinely) as an ALADDIN sizzle reel began to play. When it ended, the big screen lifted and out from behind it walked Jacobs & Jacobs, launching into an iconic ALADDIN duet.
It took the kids a second to fully realize what was happening, and then it was all gasps and muted screams (muted because nobody wants to interrupt "A Whole New World") - the kind of "Disney magic" everyone wants to be a part of, like a YouTube moment in the making but not at all contrived.
Broadway lovers are well acquainted with Adam Jacobs' prince-perfect take on Aladdin, and he sounded great as ever here. But since her voice isn't on the cast album, people might not know Arielle Jacobs, whose vocals are truly outstanding and deserve wider acclaim. (Later that night, in an unrelated performance at Epcot, she made "These Palace Walls" sound fresh, exciting, and ever so Jasmine-esque... not a sentiment I held upon leaving the New Amsterdam during the original ALADDIN cast's run.) "A Whole New World" was dazzling as ever - these kids got their very own private Broadway concert and neither actor was holding back a bit.
When they finished their "unbelievable sights" and "indescribable feelings," the Jacobs came down off the stage and sat with the students for a candid Q&A.
The teenaged crowd seemed especially impressed that Arielle had been in In the Heights (opposite Lin-Manuel Miranda!) and Wicked, both on Broadway, and that Adam had been Simba in Broadway's The Lion King and even landed a role on TV.
Once the Jacobs said farewell, the workshop itself began, and Steve MacKinnon took over. MacKinnon is something of a local legend, having directed a number of well-received theatrical productions around Central Florida over the last decade. Beyond Orlando, he's also involved in Steven Spielberg's upcoming, big-screen West Side Story remake - not the kind of résumé students usually find in their teachers outside of a program like Disney Performing Arts.
And that was actually my biggest takeaway from the event. The Jacobs siblings are delightful, and when Disney pulls off a surprise like this every now and then (as they did with THE LION KING's Kissy Simmons and Alton Fitzgerald last year, Pentatonix star Kevin Olusola in 2016, and MARY POPPINS' Ashley Brown in 2015), it's something to see. But even when there aren't any celebrities on hand, Disney Performing Arts is giving young theatre lovers the chance to learn face-to-face from top-notch talent... every single day. Color me impressed.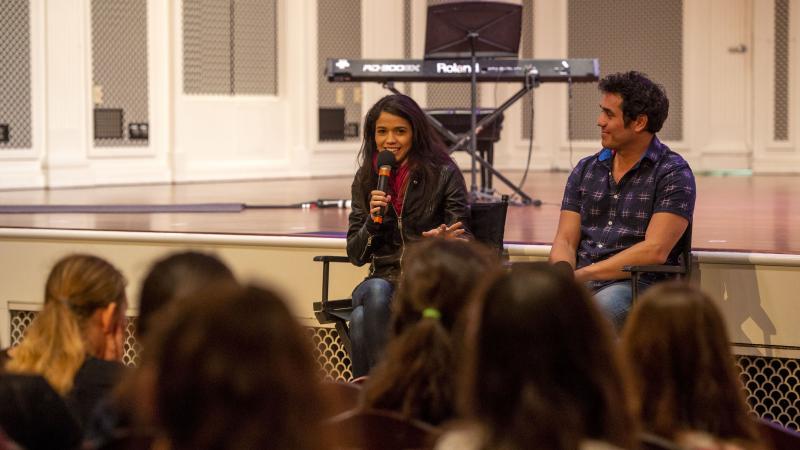 Want to learn more about Disney Performing Arts and how you, your children, or your students can take part? Programs are available for kids of all ages (all the way through college) at both the Walt Disney World Resort near Orlando, FL and the Disneyland Resort in Anaheim, CA. Current workshops, festivals, and performance opportunities are posted here.
Want to see Adam Jacobs and Arielle Jacobs for yourself? They're currently co-headlining the Epcot International Festival of the Arts. This park-wide celebration of culinary, visual, and performative art unfolds in Epcot each January and February, capped off by a nightly concert series featuring well-known stars from Disney's many Broadway shows. (Last year, the concerts were held just four nights a week. This year, they're up to all seven, perhaps a sign of these Broadway-lovin' times.)
The Jacobs perform together on select nights through February 9. This year's other performers include Heidi Blickenstaff, Gavin Lee, Ashley Brown, Josh Strickland, Kissy Simmons, Alton Fitzgerald White, Kerry Butler, Kevin Massey, Steve Blanchard, and Meredith Inglesby. (For the first time ever, four of those stars will share the stage on the Festival's final evening.) Find the full schedule here. And if you can't make it, each of the Jacobs siblings has their own solo album, featuring songs from the Disney songbook and beyond. They're worth checking out.
---
What did you think of Adam & Arielle's surprise at Walt Disney World? Planning to check out the Epcot International Festival of the Arts or learn more about Disney Performing Arts? Let me know on Twitter @AaronWallace.
Video Credit: Aaron Wallace
Photo Credit: Charlene Guilliams/Disney
Related Articles View More Orlando

Stories

Shows