Aaron Wallace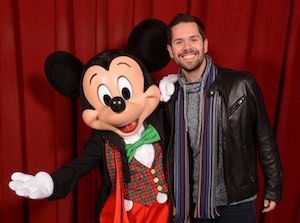 Aaron Wallace is a podcaster, attorney, and the bestselling author of several books on travel and entertainment, including Hocus Pocus in Focus: The Thinking Fan's Guide to Disney's Halloween Classic and a series dedicated to Walt Disney World theme park attractions. His podcast, Zip-A-Dee-Doo-Pod, is the longest-running Disney podcast on the web. He's also an avid Broadway and musical theatre fan.
Bridging several academic disciplines in his work, Aaron holds a Bachelor of Arts degree in both English and Communication Studies (concentrating in Film, Television, and Media Studies) from the University of North Carolina at Chapel Hill. Additionally, he earned a Juris Doctorate at Wake Forest University. Today, he lives in Orlando and studies theatre, theme parks, television, movies, music, and more. For more, follow him on Instagram and Twitter: @aaronwallace
 
MOST POPULAR ARTICLES
LAST 30 DAYS
LAST 365 DAYS
Review: With a Surprise Appearance by Jodi Benson, DISNEY PRINCESS - THE CONCERT Brings Big Talent to Dr. Phillips Center

November 17, 2022

The Disney Princesses were only five songs into their set when the iconic Jodi Benson made a surprise appearance on stage. The original voice behind Ariel in 1989's The Little Mermaid, Benson may be best known on screen as a princess, but to a crowd of theatre aficionados and adoring Disney fans, she's a queen...
---
Review: Why a 'Weird Al' Concert Without Any Parodies Is the Most 'Weird Al' Concert of All

October 19, 2022

An evening with 'Weird Al' on stage is always a blend of concert, comedy, and community. The Unfortunate Return of the Ridiculously Self-Indulgent, Ill-Advised Vanity Tour feels like an opportunity to give back — letting Al show us everything else he can do while indulging our own inner geeks at the same time. When you think about it, being into something really specific and relatively unpopular is really what nerdom is all about, which makes a parody-free "Weird Al" show surprisingly the "Weird Al"-iest show of all.
---
BWW Review: Even Refreshed for its 50th Anniversary, JESUS CHRIST SUPERSTAR Remains Dated & Divisive — Dr. Phillips Center

June 9, 2022

What did our critic think of JESUS CHRIST SUPERSTAR at Dr. Phillips Center? The show remains fundamentally a relic of the precise moment in time that Short summed up so well, when the convergence of counterculture and rock & roll meant that an irreverent but ultimately thin concept like this one — "the Bible but make it a concert" — seemed utterly avant-garde...
---
BWW Interview: Julie Andrews Talks AFI Life Achievement Award, Princess Diaries 3, New Memoir & More

June 8, 2022

On the cusp of her AFI Lifetime Achievement Award, we talk with Julie Andrews for an update on The Princess Diaries 3, her next installment in her series of memoirs, the potential of her returning to the Broadway stage and the upcoming Minions movie.
---
BWW Review: BEAUTIFUL - THE CAROLE KING MUSICAL Returns to Dr. Phillips Center; Still Better Than Most Jukebox Musicals

May 16, 2022

But BEAUTIFUL is structured differently than most 'backstage biomusicals.' It's not a rags to riches story, exactly, nor the routine tale of one woman's ascent to superstardom. Mercifully, we are spared the obligatory plot points of that particular formula. King never learns her contract is unconscionable nor fires a manager in dramatic fashion. There is no descent into addiction, fall from grace, dramatic career slump, or climatic comeback...
---
BWW Review: BEAUTY AND THE BEAST Feels New Again in Outstanding Garden Theatre Production

April 26, 2022

Director Roberta Emerson has devised an intriguing way to approach the story's outer framework without altering the libretto. The story opens not with an unseen narrator recounting the enchantress's spell on a prideful prince and his servants but instead with a young Black girl (played sweetly by Gabriella Milchman) who opens a storybook in a modern-day bedroom and reads those words aloud from it, soon seeing herself in the story - just in time for the glorious opening notes of 'Belle'...
---
BWW Review: Alan Cumming Is Not Acting His Age (In the Best Way) — Dr. Phillips Center

April 4, 2022

The biggest draw to an evening with Alan Cumming may be just that: it's an evening with Alan Cumming, a playful and energetic personality you like right away. His easy wit and effortless charm create an atmosphere that feels distinctly personal and intimate, even a thousand miles south of Club Cumming...
---
BWW Review: Why I'm Not Crazy About CATS at Dr. Phillips Center

March 31, 2022

Now I would never wish harm on cats, of course. It's just that they ought not wish it on me either. But as I sat there bored nearly to felicide Tuesday night and praying for a cat-pocalypse on stage, I couldn't help but wonder why there's not a PETA for theatregoers - and if there were whether they'd douse the producers of CATS with cola or whatever liquid might represent the precious gasoline we wasted to reach the theatre.
---
BWW Review: FRANKIE VALLI Not Quite 'In Concert' with THE FOUR SEASONS at Dr. Phillips Center

March 23, 2022

Frankie Valli introduced his ninth song at Dr. Phillips Center on Sunday night as one of his all-time favorites: a 1964 B-side called 'Silence Is Golden.' He might have taken the title a little too much to heart. It's a golden oldie for sure, and Valli sounded great... impossibly great for an 87-year-old on a live concert stage...
---
BWW Review: Strong Performance and Timely Staging Elevate Theater West End's War-Torn Musical, DOGFIGHT

March 21, 2022

Powerful as that theme may be, DOGFIGHT as written isn't fully the righteous proposition it hopes to be. At its core are some deeply troublesome male figures who engage in truly horrendous behavior, and while theatre is always welcome to put unseemly or complicated characters on the stage, DOGFIGHT never entirely deals with their deeds, which include among other things attempted rape. Playwright Peter Duchan clearly understands his character to be problematic, but their brisk redemption by way of jaunty music and degrees of forgiveness from the women on stage can at times feel like unearned absolution...
---
BWW Review: LaBelle Brings Les Bops to Dr. Phillips Center

March 21, 2022

An OG, indeed. She is voulez-vous coucher's iconic 'moi,' the phenom who gave us 'New Attitude' but is every bit as famous for her own attitude - the diva who in 2019 famously lamented all of Top 40's 'little heifers who can't sing' and here tonight in Orlando was calling her own high heels 'heifers that got to go.' Ladies and gentlemen, that is rock and roll...
---
BWW Review: Garden Theatre's Timely Musical PARADE Puts Anti-Semitism and Southern Justice on Trial

March 1, 2022

As news of Nazi rallies throughout Orlando and a white nationalist conference just outside of Walt Disney World rock Central Florida, Garden Theatre opens a musical this week that meets the moment: PARADE...
---
BWW Review: At Dr. Phillips Center, Top-Notch FROZEN is No Fixer-Upper

February 27, 2022

Caroline Bowman approaches Elsa with a studied understanding of this show's central themes: the inner confusion of outward identity, the struggle between family ties and the daggers of life that threaten to slice them, and the feeling of danger inherent in any quest for self-acceptance - especially on the part of those marginalized by the masses. It's a story of coming (out?) into one's own. It is a love letter to the fairy tale form and the Disney classics of yore, but also a challenge to their conventions and ideals. Bowman's dynamic performance contains all that turmoil and triumph within it, the totality of it exploding in Act One's 'Let It Go' (reworked here for even greater musical might than the movie) and Act Two's brand-new 'Monster' (which has more oomph in the studio cast recording than on the tour stage, but it's still a powerful identity statement and an indisputable jam.)
---
BWW Review: Theater West End's Reimagined INTO THE WOODS Finds Magic in a Forest without Trees

February 7, 2022

Those who haven't encountered INTO THE WOODS before won't miss anything at Theater West End. It's still the story of Cinderella, Red Riding Hood, Jack the giant chaser, and a baker and his wife and the witch that cursed them all heading into the same woods at the same time for very different reasons. Their journeys intersect in song and scandal as Sondheim spins the yarn of didactic fantasy into the gold of complex moral quandry. The result is a work as nuanced and astute in its reflection on the human condition as any that music theatre has ever had to offer...
---
BWW Review: Audra McDonald and Dr. Phillips Center Make History with Duke Ellington's BLACK, BROWN & BEIGE

January 27, 2022

It's not every day that Audra McDonald stands twenty feet in front of you and says, 'Tonight, we are all a part of history.' Then again, it's not every day that music history gets made in Orlando - real-deal, textbook-worthy history - so when it does happen, I reckon Audra McDonald is as eager to be a part of it as anyone else...
---
BWW Review: AIN'T TOO PROUD Pairs Familiar Songs with Familiar Story Beats at Dr. Phillips Center

January 26, 2022

But even if AIN'T TOO PROUD commits a few sins on its way to Motown glory, it is at least absolved to some extent by the sheer quality of that songbook. And, in the current touring production at Dr. Phillips Center, it gets some extra absolution from its incredibly talented cast...
---
BWW Review: Audacious and Inspiring, Garden Theatre's THE MOUNTAINTOP Puts Us in a Room with Martin Luther King Jr.

January 25, 2022

THE MOUNTAINTOP is a daring and compelling piece of theatre, powerfully staged this month at The Garden Theatre in downtown Winter Garden, FL. It wastes no time in restoring King from the marble statues and speckled newsreels of history to beating heart and flesh and blood...
---
BWW Review: Jennifer Hudson Concert Is a Big-Voice Baptism for Dr. Phillips Center's New Steinmetz Hall

January 24, 2022

When Jennifer Hudson sang 'I Will Always Love You' at Dr. Phillips Center on Saturday night, harkening back to her legendary performance of the same at the 54th Grammys, she braced for the 'And I' but, overwhelmed, went with a 'SIR! The way you played that HORN!' instead...
---
BWW Review: THE PROM at Dr. Phillips Center Is Campy, Vampy Fun

December 9, 2021

Visiting THE PROM in original stage form will be refreshing for those who know only the Netflix version. It's as if someone grabbed a theatrical scouring pad and scrubbed away all the glitzy, feel-good 'Glee'-dom that made Murphy's take feel slightly sugar-rushed. On stage, THE PROM is refreshingly edgier, campier, and just a smidge more foul-mouthed than in the movie, albeit still unrealistic and all too tidy in the end...
---
BWW Review: Garden Theatre Finds BIG Fun in Seldom-Staged Musical

November 26, 2021

BIG props to the artistic team behind BIG: THE MUSICAL at Garden Theatre. They built a BIG all-wood roller coaster right on stage. It's a beauty to look at, honestly as dazzling as the famous real-deal I rode at Dollywood two weeks ago. You can't ride the Garden's, but it does move. The show's various scene settings, whether a two-story apartment or a Manhattan office building, are hidden within the coaster's twisting support beams and break out to roll downstage. It makes a BIG Impression...
---