The Orchard Project Announces 2018 New York City Greenhouse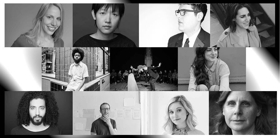 The Orchard Project (Artistic Director, Ari Edelson) announced the eleven writers, composers, directors and companies for its 2018 New York City Greenhouse. In its first year, the Orchard Project NYC Greenhouse is a new NYC-based accelerator for directors, writers, composers and other generative artists to seed ambitious and unexpected work, form new relationships and develop a new generation of theater. For the Orchard Project, it aims to parlay the strength of support that has set the organization apart and transform it into a resource for its growing network of artists.
Over the course of the year-long residency, Greenhouse participants will become an integral part of the Orchard Project artist community. The NYC Greenhouse will meet monthly to develop and workshop pieces, share new work and receive feedback from their NYC Greenhouse peers. Membership in the NYC Greenhouse will peak in a session for NYC Greenhouse members at the Orchard Project Saratoga Springs, NY-based summer professional laboratory in June 2018. Members will also receive dramaturgical support, space resources in the Orchard Project's NYC facility, artistic matchmaking advice from the OP artistic staff, invitations to OP alumni shows in New York City, artist events, and more.
Led by Artistic Director Ari Edelson and Greenhouse Director Mary Birnbaum, The NYC Greenhouse moves beyond the limitations of a traditional writer's lab and aims to serve directors, writers, composers and other generative artists whose work might defy categorization. It is a program intended to encourage collaboration between leading creative voices, adjusting to the needs of each member. In line with the Orchard Project's focus on process and commitment to diversity of aesthetic, experience, and background, the program strives to bring together a disparate group of extraordinary artists and a myriad of projects. The Orchard Project will work with teams and artists on gameplans for the future life of all work developed through the program.
The 2018 NYC Greenhouse members are: Alexander Borinsky, Emily Feldman, Leigh Fondakowski, Jeremy O Harris, Lubdub Theatre Co. (Caitlin Nasema Cassidy, Geoff Kanick, Miranda Rose Hall, Robert Duffley), Whitney Mosery, Abby Rosebrock, Heath Saunders, Angela Sclafani, Celine Song, Zack Zadek.
"I am overjoyed to welcome this very dynamic group of generative artists to The Orchard Project family," said Artistic Director Ari Edelson. "The launch NYC Greenhouse is an integral part of the Orchard Project's long term plans to expand our ecosystem of support and advocacy of bold new work to a year-round structure, and to include and highlight even more work that is at the forefront of the field. We not only look forward to the work this extraordinary group will seed, but also the potential for this program to grow in years to come."
In just over ten years, The Orchard Project has become the go-to new work "accelerator" for many of America's boldest theatre companies and artists. The flexible support it has provided has given countless shows the kickstart they desperately needed and has, to date, supported more than 1000 artists and 200 shows - from All the Way to Amelie; from 33 Variations to An Octoroon; from work of Mike Bartlett to Annie Baker; from Pig Iron to Elevator Repair Service; from Young Jean Lee to Rachel Chavkin; and from Esperanza Spalding to Dave Malloy. The Orchard Project has played a significant role in the development of new works which have since been or will be produced on and off Broadway and at countless theaters, including BAM, St. Ann's Warehouse, MCC Theatre, Arena Stage, Philly Live Arts, PS122, The Public Theatre, Oregon Shakespeare Festival, LAByrinth Theatre Company, Atlantic Theater Company, the Edinburgh Festival, La Jolla Playhouse, Yale Rep, the Royal Court, and many more.
2018 Orchard Project Greenhouse Bios:
ALEXANDER BORINSKY is a playwright and performer, originally from Baltimore. Recently: Weird Classrooms, an interactive plaything, at University Settlement, and Of Government, a play, with Clubbed Thumb. His work has been supported by Playwrights Horizons, Target Margin, Page 73, EST/Youngblood, SPACE at Ryder Farm, Masrah Ensemble in Beirut, Upstream Theater in St. Louis, and the Lower Manhattan Cultural Council. MFA, Brooklyn College. Soon: Ding Dong It's the Ocean, with Rady&Bloom, at JACK.
Emily Feldman is a playwright. Her work has been developed by The Playwrights' Center, Colt Coeur, Actors Theatre of Louisville, The Magic Theatre, The ALLIANCE THEATRE, Roundabout Theatre Company, and The Playwrights Realm. She has been an Alliance/Kendeda finalist, Ashland New Play Festival Winner, and is currently a member of The Working Farm at SPACE on Ryder Farm and Interstate 73. Emily is a recent Jerome Fellow at The Playwrights' Center and earned her MFA in playwriting from UC San Diego and her BA from Middlebury College.
Leigh Fondakowski is a writer and director. She was the head writer of The Laramie Project, co-writer of Laramie: Ten Years Later, and an Emmy Nominated co-screenwriter for the film adaptation of Laramie with HBO Films. Her other original plays include, I Think I Like Girls, The People's Temple, SPILL, and Casa Cushman. Her plays have been produced under her direction at American Theater Company, Berkeley Repertory Theater, Encore Theater, Ensemble Studio Theater, The Guthrie Theater, La Jolla Playhouse, Perseverance Theater, Swine Palace, TimeLine Theater, and Z Space Studio. Leigh is a recipient of the NEA/TCG Theatre Residency Program for Playwrights, a MacDowell Colony Fellow, an Audrey resident artist with New Georges, and a Distinguished Visiting Chair at the University of Minnesota. She is the author of the non-fiction book, Stories from Jonestown, and is currently adapting the book to film. She is a teaching artist at New Orleans Center for Creative Arts and Naropa University, and is a member of Tectonic Theater Project.
JEREMY O HARRIS is an actor and playwright currently residing in New Haven, CT by way of Los Angeles, CA. His full-length plays include, Xander Xyst, Dragon: 1, "Daddy", WATER SPORTS; or insignificant white boys, and Slave Play. Short plays include: I TRIED TO WRITE A POEM & THIS CAME OUT,Untitled Merchant of Venice Adaptation (collaboration with conceptual artist David Birkin), N*Words In Paris, IDK (a cute race-based pyschosis), and NORF. His work has been presented or developed by Pieterspace, JACK, Ars Nova, The New Group, NYTW, and Playwrights Horizons. He is a 2016 MacDowell Colony Fellow, 2016 Chesley/Bumbalo Playwriting Award Finalist, 2016 Princess Grace Award Semi-Finalist, resident playwright with Colt Coeur, and is under commission from Lincoln Center Theater and Playwrights Horizons. Jeremy is currently in his second year at the Yale School of Drama for Playwriting.
LUBDUB THEATRE CO. is a hybrid physical theatre company animating stories of science, magic, and myth. Recent performances include: The Doubtful Guest (Public Arts at The Public Hotel, in association with The Orchard Project) and The Very True Story of What Has Yet to Come (performed via the US Postal Service). A company of ten multidisciplinary Core Artists, LubDub is led by Caitlin Nasema Cassidy and Geoff Kanick (Co-Artistic Directors), Miranda Rose Hall (Resident Playwright), and Robert Duffley (Resident Dramaturg). Lubdubtheatre.org
Whitney Mosery is a director/deviser/dramaturg based in NYC and London. Her specialty is new plays and musicals, though she also directs her own reworkings of classics, like the ritual/bonfire/dance/party/play BACCHANALIA (US/UK/Greece). As Associate: Harry Potter and the Cursed Child (Broadway); American Psycho (Broadway/Almeida); King Charles III (Broadway/West End/Almeida, Co-Director of International Tour). www.whitneymosery.com
Abby Rosebrock is Brooklyn-based writer-actor from South Carolina. Plays include Dido of Idaho, Singles in Agriculture and Blue Ridge. Abby's work has appeared throughout NYC and in Georgia, Massachusetts, Montana and Idaho. She is formerly a student of medieval literature and a devotee of good sitcoms, 20th-century pop music, romantic comedy and radical theologies. Her highest aim for her work is to help promote healing and the spiritual empowerment required for recreating the world.
Heath Saunders is a composer, lyricist, actor, singer-songwriter, and general know-it-all (not in a good way) who spends his free time writing musicals you haven't heard of yet. As a performer, you might have seen him on Broadway in Natasha, Pierre, and the Great Comet of 1812 where he added like 15 high kicks to choreography that in no way needed it, often while playing the guitar. Coming up, he'll be appearing in NBC's Jesus Christ Superstar Live in Concert, and then, almost immediately following, in Jesus Christ Superstar at Chicago Lyric Opera, largely because he really likes Jesus Christ Superstar. As a singer-songwriter, his self-produced tracks blend electronic grooves with a modern theatrical lyric sensibility - plus a dash of fast-paced rap and spoken word poetry for good measure. His original musical Newton's Cradle, co-authored with Kim Saunders, won the NYMF Best Musical award in 2016, along with 5 additional accolades, including Best Lyrics. Training: University of Miami's Frost School of Music.
Angela Sclafani is a singer, songwriter, theater composer, and actor. Her debut musical The Other Side of Paradise, which she wrote, performed, and co-produced, premiered in Ars Nova's 2017 ANT Fest. Select theater: Kansas City Choir Boy (ART Oberon, CTG), The Daughters (NYU), Liz Swados' The Reality Show; Workshops: Burn All Night,The Good Swimmer. Angela is a 2018 Richie Jackson Artist Fellow and a 2018 Jonathan Larson Grant Finalist. Her music is available online. www.angelasclafani.com
CELINE SONG is a member of The Public Theater's 2016-2017 Emerging Writers Group, a member of Ars Nova's 2014-2015 Play Group, and a Playwrights Realm 2017-2018 Writing Fellow. Her play ENDLINGS was a part of the 2017 Kilroys list, and TOM & ELIZA was a semifinalist for the American Playwriting Foundation's 2016 Relentless Award. Celine has been awarded residencies, fellowships, and commissions from: MTC/Sloan, Sundance, the Millay Colony for the arts, the MacDowell Colony, Yaddo, and the Edward F. Albee Foundation. Celine was an IATI Theater 2015 Cimientos Playwright and a 2014 & 2016 Great Plains Theatre Conference Playlab Playwright. Her plays include THE FEAST (MAP Theater in Seattle, New Court Theatre in LA, Shelterbelt Theatre in Omaha, Red Theater Chicago), FAMILY (Signature Theater, Potomac Theater), TOM & ELIZA (Ars Nova, JACK, Theatre503), and ENDLINGS (The Public, Echo Theater, OSF BLACK SWAN Lab). She holds an M.F.A. from Columbia.
Zack Zadek is a composer/lyricist, playwright, and songwriter with Warner/Chappell. He won the 2017 Weston New Musical Award for his book, music, and lyrics to DEATHLESS (dir. Tina Landau) which was developed at TheatreWorks Silicon Valley and received its world premiere at Goodspeed Musicals last spring. Zack was a 2017 MacDowell and VCCA Fellow, and was recognized as a 2018 Kleban Prize Finalist, 2017 Jonathan Larson Grant Finalist, SigWorks Finalist and Kevin Spacey Artist's of Choice Finalist. He is currently in residence with The Civilians R&D, and graduated with honors from NYU's Gallatin School.
For information on 2018 NYC Greenhouse members: http://orchardproject.com/content/2018-greenhouse-members
For more information on the program: http://orchardproject.com/content/nyc-greenhouse
Related Articles View More Off-Off-Broadway

Stories

Shows
More Hot Stories For You