The Flea Hosts the World Premiere of THE INVENTION OF TRAGEDY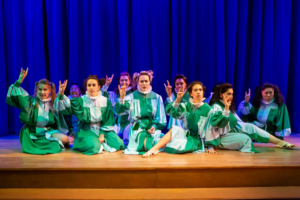 The Flea Theater presents the World Premiere of THE INVENTION OF TRAGEDY,the centerpiece of Mac Wellman: PERFECT CATASTROPHES, a festival of plays by the influential vanguard playwright. Now in previews, performances run through October 14 at The Flea (20 Thomas Street in Tribeca, between Church and Broadway, three blocks north of Chambers) with opening set for September 21.
A chorus of students, all alike and all unalike, are trying like the devil to tell a simple story-perhaps the story about the tragedy of the Sandwich Man-with sandwich boards upon which nothing is written, and hence, say nothing. THE INVENTION OF TRAGEDY is Wellman's examination of the post-9/11 world and America's general and genial acceptance of the Iraq war.
Mac Wellman
's work includes: The Offending Gesture, directed by
Meghan Finn
at the Connelly Theater in 2016; Horrocks (and Toutatis Too) Woo World Wu at Emerson College in Boston in 2013 (with Erin Mallon & Tim Sirgusa); Muazzez at the Chocolate Factory(PS122's COIL Festival) with
Steve Mellor
, in 2014; 3 2's; or AFAR at Dixon Place in October 2011, The Difficulty of Crossing a Field (with composer
David Lang
) at Montclair in the fall of 2006 and 1965 UU for performer
Paul Lazar
, and directed by
Stephen Mellor
at the Chocolate Factory in the fall of 2008. He has received numerous honors, including NEA, Guggenheim, and Foundation of Contemporary Arts fellowships. In 2003 he received his third Obie, for lifetime Achievement. In 2006 his third novel, Q's Q, was published by Green Integer, and in 2008 a volume of stories, A Chronicle of the Madness of Small Worlds, was published by Trip Street Press as well as a new collection of plays The Difficulty of Crossing a Field from Minnesota Press. His books of poetry include Miniature (2002), Strange Elegies(2006), Split the Stick (2012) from Roof Books, and Left Glove (2011), from Solid Objects Press. His novel Linda Perdidowon the 2011 FC2 Catherine Doctorow Prize for Innovative Fiction. He is Distinguished Professor of Play Writing at Brooklyn College.
Meghan Finn
is the Artistic Director of The Tank. She previously directed the World Premieres of
Mac Wellman
's The Offending Gesture (The Tank/3LD) and 3,2's; or AFAR (Dixon Place) as well as several other productions of his work. Other highlights include: WHEN WE WENT ELECTRONIC by Caitlyn Saylor Stephens (The Tank); Manufacturing Mischief: A Noam Chomsky Puppet Play (Pedro Reyes at The Tank, MIT, Carnegie Mellon, The Power Plant Art Gallery/Canadian Stage, Serpentine Gallery London, Museo Jumex Mexico City, Chicago International Puppet Theater Festival, The Night of Philosophy at the Brooklyn Public Library, the Savannah College of Art and Design); DOOMOCRACY (Pedro Reyes for Creative Time); American Power by Mitch Epstein and Erik Friedlander (V&A London, The Wexner Center), The Service Road by
Erin Courtney
(Adhesive Theater Project); CHARLESES by Carl Holder (The Tank); Sam's Tea Shack by Sam Soghor and Ben Gassman (The Tank). www.thetanknyc.org The Bats are the resident acting company members of The
Flea Theater
. Each season, hundreds of actors audition for a place in this unique company. The Bats perform in extended runs of challenging classics, as well world premieres of new plays. They are the lifeblood of The Flea. The
Flea Theater
, under Artistic Director
Niegel Smith
and Producing Director
Carol Ostrow
, is one of New York's leading Off-Off-Broadway companies. Winner of several Obie Awards, a Special Drama Desk Award for Outstanding Achievement and an Otto Award for political theater, The Flea has presented over 100 theatrical, musical and dance performances since its inception in 1996. Past productions include premieres by
Steven Banks
,
Thomas Bradshaw
,
Erin Courtney
,
Bathsheba Doran
,
Will Eno
,
Karen Finley
,
Amy Freed
,
Sarah Gancher
,
Sean Graney
, A.R. Gurney,
Jennifer Haley
,
Hamish Linklater
, Enrique Gutiérrez,
Ellen McLaughlin
, Ortiz Monasterio,
Itamar Moses
,
Anne Nelson
, NSangou Njikam,
Qui Nguyen
,
Adam Rapp
,
Jonathan Reynolds
, Kate Robbins,
Roger Rosenblatt
,
Todd Solondz
,
Elizabeth Swados
, and
Mac Wellman
. Successes include Drama Desk nominated She Kills Monsters, New York Times Critics' Pick Inanimate, Syncing Ink, These Seven Sicknesses, Restoration Comedy, The Mysteries and ten World Premiere productions by A.R. Gurney, including the WSJ Best New Play of 2013, Family Furniture.
Mac Wellman
: PERFECT CATASTROPHES runs through November 1, Thursdays through Mondays at 7 p.m. and 9 p.m., with Sunday matinees at 3 p.m. and 5 p.m. Tickets start at $37 with a limited number of $17 tickets available on a first-come, first-served basis. The
Flea Theater
is located at 20 Thomas Street between Church and Broadway, three blocks north of Chambers, close to the A/C/E, N/Q/R/W, 4/5/6, J/M/Z and 1/2/3 subway lines. Purchase tickets by calling 212-352-3101 or online at
www.theflea.org
Photo by Hunter Canning