Red Bull Theater Presents HERNANI Starring GAME OF THRONES' Pedro Pascal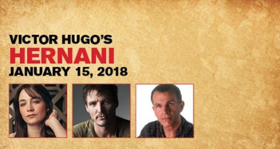 Red Bull Theater (Jesse Berger, Artistic Director | Jim Bredeson, Managing Director) today announced the cast for their next REVELATION READING, Victor Hugo'sHernani, translated by John Strand: Frankie J Alvarez, Ryan Garbayo, Anthony Martinez, Ismenia Mendes, Luis Moreno, Pedro Pascal, Tony Plana, and Matthew Saldivar, under the direction of Ethan McSweeny, on Monday January 15th at 7:30 PM at the Lucille Lortel Theatre (121 Christopher Street, between Bleecker and Hudson Streets).
A tale of passion and intrigue from the young
Victor Hugo
(later of Les Miserables fame), complete with sword fights, a lover in disguise, and deadly poisoned cup. Hernani begins in the fictional Spanish court of 1519 with the King Don Carlos sneaking into the bedchamber of the beautiful Doña Sol, who is tragically betrothed to her elderly uncle, and already plotting her escape with the mysterious bandit Hernani. With three men in love with one woman, could it ever end well? The play famously incited a riot in its 1830 Paris premiere. "Six hours before the opening performance of Hernani, February 25, 1830, a line of young, loud, ostentatiously dressed spectators had formed outside the Comedie-Francaise, the very bull's eye of classical tradition in art. By the time the curtain went up at 7:00 p.m., the house was packed with 1,600 tense spectators so clearly divided between Romantic and Classical camps that they might have been painted red or blue...
Victor Hugo
was hero or insurgent. It depended on your point of view...But all this tends to obscure the play. Hernani is a wonderfully rich emotional ride through some remarkable narrative terrain, a place where heroes and villains still reign, where kings abduct damsels in the night and where men and women are ready to die for honor. The characters, like their author, are a little larger than life. Their reality, like Hugo's, is a little heightened," said Mr. Strand.
Victor Hugo (1802-1885) was born shortly after the French Revolution, and his family was divided in ways that reflected the great social and political upheaval that roiled France during his lifetime. His father was an officer in Napoleon's army and his mother a committed Catholic Royalist. Their marriage was troubled. Hugo is perhaps best known for his great novels Les Misérables and The Hunchback of Notre-Dame, both of which called unprecedented attention to the plight of the poor and disenfranchised in French society. He was an early, outspoken advocate for numerous progressive causes, and became a standard-bearer for French Romanticism, establishing the Théatre de la Renaissance in 1838 for the express purpose of propagating Romantic drama. In 1852 he was forced to flee France with his family because of his opposition to Louis Napoleon's political coup. After spending eighteen years in exile on the islands of Jersey and Guernsey in the English Channel, he was welcomed back to Paris in 1870 as a national hero and remained politically active until his death in 1885. After Hernani he would complete the greatest French novels of the 19th century, Notre-Dame de Paris (The Hunchback of Notre Dame) and Les Miserables. Hugo's political and social dramas still stir audiences today.
John Strand
(translation), playwright-in-residence at
Arena Stage
, Mead Center for American Theater, Washington, DC, 2014-2016, is a winner of the
Charles MacArthur
Award for playwriting. His recent work includes the play The Originalist, featuring the character of the late Supreme Court Justice Antonin Scalia (
Arena Stage
premiere; Chicago, and NYC in 2018); the book for the musical Snow Child (
Arena Stage
and Perseverance Theater, Juneau, in 2018); the book and lyrics for the musical Hat! A Vaudeville (
South Coast Repertory
); the book for the musical The Highest Yellow(
Signature Theatre
); Lorenzaccio, an adaptation of
Alfred De Musset
's 1834 French classic (
Shakespeare Theatre Company
); the play Lincolnesque (
The Old Globe
); and the novelCommieland (Kiwai Media, Paris). He is at work on the film adaptation of his play The Originalist (Rocklin/Faust). Red Bull Theater continues its OBIE Award-winning Revelation Reading Series, providing the unique opportunity to hear rarely produced classic plays performed by the finest actors in New York. This year's readings highlight the season's themes of love and all its joyous madness-with both Jacobean and French twists-alongside the perils of ambition and the threat of the con. From Molière's Don Juan featuring
Mary Testa
to
David Garrick
's The Clandestine Marriage with
Mark Linn-Baker
, this year's slate of readings is sure to delight you all season long. Subsequent REVELATION READINGS, all of which take place on Monday evenings (7:30PM) at the
Lucille Lortel
Theatre, will include:
February 12th - Don Juan by Molière, adapted and directed by Stephen Wadsworth, featuring Mary Bacon, Stephen DeRosa, Francesca Faridany, Adam Greer, Mary Lou Rosato, Adam Stein, and Mary Testa. In the hands of the great Molière, Don Juan is as much anarchic philosopher as irresistible lover, discoursing with his servant Sganarelle on heaven and hell, sex and politics, as he jumps from bed to bed, breaking every rule in the book. After its shocking opening night in 1665 Paris, the courtly censors had their way with the script, and it wasn't seen as the playwright intended for generations. Stephen Wadsworth's "extravagantly reimagined" (Washington Post) version "produces sheer astonishment" (New York Times), restoring the work to its original subversive brilliance, as Don Juan defiantly risks his soul to think and live as he pleases.
March 19th - The Alchemist by
Ben Jonson
, directed by
Jesse Berger
, featuring
Christian Conn
,
Whitney Maris Brown
,
Ryan Garbayo
,
Jason Kravits
,
Steven Rattazzi
,
Robert Sella
,
Jeanine Serralles
,
David
Ryan Smith
,
Derek Smith
, and
John Douglas
Thompson. When the plague hits, Lovewit flees town and foolishly entrusts his Blackfriars house to his servant Jeremy, who promptly sets up shop with fellow con man Subtle and the brilliantly sexy prostitute Doll Common. Claiming alchemical powers, the three scam a series of memorable chumps including Sir Epicure Mammon, a Falstaffian figure with an epic sensual appetite. No one escapes Jonson's searing wit in this satire of greed and folly, set in his own Jacobean London, in the very neighborhood where he once lived. One of the comic masterworks of the age, and arguably Jonson's finest, this play promises pure delight. Please note: this reading is Sold Out. April 16 - The Second Maiden's Tragedy by
Thomas Middleton
, directed by
Craig Baldwin
, featuring
Susan Heyward
,
Dion Johnstone
,
Bhavesh Patel
, and
Miriam Silverman
. A juicy romantic thriller, in the rip-roaring tradition of The Revenger's Tragedy, this gem was resurrected from a single handwritten Jacobean manuscript, without title or author. The play tells the tragic tale of two sisters-known simply as Lady and Wife-each unwittingly caught in a love triangle and facing a test of her fidelity. But will both sisters pass? Inspired both by Talmudic legend and the story of a Christian martyr, the play features one of the most gruesome love suicides of the age, and a scene of necrophilia to boot. Almost never performed, this hearing is a rare opportunity. May 14 - A Doctor in Spite of Himself by Molière, adapted by
Christopher Bayes
and
Steven Epp
, directed by
Christopher Bayes
with live music by Pornchanok Kanchanabanca, and starring
Liam Craig
,
Austin Durant
,
Steven Epp
,
Renata Friedman
, Gabriel Levey,
Don Darryl Rivera
,
Justine Williams
, and
Liz Wisan
. What's a girl to do, to avoid her unwanted wedding? Pretend she's been struck mute, of course. And with the help of a dissolute, drunken woodcutter posing as her doctor, trick her rich old fool of a father. Masters of commedia
Christopher Bayes
and
Steven Epp
have teamed up to give uproarious new life to Molière's classic comedy, with "their brilliant, new-vaudeville style," making it "both raunchier and more unhinged," (New York Times). It's Punch and Judy come to life, in this pitch-perfect presentation, punctuated with live music. June 18th - The Clandestine Marriage by
David Garrick
and
George Colman
the Elder, directed by
Marc Vietor
, starring
Mark Linn-Baker
,
Talene Monahon
,
Reg Rogers
and
Ryan Spahn
. Wealthy merchant
Mr. Sterling
tries to better his social standing by marrying his eldest daughter Betsy to Sir John Melvil. Just one problem: Melvil is in love with the younger daughter Fanny, who happens to be secretly married to the humble clerk, Lovewell. And it's up to Lovewell to convince Melvil to look elsewhere. Set in the finely landscaped garden of Sterling's country home, it's effervescent comedy of manners at its finest-co-authored by
David Garrick
, famed actor-manager-playwright of London's great Drury Lane Theatre, where the play first delighted audiences.

Red Bull Theater, hailed as "the city's gutsiest classical theater" by Time Out New York, is the not-for-profit Off-Broadway theater dedicated to shining a light on the classics, bringing rarely seen plays to dynamic new life for contemporary audiences. With the Jacobean plays of Shakespeare and his contemporaries as our cornerstone, Red Bull Theater is New York City's home for dynamic performances of great classic stories from a variety of eras and countries. The company also inspires and produces new writing for the theater that is in direct dialogue with classical material and styles.
Acclaimed as "a dynamic producer of classic plays" by The New York Times, Red Bull Theater has previously staged productions of Pericles, The Revenger's Tragedy, Edward the Second, Women Beware Women, The Duchess of Malfi, The Witch of Edmonton, The Maids, The Dance of Death, Loot, The Mystery of Irma Vep, Volpone, 'Tis Pity She's A Whore, The Changeling, The School For Scandal, Coriolanus, and last season's runaway comedy hit, Gogol's The Government Inspector for an extended run at the Duke on 42nd Street and New World Stages. The company's work has been hailed as "the most exciting classical theater in New York" (Time Out New York), "Dynamite!" (The New York Times), "Triumphant" (Associated Press), and "Proof that classical theater can still be surprising after hundreds of years" (Variety). Red Bull Theater's work has been recognized with multiple Drama Desk, Drama League,
Lucille Lortel
, Callaway and OBIE Award nominations and awards, including the Off-Broadway Alliance Award for Best Revival in the 2015-'16 season (School for Scandal). The company has staged over 150 Revelation Readings, named by the Village Voice "Best Play Reading Series," also developing new plays of heightened language and classical adaptations through workshops and offering educational programs for students of all ages, including Shakespeare In School residencies. Post-play Bull Session discussions with scholars following select Sunday matinees and Readings are free and open to the public. Red Bull Theater offers Master Classes throughout the year. Taught by top working professionals including
Kathleen Chalfant
,
Sam Gold
,
John Douglas
Thompson,
Olympia Dukakis
,
Heidi Griffiths
,
Charlayne Woodard
and
Patrick Page
, Red Bull Theater's intensives and workshops cover a variety of disciplines, including auditioning, text, voice, movement, clowning, stage combat, and acting Shakespeare. Classes are open to adults at all levels of training or experience. They range from one to four days with limited class sizes to allow one-on-one attention. You can enroll in any combination of classes, or take the whole series for a year-long training experience. For more information about Revelation Readings, or any of Red Bull Theater's programs, visit
www.redbulltheater.com
.