R+J+T+C Comes to The Brick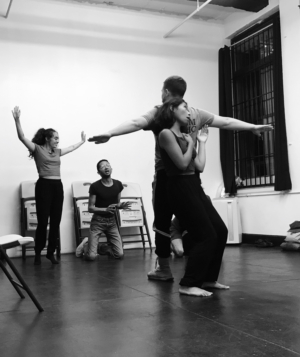 R+J+T+C is a compilation of Shakespeare's Romeo+Juliet, Troilus+Cressida, and the play Pyramus+Thisby within A Midsummer Night's Dream, adapted and directed by Nikolai Mishler.
It will premiere at The Brick as a part of their Shakespeare In The Theater Festival 2019.
The heart of this piece sits in the desire to create space for love amidst the human formation and maintenance of walls.
A percentage of ticket sales will be donated to organizations who are helping our communities tear down borders and walls with love. Please learn more and get involved with through these links.
Jewish Voice for Peace NYC
Make the Road NYC
And to support the project directly, check out the Kickstarter here. https://www.kickstarter.com/projects/rjtc2019/r-j-t-c?ref=discovery&term=R%2BJ%2BT%2BC
PERFORMANCE DATES :
Wednesday August 21st, 2019 @ 07:00PM
Friday August 23rd, 2019 @ 07:00PM
Tuesday August 27th, 2019 @ 07:00PM
To purchase tickets, please head to: https://web.ovationtix.com/trs/pr/1014842
CAST - Cody Buege, Guillermo Contreras, Austin Davis, Kayla Juntilla, Tyler Kion, Issac Lopez, Susi Plotts, Thea Throndson
ADAPTER+DIRECTOR+COMPOSER - Nikolai Mishler
SET+PROPS DESIGNER - Yanbo Li
COSTUME DESIGNER - Eunice Cheng
LIGHTING DESIGNER - Kelley Shih
INTIMACY DIRECTOR - Nina Roy
FIGHT CHOREOGRAPHER - Grace Clower
MUSICAL ARRANGEMENTS - Tyler Kion, Thea Throndson
STAGE MANAGER - Kendall Dupre
PRODUCER - Sam Leopold