Popular Immersive Experience OVERHEARD AT JOE'S Begins Ten-Night Special Engagement In New York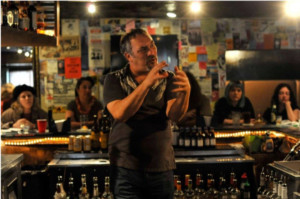 In response to popular demand and critical praise, the unique immersive-interactive experience Overheard at Joe's commences a special limited engagement at McHale's Bar & Grill beginning June 15. The event, completely different each night, combines live music, engaging conversation, drink specials and a distinctive style of interactive theater in a friendly barroom atmosphere. Tickets are available at the door on performance nights or in advance through BrownPaperTickets.com.
Following successful engagements and sold-out performances at the Fringe Festivals in Orlando, Florida and Edinburgh, Scotland-in addition to two dozen performances in New York already-Overheard at Joe's has already offered over 10,000 patrons a rare opportunity: to listen to potentially unfamiliar points of view on any number of topics, and a non-judgmental environment to give voice to their own thoughts.
"I believe that everyone deserves to be heard," says director/performer Christian Kelty, "which is why I created Joe's. People are hungry to connect, to have their opinions and experiences heard and understood, face-to-face. Our intimate room upstairs at McHale's provides the perfect setting for freeform, passionate conversation, guided by veteran performers and punctuated by world-class live music." Kelty says that the lineup of musical guests will be announced in the coming days.
Reactions to attending Overheard at Joe's from critics and ticket-holders alike consistently refer to the unexpected experience of participating in a conversation without fear of judgment. The performers-including Kelty, who portrays bar owner Gabriel and functions as a candid, informal host/emcee-mingle with the audience and present themselves as colorful New York City characters while treating everyone in the room as familiar bar regulars, even as old friends. The result is an atmosphere that lowers defenses and moves patrons to share deeply held beliefs, and sometimes very personal stories. The Orlando Sentinel described this approach to performance as "3-D theatre that will pull you in," while British Theatre Guide calls the experience "incredibly well-conceived and executed."
"Each performance is different because each audience is different, and we build on what each group of patrons brings in with them," says Kelty. As a result, he adds, the show continues to evolve, and nowhere does it evolve more quickly than in New York City: "When patrons take time after the show to tell us 'This is vital theatre,' and 'Thank you for a creating this space,' and 'don't stop doing this,' you realize the power of simple interaction - and the importance of keeping the doors to Joe's open."
He adds, "To that end, we're incredibly grateful to McHale's for generously providing a private, intimate room for a limited engagement on ten prime nights."
Overheard at Joe's runs at McHale's Bar & Grill, 251 West 51st Street (between 8th Avenue and Broadway) Fridays and Saturdays from June 15 to July 7, plus Thursday nights June 21 and 28. Tickets are $20, available at the door or in advance for an additional small service fee through BrownPaperTickets.com. Happy Hour drink prices apply during performances: $5 drafts and $8 wine or specialty cocktail. Seating is limited.
Complete details follow in the listing below. Another limited engagement run, in the Huron Club at Soho Playhouse, will be announced in the coming weeks.
www.brownpapertickets.com/event/3468080
Related Articles View More Off-Off-Broadway

Stories

Shows
More Hot Stories For You