Pop-Up Theater Company The Pool to Bring Three New Plays to The Flea Theater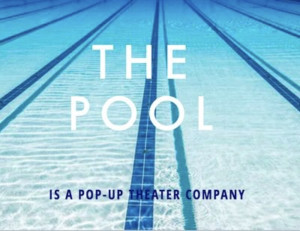 The Pool, a pop-up theater company, will present three new plays in rotating rep from November 15 - December 16, 2017 in a limited 5-week engagement at The Flea Theater's brand-new Tribeca home, located at 20 Thomas Street.
The plays are Susan Bernfield's TANIA IN THE GETAWAY VAN directed by Portia Krieger, Peter Gil-Sheridan's THE RAFA PLAY directed by Morgan Gould, and Lynn Rosen's WASHED UP ON THE POTOMAC directed by José Zayas.
The Pool is a pop-up theater company, a temporary consortium formed by playwrights Lynn Rosen, Peter Gil-Sheridan and Susan Bernfield to drive their own processes and produce their ready-to-go plays. Their three plays will be presented in rotating rep this November/December, after which The Pool will be passed on to three other intrepid playwrights so they too can take the reins of their own trajectory. The Pool is a participant in New Georges' Supported Productions program, in which the company provides resources, mentorship and an institutional platform to its affiliated artists who are producing their work independently. New Georges is an Anchor Partner at The Flea for the 2017-18 season.
Previews begin November 15 with openings beginning on November 27. The performance schedule varies - for exact days and times visit www.ThePoolPlays.org. Tickets are $25 and can be purchased at TheFlea.org, www.ThePoolPlays.org or by calling 212-352-3101. For more information, like them on Facebook at www.facebook.com/ThePool17, follow on Twitter at @Pool_Plays, and on Instagram at playwrightspool.
---
TANIA IN THE GETAWAY VAN
Written by Susan Bernfield and directed by Portia Krieger.
It's 1975 in the San Francisco Bay Area, and Laura's mom is going back to school. Diane is discovering liberation, openness, possibility! But that doesn't mean eleven-year-old Laura has to play along, no way. She's in the hall closet, pretending to be Patty HearsT. Fast forward to 2012. Successful Laura looks like a model product of the women's movement... or is she just the byproduct of Diane's expectations?
The cast includes Annie McNamara (Gatz, The Sound and The Fury with ERS/NYTW, The Public; Iowa at Playwrights Horizons; God's Ear with New Georges), Caitlin Morris (Minor Character with New Saloon & Public Theater; Macbeth with Drunk Shakespeare; web series "Sublets"), Courtney G. Williams (Mike Iveson's The Tear Drinkers at The Kitchen; Pluto (No Longer a Play) at The Brick; Go Forth at PS122's Coil Festival), and Madeline Wise (Minor Character with New Saloon & Public Theater; The World My Mama Raised with Clubbed Thumb; Choice with Huntington Theater Co.).
THE RAFA PLAY
Written by Peter Gil-Sheridan and directed by Morgan Gould.
Peter Gil, a legendary but retired playwright, has been whisked away to Mallorca to a fantasy life by his husband, tennis superstar Rafael Nadal. When he returns to New York to let his friends know just how successful his life has become, he finds them (actress Eva Patton and casting director John Ort, CSA) in disarray at a posh New York City restaurant. When Rafa himself comes to retrieve his love, Peter is transported back to Mallorca to do battle with the realities of Rafa's life, family, and career.
The cast includes Juan Arturo (A Midsummer Night's Dream with The Gallery Players), Olli Haaskivi (USA's "Mr. Robot," Bella: An American Tall Tale at Playwrights Horizons; Who's Your Baghdaddy? Or How I Started The Iraq War at Actors Temple), Tommy Heleringer (web series "The Outs"; Studio Theatre; Williamstown), Annie Henk (To The Bone at Cherry Lane; Enfrascada with Clubbed Thumb), Megan Hill, and Tommy Russell (Commedia dell'Artichoke at Gene Frankel Theater; The Fever at The Shed/Brooklyn College; Out of the Box with Bryce Pinkham).
WASHED UP ON THE POTOMAC
Written by Lynn Rosen and directed by José Zayas. Original songs by Matt Schatz with lyrics by Lynn Rosen and Matt Schatz.
Order is the name of the game in this D.C. proofreading office, but things are all off today. It's 90 degrees in October, an error has been made on a major account, and someone is going to be fired. As three proofreaders ponder their futures, they become haunted and inspired by memories of a coworker whose body may have washed up on the Potomac today. Who is the next to go? Or are they already gone? A dark comedy about the ways in which we try to stay afloat.
The cast includes Austin Blunk (Wellesley Girl, Wondrous Strange & Dracula with Actor's Theatre of Louisville), Crystal Finn (Villa with PlayCo; Kingdom Come at Roundabout; Pocatello & Antlia Pneumatica at Playwrights Horizons), Adam Green (Signature; Red Bull; Second Stage; two-time Helen Hayes Award nominee), Jennifer Morris (Mr. Burns, Gone Missing, The Ladies & You Better Sit Down with The Civilians), Debargo Sanyal (Vanity Fair with Pearl Theatre Co.; Page 73/WP's When January Feels Like Summer at EST; Bunty Berman Presents with The New Group), and Jacque Emord-Netzley (Catchpole at The Players Theatre).
The production team for all three shows includes Devin August Petersen (Set Design), Christina Watanabe (Lighting Design), Lillian Prentice (Costume Design), Ilana Kreitman (Co-Costume Design), Peter McNally (Props Design), Corinne Woods (Production Manager) and Aaron Rossini (Line Producer). Additional production team members for TANIA IN THE GETAWAY VAN include Rachel Peters (Songs), Fan Zhang (Sound Design), David Bengali (Projections) and Lizzy Emanuel (Production Stage Manager), for THE RAFA PLAY Mark Van Hare (Sound Design), and for WASHED UP ON THE POTOMAC David M. Lawson (Sound Design), David Bengali (Projections), Sarah Lunnie (Dramaturge) and Kaila Galinat (Production Stage Manager).
The Flea Theater is located at 20 Thomas Street between Broadway and Church Street and is accessible from the A/C/E, 1/2/3, and J/M/Z at Chambers Street, the N/Q at Canal Street, and the R/W and 4/5/6 at City Hall.
ABOUT THE ARTISTS:
Susan Bernfield's plays and solo performance pieces include STRETCH (a fantasia) (New Georges, People's Light & Theater, Ice Factory Festival); SIZZLE SIZZLE FLY (EST Sloan Commission/First Light Festival); BARKING GIRL (O'Neill National Playwrights Conference, Chrysalis Theatre Company) and have also been produced and developed at New Harmony Project, Huntington Theatre Company, Jewish Plays Project, Adirondack Theatre Festival and more. She is the Obie and Lilly award-winning founder and producing artistic director of New Georges, producing new plays (by women) in New York City since 1992.
Portia Krieger directs new plays and musicals. Up next: Deborah Zoe Laufer's Be Here Now (Cincinnati Playhouse in the Park). Her credits include Sofa Alvarez's Friend Art (2nd Stage Uptown), Olivia Dufault's The Tomb of King Tot (Clubbed Thumb), Caroline V. McGraw's The Bachelors (Lesser America) and Eager to Lose (Ars Nova). Portia is an inaugural O'Neill/NNPN National Director's Fellow, an alumna of Drama League Directors Project and the Lincoln Center Theater Directors Lab, a former Ars Nova Director-in-Residence, a Clubbed Thumb Affiliated Artist, and a cofounder of the New Georges Jam. www.portiakrieger.com
Peter Gil-Sheridan's work has been developed and/or produced by Soho Rep's Writer/Director Lab, PlayPenn, InterAct Theatre, The Guthrie, The Cherry Lane Mentor Project, Borderlands, Sundance, Ars Nova, The Millay Colony, Ucross Foundation, P73, and The Playwrights Center (Jerome Fellowship). Topsy Turvy Mouse was the winner of The Smith Prize awarded by the National New Play Network for political work. Peter is on the faculty at Indiana University where he heads the MFA Playwriting Program.
Morgan Gould is a writer/director and a member at Ensemble Studio Theatre, where she directed Leah Nanako Winkler's KENTUCKY in a co-production with P73. She was the winner of the Beatrice Terry/Drama League Residency Award for her own play I WANNA F***ING TEAR YOU APART, which had its world premiere at the Studio Theatre in DC with Morgan directing. Morgan is a resident playwright at New Dramatists and a proud alum of Fordham (BA), Brooklyn College (MFA) and is now a member of the Juilliard Playwriting Program.
Lynn Rosen's plays include THE FIREBIRDS TAKE THE FIELD (Rivendell Theatre Ensemble, EST/Sloan Commission, Kilroy's honorable mention), GOLDOR $ MYTHYKA: A HERO IS BORN (New Georges commission/production), APPLE COVE (Women's Project, Todd Mountain Theater Project), BACK FROM THE FRONT (Working Theater), GURLEY! a musical about Helen Gurley Brown in development with rock band The Kilbanes at TheatreWorks Silicon Valley. Also for Lynn production/development with ATL, EST, Centerstage Baltimore, Studio Theatre, Red Bull, Barrington Stage, New Harmony Project, New Group, The Lark and more. Lynn is a Resident Playwright at New Dramatists. WASHED UP ON THE POTOMAC will have its world premiere at San Francisco Playhouse, summer 2018. Lynn co-writes/co-created the award-winning web series "Darwin," directed by Emmy winner Carrie Preston.
José Zayas's credits include The Magnetic Fields: 50 Song Memoir (BAM, Edinburgh Festival, Barbican, Mass Moca, Melbourne), A Nonesuch Celebration (BAM), Blind Spot, In the Name of Salome, Aunt Julia and the Scriptwriter, Burundanga, The House of the Spirits, Your Name Will Follow You Home, Barcelo con Hielo, La Nena Se Casa, Love in the Time of Cholera, In the Time of the Butterflies, Madre (el drama padre), Besame Mucho, Nowhere on the Border (Repertorio Español). He's a Drama League Fellow, and a member of the Lincoln Center Director's Lab and Soho Rep W/D Lab. Jose won an Ovation Award for his direction of The House of the Spirits and his productions have won over 30 HOLA and ACE Awards.
Matt Schatz won the 2012 Kleban Prize in Musical Theatre for Love Trapezoid. His other plays and musicals include The Burdens (2016 O'Neill National Playwrights Conference, Lanford Wilson Award nominee), Dunkfest '88 (Ars Nova) and Georama (5 2017 NYMF Awards including Outstanding Lyrics). Matt's work has been produced by Actors Theatre of Louisville, Ars Nova and Ensemble Studio Theatre.