Photo Flash: Mint Theater's Rutherford & Son
Mint Theater will present the 100th Anniversary production of Rutherford & Son by Githa Sowerby which runs now continue through April 1st) at the Mint's home in the heart of the theater district, 311 West 43rd Street. Opening Night is set for Monday February 27.
Rutherford & Son was scheduled for only four performances when it opened at London's Royal Court Theatre on January 31, 1912.
Richard Corley directs a cast that features Robert Hogan as Rutherford, as well as Dale Soules (Broadway: Hair, The Magic Show, The Crucible, and most recently Grey Gardens), David Van Pelt (Cobb at the Lucille Lortel), Eli James (Temporal Powers), Allison Mclemore (The Madras House), James Patrick Nelson (Three Sisters at CSC), Sandra Shipley (Broadway: Importance of Being Earnest, Blithe Spirit, Equus, more), and Sara Surrey (Lost In Yonkers at Papermill).
Hogan recently appeared in Blood and Gifts for Lincoln Center Theater. His Broadway credits include A Few Good Men and Hamlet. Off-Broadway he has been seen in Mourning Becomes Electra, Accomplices, Never the Sinner, Waiting for Lefty, What Didn't Happen, Hope is the Thing with Feathers, On the Bum, Further Than the Furthest Thing, Boy, Rainbow Kiss, Baby Dance, In the Western Garden, Major Crimes, and Lighting Up the Two-Year-Old. He is the recipient of a Drama League Award and an Outer Critics Circle Award as Best Featured Actor.
About the show: "Rutherford & Son, set in the industrial north of England, tells the story of a father determined to do whatever it takes to ensure the success and succession of the family glassworks, started by his own father, but now in danger of shattering. John Rutherford rules home and business with an iron fist, a tyrant who inspires fear in his workers and hatred in his grown children. Now rebellion is brewing. His eldest son, working in secret has discovered a process that could save the firm, cutting costs by one third-but he refuses to share it with his father unless he "gets his price.""
"The press painted her as an English rose who'd stumbled into playwriting-and Githa, a private person who dreaded interviews, did little to correct them. Her diffident answers only added to the misconception. Indeed, Githa was neither as naïve, nor as young, as the press assumed. Githa kept her history private-and it nearly went with her to her grave. Shortly before her death in 1970, Githa burned her personal papers. By that time, both her and her work had been forgotten. None of her plays after Rutherford & Son had achieved acclaim; even Rutherford disappeared from the repertory. When The National Theatre revivEd Rutherford & Son in 1994, inspiring new interest in Githa, her biography remained a mystery. With the publication of Looking for Githa by Patricia Riley two years ago concrete details of Githa's life and family history finally emerged."
PHOTO CREDIT - Richard Termine


Sara Surrey and David Van Pelt

Robert Hogan, James Patrick Nelson and Dale Soules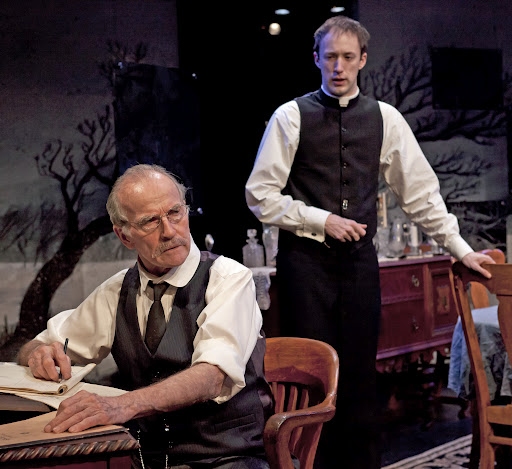 Robert Hogan and James Patrick Nelson

Eli James and Allison Mclemore

David Van Pelt and Sara Surrey

More Hot Stories For You