Photo Flash: First Look at Yara Arts Group's MIDWINTER NIGHT at La MaMa, 12/27-30
In "Midwinter Night: Sacred and Profane Rituals," Yara Arts Group will perform a World Music Theater piece that includes the Koliadnyky, an ensemble of winter song singers from Kryvorivnia (Ukraine); the explosive Lemon Bucket Orkestra, a Ukrainian-klezmer-gypsy-rag-tag-punk super band from Canada; and an 18th century Baroque Nativity folk opera staged by Yara artists.
La Mama E.T.C.
will present the piece December 27-30 in its
Ellen Stewart
Theater, 66 East Fourth Street (in Manhattan's East Village). Get a first look at the piece in the photos below!
The evening, created and directed by Yara's Artistic Director Virlana Tkacz, celebrates Koliada, a winter ritual that now coincides with Christmas but is much older in origin and symbolism. Its oldest songs are preserved in villages high in the Carpathian Mountains, where the Koliada is considered to be the most important event of the year. Some people believe that Spring and the harvest will not come to the village unless the songs are sung in every household. The songs are incantations that assume the magical power of words: "what is said, will be so." These songs are featured in the first part of Yara's show. For the second part of the event, Virlana Tkacz, Artistic Director of the troupe, has adapted and translated a Baroque folk Christmas opera from Ukraine. A highlight is the original 18th century music, as arranged by Julian Kytasty. The third part of the evening offers raucous Goat Songs, celebrating the passing of the old year and its rebirth as the new. A wooden puppet of a goat dances, dies and is brought back to life because people believed, "where the goat will dance that's where wheat will grow."
Instruments played by the Koliadnyky are unusual and distinctive. The trembita (Carpathian mountain horn) is made of a hollowed pine tree that has been struck by lightning and wrapped in birch bark. Trembitas are used primarily in the mountain pastures; in villages they are only used during the Koliada and at funerals. Fiddles are played in the Carpathian style. The musicians also play the duda (bagpipes made from a goat), tsymbaly (hammer dulcimer), drumby (jaw harp) and a variety of hand-made Carpathian flutes.
The singers and musicians of Koliadnyky are from Kryvorivnia, a Ukrainian village in the Hutsul region of the Carpathian Mountains. Ivan Zelenchuk is the "bereza," or lead singer. He comes from an old Kryvorivnia family and is the son of the man whose handwritten notebook of winter songs has helped to preserve this tradition despite the persecution under the Soviet rule. Now in his sixties, Ivan considers his involvement in the Koliada his personal mission. Mykola Zelenchuk, the son of Ivan, proudly carries on the tradition of his forefathers, both as a winter song singer and the best trembita (mountain long horn) player in the village. He also makes the traditional costumes for the winter song singers. He has taken part in previous Yara productions and was featured in its "Still the River Flows" and "Winter Sun" at La MaMa in 2008 and 2010. Mykola Ilyuk is a master fiddler and plays on most traditional instruments of the Carpathians, including the trembita (mountain long horn). He is director of the renowned Hutsul instrumental ensemble and has his own museum of musical instruments from the area. He was the master fiddler for Yara's Winter Sun and Koliada events in 2010. Vasyl Tymchuk plays the tsymbaly (hammer dulcimer) and teaches children to play Hutsul instruments. He has worked with Yara since 2010. Ostap Kostyuk plays the duda (bagpipes) and various flutes and represents the newest generation that has become expert in this ancient tradition. He was featured in Yara's Winter Sun and performed in Yara's 2010 Koliada events. The evening will also include brilliant troista instrumental music from the Carpathian Mountains by Mykola Ilyuk on fiddle, Vasyl Tymchuk on tsymbaly and Ostap Kostyuk on flute.
The Lemon Bucket Orkestra is a self-described "Balkan-Klezmer-Gypsy-Punk-Super-Party-Band" formed in 2010 in Toronto. The 14 piece band, led by Mark Marczyk, plays a wide array of Eastern European folk tunes a la Emir Kusturica, Goran Bregovic, and Taraf de Haidouks and has recently made the transition from local offbeat busking attraction to an international folk sensation. The group has just returned from its second tour of Romania, where audiences were impressed with its high-energy, half-naked, mohawked performances of the country's traditional music. This fall, Lemon Bucket released its first CD, "Lume Lume," and took the Ashkenaz Festival in Toronto by storm. The group has a passion for klezmer, balkan, and gypsy folk music and holds true to its signature guerilla-style performances and traditional sounds. It will perform traditional Goat Songs, taking Yara's winter celebrations to a new level.
Yara Arts Group (http://www.brama.com/yara) is a resident company of the world renowned La MaMa Experimental Theatre, where it has created 25 original theater pieces based on material rooted in the cultures of East Europe, Central Asia and Siberia. Yara began collaborating with traditional artists from the Carpathians in 2003 and has developed performances with them in Kiev and New York. The results of this collaboration include the theatre pieces "Koliada: Twelve Dishes," "Still the River Flows" and "Winter Sun," all at La MaMa. Yara has also worked with such contemporary music groups as Gogol Bordello with whom they created "Song Tree" in 2000 and "Circle" in 1999 The Village Voice critic, Eva Waa Assantewa then wrote: "A stunningly beautiful work, 'Circle' rushes at your senses, makes your heart pound, and shakes your feelings loose."
Photographs and videos of the koliada ritual in the village of Kryvorivnia have been exhibited at the RA Gallery in Kiev, La Galleria and Ukrainian Institute in New York, Spring Street Gallery in Saratoga Springs and as a major art installation at the Ukrainian Museum in New York.
Yara's Koliada events were made possible with public funds from New York State Council on the Arts, New York City Department of Cultural Affairs, and by Self-Reliance (NY) FCU, Coca Cola Company and Yara Arts Group's numerous friends and donors. For updates see www.brama.com/yara.
The show runs Thur-Sat at 7:30 PM, plus matinee Sun at 2:30PM. Tickets $25; $20 students/seniors, $10 children. For tickets got to the La MaMa box office at 74A East Fourth Street, visit
www.lamama.org
or call (212) 475-7710.. Runs 1:15.


The Lemon Bucket Orkestra, a "Balkan-Klezmer-Gypsy-Punk-Super-Party-Band" from Toronto. Photo courtesy of Lemon Bucket Orkestra.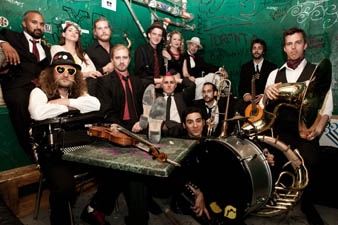 The Lemon Bucket Orkestra, a "Balkan-Klezmer-Gypsy-Punk-Super-Party-Band" from Toronto. Photo courtesy of Lemon Bucket Orkestra.

Ivan Zelenchuk (center) is the lead singer of the Koliadnyky, an ensemble of winter song singers from Kryvorivnia (Ukraine). Photo by Alexander Khantaev.

In a Nativity folk opera, Rachel (Aurelia Shrenker) begs the King (Ostap Kostyuk) for her son's life. Production was created by Virlana Tkacz with music by Julian Kytasty and will be presented by La Mama E.T.C. December 27-30, 2012. Photo by Makoto Takeuchi.

Featured BroadwayWorld Events
Check out these concerts...




More Hot Stories For You