La MaMa in Association With Teatro Delle Albe Presents The New York Premiere of FEDELI D'AMORE
Performances run January 26-28, 2023 at La MaMa Experimental Theatre Club.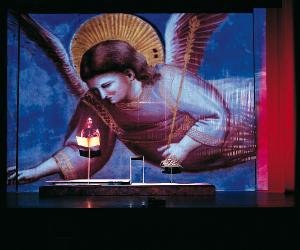 La MaMa, in association with Teatro delle Albe, presents the New York Premiere of fedeli d'Amore (Love's faithful), a polyptych in seven panels for Dante Alighieri by Marco Martinelli and Ermanna Montanari with music by Luigi Ceccarelli, featuring Ermanna Montanari and live trumpet by Simone Marzocchi from January 26-28, 2023 at La Mama Experimental Theatre Club, 66 E. 4th Street, NYC. Tickets are available at https://cloud.broadwayworld.com/rec/ticketclick.cfm?fromlink=2217818®id=6&articlelink=https%3A%2F%2Fweb.ovationtix.com%2Ftrs%2Fpr%2F1144598?utm_source=BWW2022&utm_medium=referral&utm_campaign=article&utm_content=bottombuybutton1.
fedeli d'Amore (Love's faithful) is the new stage poem by Marco Martinelli focused on the exceptional vocal research of Ermanna Montanari (awarded "2018 best Italian actress" for this performance). The text revolving around Dante and our own present times, has been selected by Italian and American Playwright Project and published by PAJ Publications.
Different voices speak to us in these seven panels: the fog of a dawn in 1321, the demon of the pit where the merchants of death are punished, a donkey that carried the poet on his last journey, the "scolding" imp who incites brawls about money, Italy kicking herself, Alighieri's daughter Antonia, and "an end that is not an end". These voices, who are one single voice that can contain numberless voices, that of Montanari, speak to us of the refugee, of the poet fled from his own city and now laying on his deathbed, exiled in Ravenna, voices that are suspended between the fourteenth century and our own day.
In a scene generated by a vocal, sonorous, visual and dramaturgical alchemy able to bind together the psyche and the world, Dante is invoked while embracing a single salvation: Love is what makes us rebel, it is the force that liberates and elevates.