HOW TO MELT ICE Adds Performance at Julia de Burgos Performance and Arts Center
This powerful new play draws on Amalia Oliva Rojas' own experience as a "Dreamer" and immigration rights activist.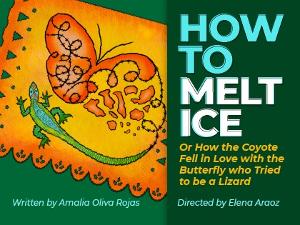 Maria-Cristina Fusté, Executive Artistic Director of Boundless Theatre Company, and Melody Brooks, Artistic Director of New Perspectives Theatre Company have announced an additional performance date for How to Melt ICE, a new play written by Amalia Oliva Rojas and directed by Elena Araoz. Due to a sold-out run and significant popular demand, an additional performance has been scheduled for February 12th, 2023 at 2PM. This performance will be the last chance to see this world-premiere production. Yadira de la Riva will step in as Tía Cristina for this performance on the 12th, replacing Claudia Acosta who moves on to another production
Performances this week take place between Wednesday, February 8th and Sunday, February 12th. All performance dates aside from February 12th are sold out and will have a waiting list at the door.
This powerful new play draws on Rojas' own experience as a "Dreamer" and immigration rights activist and explores the generational divide between those who came to the U.S. as children and those that carried them here in search of a better life. Set between 2017 and 2019, when the undocumented were increasingly at risk and even DACA recipients were not safe, the play's characters must navigate a minefield of "do's" and "don'ts" in every relationship, and love is the casualty. A chorus of three Tías (Aunts) guide the audience on this journey, with their own brand of dark humor.
Developed in NPTC's Women's Work LAB, the play received a grant from the prestigious NYC Women's Fund for this premiere staging. All performances are at the Julia de Burgos Performance and Arts Center, 1680 Lexington Avenue, New York, NY.
The design team includes Raul Abrego (Scenic), María-Cristina Fusté (Lights), Christopher Vergara (Costumes), and Nathan Leigh (Composer/Sound). Ray Rodriguez is the Fight/Intimacy Director; Melody Brooks is Dramaturg. Omayra Garriga is Props Master and Assistant Scenic Designer; Oriana Lineweaver is Assistant Costume Designer, Kaelani Burja is Assistant Director and Zeynep Akça is Production Stage Manager. Amy Palen is Associate Producer.
The cast includes Claudia Acosta, Regina Carregha, Brenda Flores, Bruce Jimenez, Tatiana Mirabent, Jomack Miranda and Bradley Tejada*.
A Special Talkback Series, produced by Gwynn MacDonald, is being offered for audiences to engage with the themes of the play, with members of the creative team and special guests offering insight into the creative process and the realities of immigration from a variety of angles. This week's talkbacks include:
· Wednesday, Feb 8: Immigration Policy: Where Are We Now, What Does the Future Look Like?: Special guest Maribel Hernandez Rivera (ACLU Deputy National Political Director, Equality Division Director) discusses immigration policies and successes.
· Thursday, Feb 9: Our National Romance with Immigration Stories: Matthew Cesario, producer at Finding Your Roots, shares some of his favorite episodes from PBS' most popular series, in a conversation about immigrant stories across media.
is a designer-led organization seeking to investigate, push and redefine the boundaries of theatrical storytelling. Spearheaded by women, Latinx theatre-makers and other theatre-makers of color, Boundless is committed to creating inquisitive and socially relevant theatre that prioritizes the designer's vision. The company was founded in 2006 and operates simultaneously in New York City and Puerto Rico. Past projects include the Puerto Rico premiere of The Good Body by Eve Ensler, the NYC premiere of Prospect by Octavio Solis, and the NYC premiere of Fur by Migdalia Cruz. Boundless also offers theatre classes for children, community arts programs for older adults, and mentorship opportunities for early-career theatre designers of color. The company produces both Spanish-language and English-language professional theatre, and all community programs are offered bilingually.
is an award-winning, multi-racial company performing at its home in the Theatre District, communities throughout NYC and as of 2015, internationally. Now in its 31st Season, notable productions of original works have included Exhibit #9 by Tracy Scott Wilson (Audelco Award); Jihad, The Play by Ann Chamberlain (OOBR Award for Excellence); Admissions by Tony Velella (10 Best Plays Citation, Backstage); the premiere of The Shaneequa Chronicles by OBIE-Winner Stephanie Berry (with Blackberry Productions); Anatomy of a Love Affair by Deirdre Hollman (Optioned by Essence Entertainment); MOTHER OF GOD! by Michele Miller (Princess Grace Foundation Finalist), and She Calls Me Firefly by Teresa Lotz (with Parity Productions, Outstanding Short Play, Innovative Theatre Awards.) The Company's mission is to use theatre as an agent for social change by developing and producing new plays and playwrights, especially women and people of color; presenting classic plays in a style that addresses contemporary issues; and extending the benefits of theatre to communities in need. Our aim is not to exclude but to cast a wider net.
PERFORMANCE SCHEDULE:
WHEN: February 1 - 12, 2023 (February 12th performance just added!)
Wednesday-Saturday at 7:00 p.m. Saturdays and Sundays at 2:00 p.m.
ASL Interpreted performance on February 11th @2:00 p.m.
WHERE: Julia de Burgos Performance and Arts Center
1680 Lexington Avenue (@ 105th Street), New York, NY
TICKETS: $25/$18 for students and seniors; TDF accepted for selected performances. Advance Sale: https://cloud.broadwayworld.com/rec/ticketclick.cfm?fromlink=2223522®id=6&articlelink=https%3A%2F%2Fci.ovationtix.com%2F34945%2Fproduction%2F1146394?utm_source=BWW2022&utm_medium=referral&utm_campaign=article&utm_content=bottombuybutton1
Reservations: (cash & credit cards accepted at the box office): howtomeltice@gmail.com
AUDIENCES MUST REMAIN MASKED THROUGHOUT THE PERFORMANCE
This production is made possible, in part, with support from The NYC Women's Fund for Media, Music and Theatre by the City of New York Mayor's Office of Media and Entertainment in association with The New York Foundation for the Arts; and with public funds from the New York State Council on the Arts with the support of the Office of the Governor and the NYS Legislature as well as the NYC Department of Cultural Affairs in Partnership with the City Council.
For more information visit: