Freeze Frame: Ariel Estrada, Josh Tyson, Morgan Rosse, and More in Phoenix Theatre Ensemble's TARTUFFE At The Wild Project
Phoenix Theatre Ensemble is presenting Moliere's comedy Tartuffe in the New York premiere of a sizzling adaptation by David Ball for a limited run through November 12th at The Wild Project ( 195 E. 3rd St).Tartuffe began previews on October 21st and opened on October 27th.
PTE Producing Artistic Director Craig Smith helmed the Ball adaptation, which was developed originally for Theatre de la Jeune Lune. The cast features Phoenix Theatre Ensemble resident actors Matt Baguth, Alicia Marie Beatty, Ariel Estrada, Eileen Glenn, Oscar Klausner, John Lenartz, Morgan Rosse, Wesli Spencer, Elise Stone, and Josh Tyson as Tartuffe.
The design team for Tartuffe includes Debbi Hobson for period costumes, Ellen Mandel for original music and sound, Attilio Rigotti for projection and video design, Tsubasa Kamei for Lights. Karen Case Cook is assistant director, Carrigan O'Brien is dramaturg, and Meghan McVann is production stage manager.
Tickets are $30. Call 212-352-3101 or visit www.PhoenixTheatreEnsemble.org.
Photo credit: Lia Chang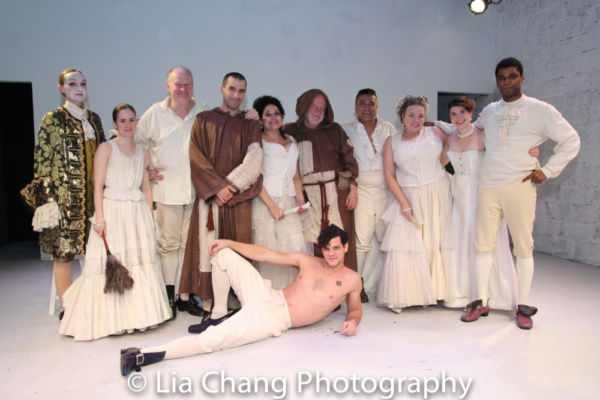 Standing: Laurie Kilmartin, Morgan Rosse, John Lenartz, Josh Tyson, Elise Stone, Director Craig Smith, Ariel Estrada, Eileen Glenn, Alicia Marie Beatty, Wesli Spencer; Reclining: Matt Baguth.