Barefoot Shakespeare Company Presents LADY CAPULET By Melissa Bell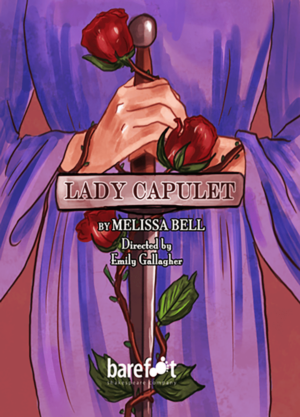 Barefoot Shakespeare Company presents Lady Capulet, a new play that answers the question: What caused the feud between the Montagues and the Capulets? All performances will be held at Summit Rock in Central Park and admission is free.
Lady Capulet, a prequel to Romeo and Juliet, follows the story of Rose, Lady Capulet, from country girl to lady of Verona and explores the betrayal, revenge, and manipulations that set the houses of Capulet and Montague against one another in a time when the influence of family, money, power, and gender determine everything. Using evocative language, Lady Capulet asks large questions about women's place in culture today through a Shakespearean lens.
"It is such a joy to explore these characters that we think we know so well from another perspective," says Gallagher. "Getting to dig in and discover Verona's past through a female lens is right in line with Barefoot's mission. Using Shakespeare's play as a source text as we flesh out Lady Capulet's history brings new life to these 16th century characters and remind us that while women may not have been in the foreground of the original telling of these stories, we have the ability to imagine what that world would be like by giving them that agency now."
This summer's cast includes both alumni and newcomers: Jianzi Colón-Soto, Preston Fox, Andrew Dunn, Jefferson Reardon, Marlena Holman, Violet Wang, Hunter Fink, Laura Zawarski, and Emily Duncan.
Original music has been written by Lord Graham Russell of Air Supply fame.
All shows will take place at Summit Rock in Central Park on the following dates and times: Thursday, August 22, 2019 at 6 PM; Friday, August 23, 2019 at 6 PM; Saturday, August 24, 2019 at 4 PM, followed by a talk-back with the artists; Thursday, August 29, 2019 at 6 PM; Friday, August 30, 2019 at 6 PM; Saturday, August 31, 2019 at 4 PM; Sunday, September 1, 2019 at 4 PM. Admission for all performances is free.
Barefoot Shakespeare Company was formed in 2012 with the mission of bringing Shakespeare's work to a wide and diverse audience with a pedestrian, engaging, and modern outlook on the works of the Bard. They strive to create work that is grounded, accessible and applicable and seek to approach all of Shakespeare's texts with energy, enthusiasm, and excitement. Located in New York City, Barefoot Shakespeare Company takes full advantage of the beauty of Manhattan's Central Park to bring Shakespeare alive against a backdrop of a specifically American time and place.
For more information, visit our website: www.barefootshakespeare.org.

Related Articles View More Off-Off-Broadway

Stories

Shows
More Hot Stories For You