New Off-Broadway-Bound Musical MADDIE Will Receive Developmental Reading This March
The reading is on Friday, March 10th at 2:00PM.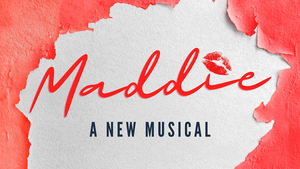 Bennett Theatricals has announced a developmental reading for its new Off-Broadway bound musical, Maddie, which will have one afternoon presentation at Pearl Studios on Friday, March 10th at 2:00PM. Maddie played an acclaimed run at The Lyric Theatre in the West End and is based on the Jack Finney novel 'Marion's Wall' (adapted as the film 'Maxie'). Open to the public, limited tickets are available Click Here.
With casting announced soon, the staged reading will be Directed and Choreographed by Andrew Winans (A Chorus Line, Mike & Mindy's Wild Weekend Jam). The new musical features an illustrious score by Stephen Keeling, lyrics by Shaun McKenna, and book by McKenna and Steven Dexter. This West End team developed the material as a part of a Stephen Sondheim writer's workshop, later featured on his BBC radio show about new works.
Liberating, late 1970s. Nick and Jan Cheyney have recently moved into a dilapidated attic apartment in downtown New York City. Beneath the peeling wallpaper, they are amazed to uncover a message scrawled in lipstick by 1920s dancer Madeline Marsh. Fascinated by the discovery, they are unprepared for the return of its ghostly author, still desperate to become a movie star.
Additional members on the developmental team include Joshua Gregg Fried (arranger and orchestrator) and Hannah Gundermann (production assistant).
A concert, featuring Fried's new orchestrations, will be presented later at Feinstein's/ 54 Below supper club.
This staged reading is produced by Bennett Theatricals under the direction of Andrew Winans, in association with Eye on the Mark Productions. Casting is in agreement with Actor's Equity Association.
For more information about Maddie, contact bennetttheatricals@gmail.com or visit https://maddiethemusical.wixsite.com/maddie--a-new-musica .