BWW Review: THE NET WILL APPEAR at 59E59 Theaters is Genuine and Charming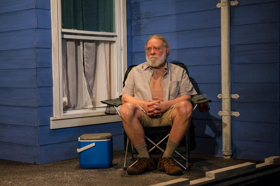 "It's a privilege to see a child grow up."
By Bernard in The Net Will Appear
The Net Will Appear is now onstage at 59E59 Theaters through December 30. Written by Erin Mallon and directed by Mark Cirnigliaro, you will want to see this charming intergenerational two hander. It's a play that tugs at your heartstrings and also makes you smile. Presented by Mile Square Theatre and The Collective NY, the production is ideal for the holiday season.
In the story, Bernard is a 75 year-old man who just wants to sit on his rooftop and sip his whiskey. But his 9 year-old neighbor, Rory doesn't give him any peace. It seems every time he comes out on his roof to relax in his lounge chair, she appears on her roof too. The lively, precocious little girl has plenty of questions and a lot to talk about. As the neighbors continue to meet, a relationship develops and they learn a great deal about each other including their respective family problems. This unexpected friendship between two very different individuals is truly inspiring.
The acting couldn't be better in The Net Will Appear. Emmy Award-nominee Richard Masur captures the role of Bernard who is sometimes cantankerous, yet has a real sense of kindness. Rory is being played by Dasha Dakkuri. We saw the show on the evening that Eve Johnson performed the role. She was marvelous as the sassy, spirited youth. The actors master Mallon's wonderfully written dialogue and make you feel as though Bernard and Rory's rooftop meetings are actually unfolding in real time. Moments in the show that are enthralling include Rory telling about her school life; Bernard talking lovingly to his wife through the window; Rory demonstrating her recital tap dance routine; Bernard and Rory carving pumpkins; and Bernard showing Rory pictures of his own daughter.
The Creative Team has done a great job of bringing the show to the Upper East Side stage. They include scenic design by Matthew J. Fick; costume design by Peter Fogel; lighting design by Justin A Partier and Jenn Burkhardt; and original music and sound design by Sean Hagerty. The Production Stage Manager is Jack Cummins; the Assistant Stage Manager is Annette Hammond; and Casting is by Judy Bowman, CSA.
The Net Will Appear is a show that tells how people can enrich each other's lives by reaching out. It is an honest, beautiful and genuine story that must be seen. Get your tickets now!

The Net Will Appear is being performed for a limited engagement through Sunday, December 30 at 59E59 Theaters (59 East 59th Street, between Park and Madison Avenues). The performance schedule is Tuesday - Friday at 7:15 PM; Saturday at 2:15 PM & 7:15 PM; Sunday at 2:15 PM. Single tickets are $25 - $35 ($24.50 for 59E59 Members). To purchase tickets, call the 59E59 Box Office at 646-892-7999 or visit http://www.59e59.org/.
Photo Credit: Jody Christopherson