Virginia Arts Festival Presents Marie Osmond
A Symphonic Christmas Featuring special guests David Osmond and Daniel Emmet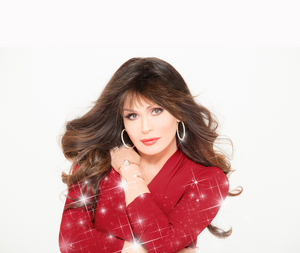 Multiple gold and platinum selling artist Marie Osmond is spreading the holiday cheer to Norfolk on December 13th at Chrysler Hall! Featuring special guests David Osmond and America's Got Talent finalist Daniel Emmet, fans will delight in the festive performance featuring holiday tunes and music from Marie's newest album Unexpected. Tickets are on sale now and available by phone at 757-282-2822 or online at vafest.org.
Marie Osmond has spent 5 iconic decades in the entertainment business performing as a successful singer, television performer and talk show host, dancer, actor, author, entrepreneur, philanthropist and public speaker. Her debut single "Paper Roses" reached the #1 spot on two Billboard charts, a feat that instantly catapulted her into international superstardom. Since then, she has garnered two Grammy nominations, a CMA Vocal Duo of the Year award, numerous Billboard chart-topping singles and albums, and three New York Times Bestselling books. She has entertained millions of people through film, television, radio, literature, live concerts and Broadway performances. In late 2019, Marie and her brother Donny ended their eleven-year residency at the Flamingo in Las Vegas, after receiving the Key to the City to the Las Vegas Strip and cementing their legacy with a star on the Las Vegas Walk of Stars. Marie was previously a co-host on the award-winning daytime show "The Talk" and competed on "Dancing with the Stars."
David Osmond began performing at age 4, and was discovered by Bob Hope as the Lead Singer of The Osmond's 2nd Generation; a group comprised of Alan Osmond's sons. He starred on Broadway as the lead role in Joseph and the Amazing Technicolor Dreamcoat, taking over for his uncle Donny Osmond, and was featured on American Idol. A shocking Multiple Sclerosis diagnosis forced David to put his musical career on hold for a time, but his inspiring physical battle to return to the stage has made him an award-winning symbol of hope to the MS Community. He continues to inspire as a music artist and motivational speaker.
As a finalist on Season 13 of "America's Got Talent," the multi-lingual, multi-genre performer Daniel Emmet has toured with singer Marie Osmond who described him as "a star on the rise with a once in a generation voice." Jerry Williams, music director for Marie and Donny, concurred. "Daniel has all the qualities of superstardom," Williams said, "the talent, the discipline and the hidden factor that completely sets him apart." Emmet's musical influences include Andrea Bocelli, Michael Bublé, Josh Groban, Aerosmith, Queen, The Rolling Stones and Elvis.
About the Virginia Arts Festival
Since 1997, the Virginia Arts Festival has transformed the cultural scene in southeastern Virginia, presenting great performers from around the world to local audiences and making this historic, recreation-rich region a cultural destination for visitors from across the United States and around the world. The Festival has presented numerous U.S. and regional premieres, and regularly commissions new works of music, dance, and theater from some of today's most influential composers, choreographers and playwrights. The Festival's arts education programs reach tens of thousands of area schoolchildren each year through student matinees, in-school performances, artists' residencies, master classes and demonstrations.