Shakespeare's Silver Anniversary: The New Orleans Shakespeare Festival Celebrates 25 Years in NOLA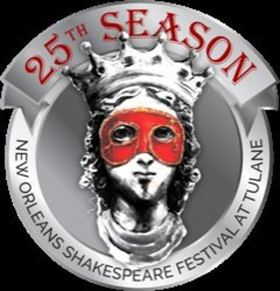 While New Orleans celebrates its 300th birthday, Shakespeare commemorates an anniversary of his own. 25 years ago, several Tulane faculty members joined forces to create New Orleans' own professional classical theatre company and, since that time, the Festival has grown into one of the south's most noteworthy producers of Shakespeare's work. In celebration of its silver anniversary, the Festival will offer an array of unique programming.
The 2018 season is:
A production of Shakespeare's All's Well That Ends Well that will run June 1-17.
A production of Shakespeare's Macbeth that will run July 6-22.
A one night only musical cabaret, starring Leslie Castay and entitled The Food of Love, that will take place on June 14.
A staged reading of Shakespeare's King Lear that will take place on July 11.
A hilarious collaboration with The NOLA Project, entitled By Any Scenes Necessary, tht will spoof Julius Caesar on July 18.

"Our 25th season features shows that will allow audiences to experience the full spectrum of Shakespeare's impact on the theatre - from the delightful to the dark," said Martin Sachs, the Festival's Artistic Director.
The Festival will open its 25th summer season with Shakespeare's comedy All's Well That Ends Well for the first time in its history. Helena loves Bertram, but he's not so sure. After all, she's a poor orphan and he's a handsome gentleman. But all is fair in love and war, and Helena's romantic goose chase makes for a dark comedy and a wild ride. Amy Holtcamp will direct.
In July, the Festival will produce Shakespeare's popular tour de force Macbeth. In a country torn by war, Macbeth and his steadfast wife execute a ruthless plan that launches a string of murders. But fate is an unwavering force in this world of witches and prophecy. Director Jessica Podewell brings a stalwart and engaging concept to this revered tragedy.
The Festival will round out the season with a few one night only events, including a unique Shakespeare-inspired cabaret starring New Orleans' beloved chanteuse Leslie Castay. The Food of Love will feature songs from musicals and works that pay homage to the Bard. Additionally, the Festival is proud to present a pay-what-you-will staged reading of Shakespeare's beloved tragedy King Lear.
Lastly, the Festival is partnering with The NOLA Project for By Any Scenes Necessary - a riotous theatre/improv hybrid that will attempt to recreate Shakespeare's Julius Caesar...without a script.
The Festival is offering an early bird special on all ticket packages: 10% off from now until March 31. Individual tickets go on sale April 1. Discounts are available for students, teachers, seniors, and Tulane employees.
The 25th season of the New Orleans Shakespeare Festival at Tulane will run from June 1-July 22 in the Lupin Theater on the Tulane uptown campus. All performances are at 7:30 pm, except for 1:30 pm matinees on Sundays.
More details can be found at www.neworleansshakespeare.org .
The mission of the New Orleans Shakespeare Festival at Tulane is to produce professional, classical theatre with a primary focus upon the works of William Shakespeare. Our commitment is to utilize local, national, and international talent to create dynamic, visceral, text-based performances celebrating Shakespeare's brilliant insight into the human condition. With this programming we will provide to the people of the Gulf South both entertainment and educational resources of the highest quality, honoring Shakespeare's legacy.