Photo Flash: Rivertown Theaters' Announces 2019-2020 Season of Shows
A sold-out house of theater patrons and supporters shared in the excitement when Rivertown Theaters for the Performing Arts' Artistic Directors, Kelly Fouchi and Gary Rucker revealed the popular and diverse line-up of productions for the 2019-2020 season Sunday evening, January 27 at the theater in Kenner's historic Rivertown.
The reveal began at 7:00 pm with Fouchi and Rucker announcing the line-up of timely and traditional shows that varies from political satire and a locally-penned Ricky Graham original, to endearing and tried-and-true Broadway musicals. Afterwards, actors Hannah Rachal and Liam Gillen performed a musical medley, accompanied by a video montage representing the announced shows. During the evening, Fouchi and Rucker also presented Carol Eshleman, the director of Rummel High School's theater program, the Genesian Players, for her tremendous support introducing her students to Rivertown Theaters and theater in general.
"The focus of this year's event was to celebrate the upcoming 8th season with our patrons and to say a big "Thank You" to all of our supporters who have become part of the Rivertown Theaters family. We are truly grateful. We hope new theatergoers will come discover us and become part of our theater community."
"This season we will support our mission in offering the highest-quality productions, featuring the incredibly gifted local performers throughout the metropolitan area," Fouchi added. "We continue to offer our young performers on-stage opportunities and nurture their talents. It's rewarding to see the young performers use the skills and experience they gain working in our children's program, to perform aside the adults in our mainstage productions."
Rivertown Theaters 2019 - 2020 Season Shows
Mamma Mia!
July 11 -21, 2019
Directed by Ricky Graham
Over 60 million people worldwide have fallen in love with this ultimate feel-good show! Get swept away by the infectious music, uplifting story, and dazzling dance numbers that have made Mamma Mia! a theatrical phenomenon. Through the eternally catchy score of ABBA chart-toppers, the hilarious and touching tale of daughter, mother, and would-be dads crescendos to an exhilarating finale celebration you simply can't resist! Rated PG 13
9 to 5, the Musical
September 13-29, 2019
Directed by Gary Rucker

"Tumble out of bed and stumble to the kitchen"... or the theater for the pop culture phenomenon that is 9 to 5...live on stage! With music and lyrics by Dolly Parton, we bring you the musical based on the seminal hit movie. Pushed to the boiling point, three female coworkers concoct a plan to get even with the sexist, egotistical, lying, hypocritical bigot they call their boss. In a hilarious turn of events, the women give their workplace a dream makeover, taking control of the company that had always kept them down. Hey, a girl can scheme, can't she? Rated PG-13
November
October 25-27 November 1 -10, 2019
Directed by TBA
Meet the SOB who runs the USA! Written in 2008, originally starring Narhan Lane, November is a "manically" funny political comedy by Pulitzer Prize winning playwright, David Mamet who has created a hilarious look at bad behavior in high places. Whether you lean right or lurch out to the left as a voter, you'll have a great time watching the incumbent desperately try to hang onto his presidential seat, despite being both corrupt and epically inept. A madcap, joke-filled romp with the kind of politically incorrect laughs that will have people from all parts of the political spectrum howling. You may not leave the theater feeling better about the country, but you'll definitely leave feeling better! Rated R for *explicit language. *Due to adult language & mature content, this show will not be included in the 5 show package. It is part of the 6 show package option.
Scrooge in Rouge
November 29, 30, December 1-15, 2019
Directed by Ricky Graham
Local favorites Ricky Graham, Varla Jean Merman, Yvette Hargis and Jefferson Turner wrote a Christmas musical y'all! It's called Scrooge in Rouge....and theater companies all over the country are producing it! We get to have the creators themselves reprise their roles for the Rivertown audiences!! Get in the holiday spirit with this quick-change, cross-dressing musical version "somewhat loosely based on the idea of 'A Christmas Carol'. The "Royal Music Hall Variety Players" have a widespread case of food poisoning. This leaves only three surviving members to soldier on through a performance of A Christmas Carol originally intended for a cast of twenty. The undaunted trio gamely face missed cues, ill-fitting costumes, and re-casting the show with an audience member as Tiny Tim. With bad puns, bawdy vaudeville humorisms, naughty double-entendres, and witty songs, it's a raucous holiday treat! Rated PG
Oliver
January 10-26, 2020
Directed by Kelly Fouchi
Consider yourself at home with this timeless musical based on Charles Dickens' novel, Oliver Twist. The Tony and Olivier Award-winning show is one of the few musicals to win an Academy Award for Best Picture and is widely hailed as a true theatrical masterpiece by actors and audience members alike. We're bringing these unforgettable characters vividly to life in this lively, heel-kicking classic about an innocent orphan boy thrown into the dark world of double-dealing thieves and con men in 19th-century London. Overflowing with jubilant and heartfelt songs like, "Consider Yourself," "I'd Do Anything," and "Food, Glorious Food." Bring the whole family to marvel in a musical feast for the eyes and ears that will have you calling out for "More!". Rated PG
Peter and the Starcatcher
March 6-22, 2020
Directed by Ricky Graham
Adults and children alike will be enchanted by this wildly theatrical, hilarious and innovative retelling of how a miserable orphan came to be The Boy Who Would Not Grow Up. A grown-ups' prequel to Peter Pan, Peter and the Starcatcher turns the century-old legend upside down. From marauding pirates, a chorus line of singing mermaids, and jungle tyrants to unwilling comrades and unlikely heroes. Its elements include an ocean voyage, a shipwreck, a cargo of something called stardust, and a trip to a Neverland you never knew... of magic and wonder. Winner of 5 Tony Awards, a dozen brilliant actors play more than 100 unforgettable characters using ingenious stagecraft, and the limitless possibilities of imagination. Rated PG
The Drowsy Chaperone
May 1-17, 2020
Directed by Gary Rucker

This five time Tony Award-winning musical is truly one of the best shows you may not have heard of, but will never forget once you experience it. The Drowsy Chaperone tells the story of a modern-day musical theater addict, known simply as "Man in Chair" (Ricky Graham). To chase his blues away he drops the needle on his favorite LP - the 1928 musical comedy," The Drowsy Chaperone." From the crackle of his hi-fi, the musical magically bursts to life on-stage in his apartment. Telling the tale of a pampered Broadway starlet who wants to give up show business to get married, her producer who sets out to sabotage the nuptials, her chaperone, the debonair groom, the dizzy chorine, the Latin lover and a pair of gangsters who double as pastry chefs. A song & dance extravaganza for the whole family, The Drowsy Chaperone show will make you fall in love with musicals all over again. Rated PG
Photo Credit: John Barrios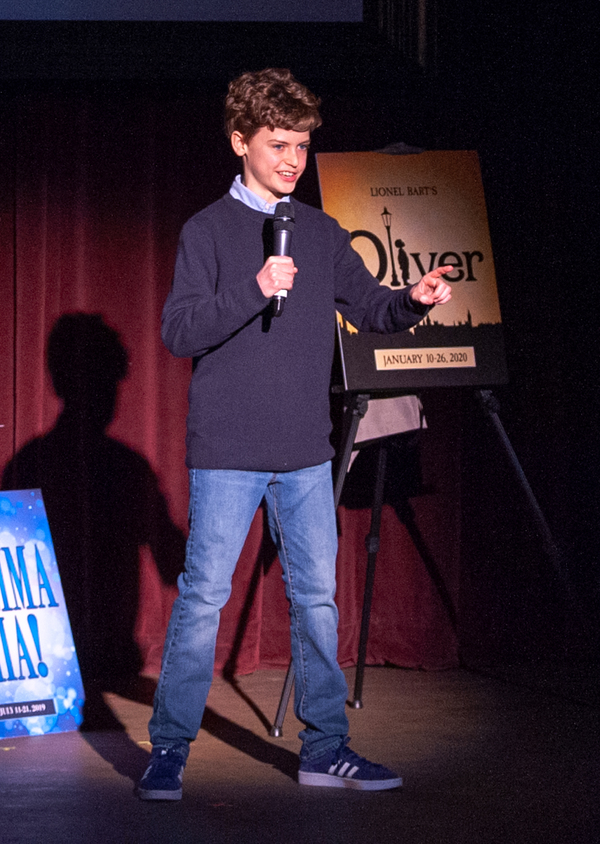 Liam Gillen performs "Consider Yourself,â€' one of the hit numbers from the musical "Oliverâ€'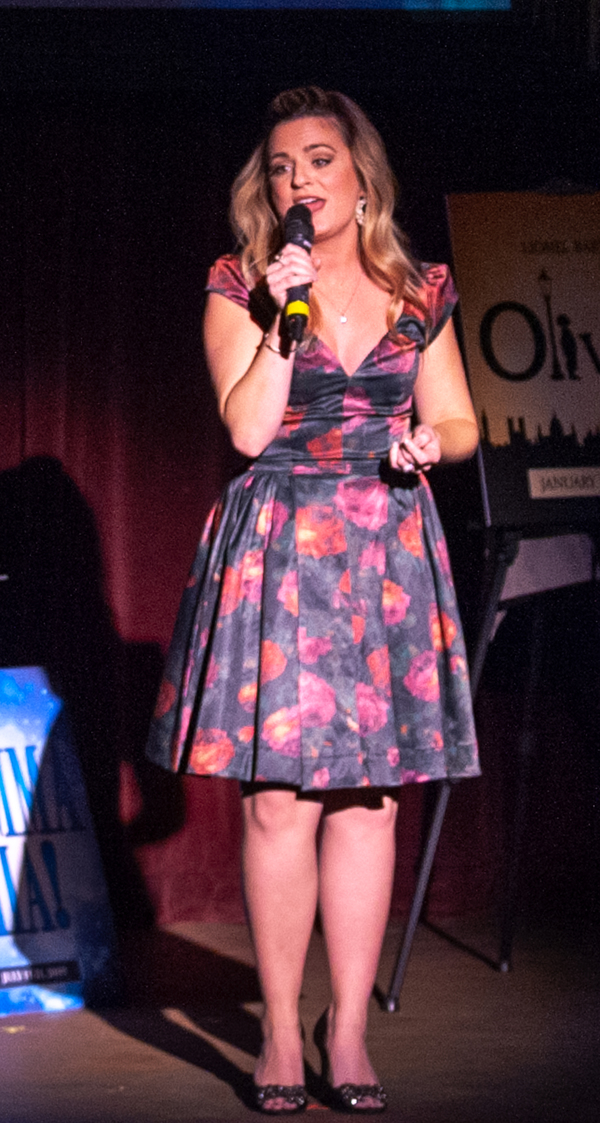 Hannah Rachal performs songs from upcoming musicals in the 2019-20 season

Rivertown Co-producers Gary Rucker and Kelly Fouchi announce "Peter and the Starcatcherâ€'

Kelly Fouchi, Jacquelyn Achord and Gary Rucker talk to audience about season subscriptions