Latest News on Gary Rucke
Gary Rucke News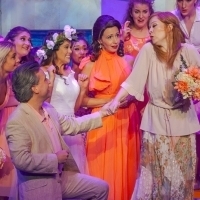 Photo Flash: First Look at Rivertown's MAMMA MIA!
by Julie Musbach - Jul 8, 2019
Get out your '70s duds and get into the musical magic of Mamma Mia! at Rivertown Theaters this July featuring two dozen hits from the '70s pop sensation ABBA. It's the most wonderfully entertaining summer escape that audiences have raved about since it first opened in London and then on Broadway, opening Fall of 2001.  
Photo Flash: ME AND MY GIRL At Rivertown Theaters
by A.A. Cristi - May 6, 2019
Audiences are in for a special treat when the award-winning co-artistic directors of Rivertown Theaters, Kelly Fouchi and Gary Rucker are, once again, on stage together in the delightful, rarely seen local production of "Me and My Girl."
Photo Flash: Rivertown Theaters' Announces 2019-2020 Season of Shows
by A.A. Cristi - Jan 30, 2019
A sold-out house of theater patrons and supporters shared in the excitement when Rivertown Theaters for the Performing Arts' Artistic Directors, Kelly Fouchi and Gary Rucker revealed the popular and diverse line-up of productions for the 2019-2020 season Sunday evening, January 27 at the theater in Kenner's historic Rivertown. 
Photo Flash: Rivertown Theater's BEAUTY & THE BEAST Opens July 12
by Julie Musbach - Jul 11, 2018
As part of its Summer Theater Festival for Families, Rivertown Theaters will close out its 2017-2018 season with a lavish production of one of Disney's timeless Broadway musicals that continues to be a favorite with multi-generationsJuly 12 – 22.