Catch the Final Weekend of MR. BURNS: A Post Electric Play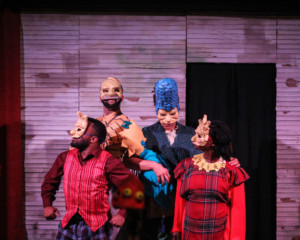 Rockfire Theatre (Failure: A Love Story, Boom, Abraham Lincoln's Big Gay Dance Party, Cabaret Gameshow Funtime Super Wow!!) and new local company The Radical Buffoon(s) present the regional premiere of Ann Washburn's Mr. Burns: a post electric play directed by Jon Greene (Faustus-Big Easy Award, Sleeping Beauty, Musicians of Bremen, The Spider Queen ).
Mr Burns begins in the very near future, after an unspecified apocalyptic event has devastated the country. Without electric power, survivors huddle fireside recalling their favorite episodes of the Simpsons.
The 2nd act is set 7 years later, as performance troupes travel the wastelands to entertain survivors with their recollections of classic television shows, commercials, and chart-topping hits, even as they battle for survival.
In the final act, some 75 years later, our contemporary pop culture has become the heightened myth and performance of the post-apocalyptic future.
Please join us for this exciting collaboration of apocalyptic proportions!
THE CAST
Lori DeLeon
Rahim Glaspy
Torey Hayward
Rebecca Elizabeth Hollingsworth
Tenaj Jackson
Matt Reed
Diana E.H. Shortes
Mahalia Abéo Tibbs
THE STAFF
Jon Greene (Director)
Megan Whittle (Stage Manager)
Julian Wellisz and Max Skelton (Set Designers)
James Lanius (Lighting Designer)
Megan Eileen Kosmoski (Prop Designer)
Sarah Carlton (Costume Designer)
Kevin Murphy (Music Director/Mask Maker)
Mint Bryan and Glenn Aucoin (Orchestration)
Laura Stein and Cast (Choreography)
Glenn Young (Poster Designer)
Kate Kuen (Promotions Coordinator)
This production is made possible with the support of ArtSpot Productions and Art Klub and is part of an artistic collaboration with Rockfire Theatre and The Radical Buffoons.
ArtSpot Productions is a 501(c)(3) non-profit organization dedicated to creating meticulously live theater in New Orleans. ArtSpot strives to incite positive change in their community with visually stunning performances and empowering educational programs. ArtSpot productions are a sincere blend of disciplines developed through ensemble authorship, physically rigorous training, original music, interactive sculptural environments, and extended research and rehearsal.
Art Klub is an art and culture community center committed to offering a safe, inclusive space, cultivating creativity and engaging communities through artist residencies, performances, events, affordable rehearsal and meeting spaces, classes, workshops and community programming for all ages.
Rockfire Theatre was founded in 2015 by Matt Reed, Kevin Murphy, and Mint Bryan. The inaugural production was Nicky Silver's Pterodactyls, a co-production with Promethean Theatre Company. Since then, Rockfire has produced an assortment of main stage productions, including Abraham Lincoln's Big, Gay Dance Party by Aaron Loeb, The Santaland Diaries and Season's Greetings by David Sedaris, Boom by Peter Sinn Nachtrieb, and Failure: A Love Story by Philip Dawkins. In addition, Rockfire regularly develops and produces smaller, serialized productions, including Cabaret Gameshow Funtime Super Wow!!, Piano Bar, and We Hear You Have Goblins: A Live Fantasy Improv Adventure. Rockfire focuses on producing captivating and entertaining material with heavy emphasis on artist collaboration. Rockfire views itself primarily as storytellers, a primal role of society in which they take great pride.
Rockfire's mission statement: Do good theatre and have fun doing it. For more information email rockfiretheatre@gmail.com
The Radical Buffoon(s) is a NOLA based theater collective devoted to producing plays that are outsize in scope or concept, physically evocative, socially provocative, and couched in humor as a vehicle for storytelling.
Working as a collective allows The Radical Buffon(s) to remain committed to seeking out a rich diversity of background and voice in making their work. For more information email theradicalbuffoons@gmail.com
Jon Greene is a Big Easy Award Winning Director and Artistic Director of The Radical Buffoon(s). Greene is thrilled to mount his 5th production in 5 years here in New Orleans. Previous work includes Faustus for Lux et Umbra (Big Easy Award winner for Best Director, nominated Best Play and Best Choreography); Sleeping Beauty (nominated Best New Work of Theatre) and The Musicians of Bremen at Le Petit du Vieux Carre as well as this past year's The Spider Queen for The Nola Project at NOMA's Besthoff Sculpture Garden. Outside of Nola, Greene has made theater and performative art in NYC, Boston, Washington DC, Chicago, Deadwood SD, Italy, Prague, Buenos Aires, and Singapore.