Luna Stage to Host Inaugural SoloFest This December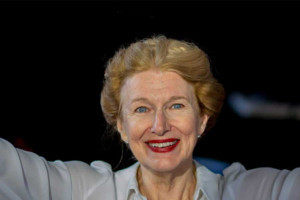 Luna Stage has announced SoloFest 2017, opening December 8th and continuing through December 17th.
For two weeks this December, Luna Stage will present five extraordinary solo performances from five singular New Jersey artists.
From the legacy of female codebreakers in World War II (Once In...Never Out!-June Ballinger) to the intense absurdity of the social work system (Call Me Crazy: The Diary of a Mad Social Worker-Helena D. Lewis), from a musical celebration of extraordinary black women (Phenomenal Woman-Ami Brabson) to a gently humorous coming of age story in the wake of mental illness (Panther Hollow-David Lee White), all culminating with a musical performance by a reluctant holiday jam-band (a concert featuring Trent Armand Kendall), there is something for everyone! Each performance is sold individually
For more information and tickets, go to www.lunastage.org or call the box office (973) 395-5551.
Performance Schedule for SoloFest:
December 8th at 8pm Ami Brabson, Phenomenal Woman
December 9th at 8pm Helena D. Lewis Call Me Crazy: Diary of a Mad Social Worker
December 10th at 3pm Ami Brabson, Phenomenal Woman
December 10th at 7pm Helena D. Lewis, Call Me Crazy: Diary of a Mad Social Worker
December 15th at 8pm David Lee White, Panther Hollow
December 16th at 8pm June Ballinger, Once In...Never Out!
December 17th at 3pm Trent Armand Kendall, A Reluctant Holiday Jam Session
---
ABOUT THE LINEUP:
Phenomenal Woman
Performed by Ami Brabson
Directed by Corinna Sowers Adler
December 8 at 8pm
December 10 at 3pm
With a little help from strong women like writer/activist Ruby Dee, songstress Phoebe Snow and Congresswoman Barbara Lee, Ami Brabson explores the many facets of being a phenomenal woman. This evening of music, poetry and storytelling celebrates women who have dared to speak their minds. Phenomenal Woman stars Ami Brabson and features Corey Wachala on piano, Christian Fabian on Bass, Brian Crooks on drums, and direction by Corinna Sowers Adler.
ABOUT THE ARTIST
Ami Brabson has had recurring roles in a number of television shows. She frequently appeared as Mary Pembleton in HOMICIDE: LIFE ON THE STREETS. Other TV credits include LAW & ORDER SVU, DAMAGES, UNFORGETTABLE, LAW & ORDER, THE BEAT, THE JURY, WONDERLAND, and various soap operas.
Ms. Brabson starred in the New York Premiere of TOUGH TITTY by Oni Faida Lampley. Some of her favorite regional theater roles include Quilly in John Henry Redwood's THE OLD SETTLER, Berniece in August Wilson's THE PIANO LESSON, Helena in Shakespeare's A MIDSUMMER NIGHT'S DREAM, and Rose in August Wilson's FENCES.
Ami is also an accomplished soprano and cabaret singer. She has performed at NY venues as varied as Merken Concert Hall and Ashford & Simpson's Sugar Bar.
Call Me Crazy: Diary of a Mad Social Worker
Written and Performed by Helena D. Lewis
December 9th at 8pm
December 10th at 7pm
After being assigned more cases than she can handle, social worker Lewis has a nervous breakdown, tries to kill her boss, and is committed for psychiatric observation. It's all in a day's work. While being restrained, Lewis recalls her true-life experiences working with prostitutes, drug addicts and prisoners, portraying twenty-five different characters from pimps to menopausal women. CALL ME CRAZY is a funny and moving look at the highs and lows of working for peanuts while trying to save the world one client at a time.
ABOUT THE ARTIST
Helena D. Lewis is an award winning actress, poet, and playwright. Her one-person show, CALL ME CRAZY: DIARY OF A MAD SOCIAL WORKER, chronicles her work in the social service field portraying twenty-five characters from pimps to menopausal women. CALL ME CRAZY has had over fifteen sold-out performances and was profiled on the National Association of Social Workers' (NASW) Social Workers Speak website and Rutgers Alumni Magazine. CALL ME CRAZY is the winner of the AUDELCO 2014 Best Solo-Performance Award, Best Short at the Downtown Urban Theater Festival in NY, and was Festival Pick at the inaugural DC Black Theater Festival. Helena has also performed CALL ME CRAZY at the NASW-NJ 2012 Annual Conference, Wurzweiler School of Social Work, Kumble Theater at Long Island University, Rutgers University School of Social Work Field Day, and it was produced by Urbintel, Inc. in conjunction with the New York Public Library's Schomburg Center in NY. Lewis has performed at numerous universities and colleges across the country and has been featured in the award-winning series, "Russell Simmons Presents Def Poetry." Lewis is currently a member of the performance troupe HERStory and the host of VERSES at the Nuyorican Poets Café in NY. Lewis was a featured performer at the 2015 Mother Tongue Monologues produced by Black Women's Blueprint. Her new one-person play SHENANIGANS debuted at the 2015 Downtown Urban Theater Festival in NYC at the HERE Arts Center.
Panther Hollow
Written and Performed by David Lee White
Directed by John Augustine
December 15th at 8pm
Part stand-up comedy confessional, part examination of the cultural taboo of mental illness, Panther Hollow details storyteller and monologuist David Lee White's struggle with love, sex, and clinical depression while he was 25 and living in a one-hundred-year-old house under a bridge in the eerie Panther Hollow neighborhood in Pittsburgh.
ABOUT THE ARTIST
David Lee White is a New Jersey-based playwright and educator that has worked with Passage Theatre, McCarter Theatre, Dreamcatcher Rep, PlayPenn, Rider University, and Drexel University as well as many other theatres and theatre programs in the NJ/NY/PA area. His work runs the gamut from crowd-pleasing comedy, political satire, oral history-based docudrama, musical theatre, educational theatre, and mental health advocacy. In 2016, David was commissioned by the New Jersey Performing Arts Center's Stage Exchange Program and Passage Theatre to create the play FIXED. The play premiered at Passage Theatre in May 2017. Previously, his play BLOOD: A COMEDY was seen at Passage Theatre (2009) and Dreamcatcher Rep (2012). His play SLIPPERY AS SIN also received its world premiere at Passage in 2011. The one-act play WHITE BABY was originally produced at Passage Theatre, then at Emerging Artists Theatre in NY. His solo show PANTHER HOLLOW was performed at Dreamcatcher Rep, The United Solo Festival in NY, The New Jersey Fringe Festival, Passage Theatre, Arcade Comedy Theatre in Pittsburgh, Point Park College, and Drexel University. At Passage, White created the show THIS TRENTON LIFE which was the subject of an Emmy Award-nominated broadcast on PCK Media's STATE OF THE ARTS. Other plays include THE FESTIAL QUARTET (readings at Bristol Riverside Theatre and Writer's Theatre of New Jersey) and ROCKET SEX MAGIC - a comedy about real life rocket scientist/occultist Jack Parsons (reading at Writer's Theatre of New Jersey). David recently created the musical ALIEN 8 with composer Kate Brennan for McCarter Theatre's High School Summer Intensive.
Once in...Never Out!
Written and performed by June Ballinger
Directed by Janice L. Goldberg
December 16th at 8pm
An 80-year-old British former codebreaker at Bletchley Park looks back on her life and all the secrets about her work and identity that she has held onto for 50 years. Will she ever be truly known by her children? How will she be remembered? Was her contribution worth the sacrifices?
Written and performed by June Ballinger, this piece is inspired by her own mother's work at Bletchley Park during WWII. The story was created through memories, letters, and a diary discovered after her mother's death in 2013.
ABOUT THE ARTIST
June Ballinger is an actor of British-American heritage. She was born in New Jersey, raised in Connecticut, and currently lives in Trenton, New Jersey, local to both Philadelphia and New York City. She has worked on Broadway, off-Broadway, regional theatre, and in television and film. She is a member of the Ensemble Studio Theatre in NYC since 1993, a member of NYC's The Actors Center, and Artistic Director Emeritus of Trenton's Passage Theatre Company. As a writer she has co-created with David Lee White the interview-based plays TRENTON LIGHTS and PROFILES (Passage Theatre) as well as numerous plays for teens developed from writing workshops (WORD FOR WORD). Starting Spring 2017, she will teach acting to young adults and senior members of the Greater Trenton community.
Reluctant Holiday Jam!
featuring Brass ILLUSION
Written by Trent Armand Kendall
December 17th at 3pm
They're snowed in and the band is "SCROOGED"!
ripping through the hits of ...
Louis Armstrong, Mariah Carey, Ray Charles, Sam Cooke, Sam & Dave, Ella Fitzgerald, Donny Hathaway, Johnny Mathis, Prince, Annie Ross, Blood Sweat & Tears, Manhattan Transfer, Luther Vandross, Lee Ann Womack, Maroon 5...and more contemporary favorites!
Trent Armand Kendall - book & vocals
Martin Askinazi - arrangements & bass
Louie DiNatale - piano
Stu Seiderman - saxophone
Paul Somer - trombone
Frank Rizzo - drums
ABOUT THE ARTIST
Trent Armand Kendall recently reprised his starring role as Mr. Bones in the Phoenix Theater premiere of THE SCOTTSBORO BOYS (Ovation Award, Los Angeles) and starred as Audrey II in LITTLE SHOP OF HORRORS at the Gateway Performing Arts Center.
Theater: INTO THE WOODS, All-Star HAIR, CHESS in concert, PURLIE!, WIZARD OF OZ (Broadway/New York), BAT BOY: THE MUSICAL (Outer Critic's Circle Award), NUNSENSE A-MEN! (Off-Broadway) FIVE GUYS NAMED MOE, HEY MR. PRODUCER! (London's West End), CATS (International), THE COCOANUTS (Guthrie Theater), GUMBO (Yale Repertory Theater), IT'S A WONDERFUL LIFE (Harbor Lights Theater Company), THUNDER KNOCKING ON THE DOOR (Cincinnati Playhouse), AIN'T MISBEHAVIN (Cape Playhouse), CHILDREN OF EDEN (American Premiere), JOSEPH...DREAMCOAT (Canadian Premiere), THE COLOR PURPLE, SMOKEY JOE'S CAFE (1st National Tour). He is the writer/producer/ and star of PICTURE INCOMPLETE and LOUIS-AND-ELLA! which recently enjoyed very sold out tour dates, with eyes set for a New York City run (direction by Jeff Whiting).
TV/Film/Radio: IRON FIST (Netflix), BLUE BLOODS (CBS), LAW & ORDER, LAW & ORDER SVU (NBC), STRANGERS WITH CANDY (Comedy Central), PINK PANTHER (MGM), VH1, FIVE GUYS NAMED MOE (VCI), HEY MR. PRODUCER! (PBS), Trent Armand Kendall'S BROADWAY DOWNLOAD (CWRN). Kendall is the frontman of the celebrated 10 piece jazz orchestra, Brass ILLUSION. He has three successful solo CDs to his credit including the recent release of Trent Armand Kendall + Brass ILLUSION.