Centenary Stage Company presents DISNEY'S NEWSIES THE MUSICAL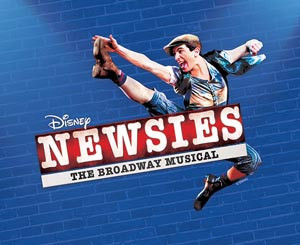 This Holiday Season "seize the day" with Centenary Stage Company's family holiday spectacular production of Disney's Newsies The Musical November 24 through December 10 in the Lackland Performing Arts Center.
Disney's Newsies, based on the 1992 motion picture, features a score by eight-time Academy Award winner Alan Menken (Beauty and the Beast, Aladdin, Sister Act) and Jack Feldman and a book by four-time Tony Award winner Harvey Fierstein (La Cage aux Folles, Torch Song Trilogy). While on Broadway, Newsies received 23 major theatrical nominations - including eight Tony Award nods - and won Tony, Drama Desk and Outer Critics Circle Awards for Score and Choreography.
Set in New York City at the turn of the century, Newsies is the rousing tale of Jack Kelly, a charismatic newsboy and leader of a ragged band of teenaged "newsies," who dreams only of a better life far from the hardship of the streets. But when publishing titans Joseph Pulitzer and William Randolph Hearst raise distribution prices at the newsboys' expense, Jack finds a cause to fight for and rallies newsies from across the city to strike for what's right.
Newsies is inspired by the real-life "Newsboy Strike of 1899," when newsboy Kid Blink led a band of orphan and runaway newsies on a two-week-long action against Pulitzer, Hearst and other powerful newspaper publishers. Timely and fresh, the fictionalized adaptation of Newsies addresses age-old themes of social injustice, exploitative labor practices and David-versus-Goliath struggles as the young learn to harness their power against a corrupt establishment. High-energy with non-stop thrills and featuring eight brand-new songs by the original team of Menken and Feldman while keeping many of the beloved songs from the film, including "Carrying the Banner," "Seize the Day," "King of New York" and "Santa Fe."
Featuring a cast of over 50 performers from across the tri - state area, Centenary Stage Company's production of Disney's Newsies the Musical features many CSC favorites. Returning to the Sitnik Theatre after her turn as everyone's favorite nanny in last season's Mary Poppins is McKenzie Custin (New York, NY) as the strong willed Katherine Plummer. Centenary Stage Company's own Carl Wallnau (Hoboken) and Stephen Davis (Hackettstown) return as publishing goliath Joseph Pulitzer and the weasel-y Wiesel respectively. Young Performers Workshop alum Jake Jackson (Washington) plays the street wise charismatic leader of the newsies, Jack Kelly.
The full cast includes: Joe Anselmo (Dumont), Teax Armijo (Chester), Nick Bettens (Stanhope), Zack Clark (Hackettstown), Patrick Cogan (Union Beach), Richard Cort (Belvidere), Izac D. Cruz (Budd Lake), Zachary DeBevec (Hockessin, DE), Tyler Donovan (Blairstown), Bob Eberle (Hackettstown), Sean C. Fowley (Blairstown), Matthew Fralley (Netcong), Cina Gabel (Vernon), Samille Ganges (Newark), Sebastian Gutkin (Long Valley), Tony Lee (Princeton), AJ Lewis (Oxford), Cynthia Livingstone (Andover), Dominick Lusardi (Blairstown), Emma Mason (Mendam), Richard Malloy (Cedar Grove), Megan McGill (Easton, PA), Brianna Morris (Parsippany), Tim Nagle (Hackettstown), Chris Newhouse (New York, NY), Grace Noel (Evansville, IN), Kevin O' Gorman (Andover), Sasha Onishchuk (Oakdale, NY), Raphael Pelczmann (Morristown), Anthony Raddi (Cedar Grove), Claudia Raglievich (Hackettstown), Kiana Rodriguez (Randolph), James Russo (Wayne), Lauren Santarelli (Hackettstown), Jack Scarsi (Budd Lake), Megan Schmiedhauser (Stanhope), Matthew Sigler (Hampton), Maxinne Spann (Washington), Lauren Taglienti (Hackettstown), Jonathan Tanigaki (Midland Park), Brandon Vita (Hackettstown), Brandon Wiener (Hackettstown), Saquan Williams (Hoboken), Andrew Wire (Branchville), Jackson Yawger (Columbia) and David Yawger (Columbia).
The production is directed by broadway, film and television Michael Blevins. Blevins has appeared in several Broadway productions including Bring Back Birdie, Neil Simon's Little Me, and The Tap Dance Kid in which he created the role of Winslow Alexander. He has appeared in the Tony Awards Show, as well as many other television shows, feature films and TV commercials, is widely known for his portrayal of Mark in Sir Richard Attenborough's film A Chorus Line, and is also featured in Chaplin. He is also the director of the new Musical Theatre Works Academy. He has worked with many noted directors and choreographers, among them Danny Daniels, Bob Fosse, Woody Allen, Vivian Matalon, Joe Layton, Lynn Taylor-Corbett and Peter Gennaro. He has choreographed music videos for Amy Grant, five national commercials as well as the off- Broadway production of The Mad Forrest, and his own show, the Musical Count to Ten at New York's Musical Theatre Works. Blevins also serves as director of Centenary Stage Company's Young Performers Workshop.
Centenary Stage Company's annual Family Holiday Spectacular is a celebration of all Centenary Stage Company programming, by combining the talents of professional guest artists alongside local talent, Centenary University faculty, staff, students and students of the critically acclaimed Young Performers Workshop. Centenary Stage Company's production of Disney's Newsies the Musical is sponsored in part by season sponsor Heath Village Retirement Community, series sponsor The House of the Good Shepherd and event sponsors Fulton Bank of New Jersey and Hackettstown Medical Center.
All performances will be held in the Sitnik Theatre of the Lackland Performing Arts Center at 715 Grand Ave. Hackettstown, NJ from November 24 through December 10. Individual performance dates are Friday, November 24, December 1 and December 8 at 8PM; Saturday, November 25, December 2 and December 9 at 8PM; Sunday, November 26, December 3 and December 10 at 2PM; Wednesday, November 29 and December 6 at 2PM and Thursday, November 30 and December 7 at 7:30PM. Ticket prices are $29.50 for adults and $20.00 for children under 12 for matinee and Friday evening performances. Saturday evening performances are $32.00 for adults and $20.00 for children under 12. Thursday evening performances are $29.50 for ALL SEATS with a Buy One/Get One Rush Ticket Special when purchased at the Centenary Stage Company box office in person as early as two hours prior to performance time. BOGO Rush Ticket Special not valid for advance ticket sales and not available via phone or internet sales.
For more information or to purchase tickets visit centenarystageco.org or call the Centenary Stage Company box office at (908) 979 - 0900. The box office is located in the Lackland Performing Arts Center at 715 Grand Ave. Hackettstown, NJ. The box office is open Monday through Friday from 1 - 5 pm and two hours prior to each performance. Centenary Stage Company can also be found across social media platforms; Facebook, Instagram and Twitter. Like and follow to receive the latest in Centenary Stage Company news and special offers.
The 2017-2018 season of performing arts events at the Centenary Stage Company is made possible through the generous support of the Geraldine R. Dodge Foundation, the NJ State Council on the Arts, the Shubert Foundation, the Blanche and Irving Laurie Foundation, the Sandra Kupperman Foundation, and CSC corporate sponsors, including Premier Season Sponsor Heath Village Retirement Community, The House of the Good Shepherd Silver Sponsors Hackettstown Medical Center, Home Instead Senior Care (Washington), and Fulton Bank of New Jersey, and Centenary Stage Company members and supporters.