BWW Review: THE LEARNED LADIES at Centenary Stage is Wonderfully Engaging
"Some are not quite ready to admit that women have intelligence and wit."
-by Philamente in The Learned Ladies
The Centenary Stage Company opens their exciting theatre season with The Learned Ladies now through October 22nd. Moliere's classic comedy has never looked so good. Wonderfully adapted by playwright, Freyda Thomas, the show features the finest direction by Carl Wallnau and an outstanding cast of thespians. We guarantee that this production that will keep you completely engaged from the first moment to the last.
The Learned Ladies is set in middle America in the 1930's. It takes place in the household of Chrysale and his wife Philamente. To Chrysale's dismay, Philamente and daughter, Armande are overly dedicated to intellectualism and the arts while their more practical daughter, Henriette wishes to marry a young man, Lycandre and live a happy, ordinary life. Philamonte takes her high-minded ideals to an extreme when she plays matchmaker for Henriette with a ne'er do well poet, Trissotin. Adding to the family dynamic is Chrysale's lovable, eccentric sister Belise, Chrysale's sister Arista who attempts to be a voice of reason, and a brazen servant, Martine. The interplay of these quirky characters creates a series of fast-moving, humorous, and bizarre events.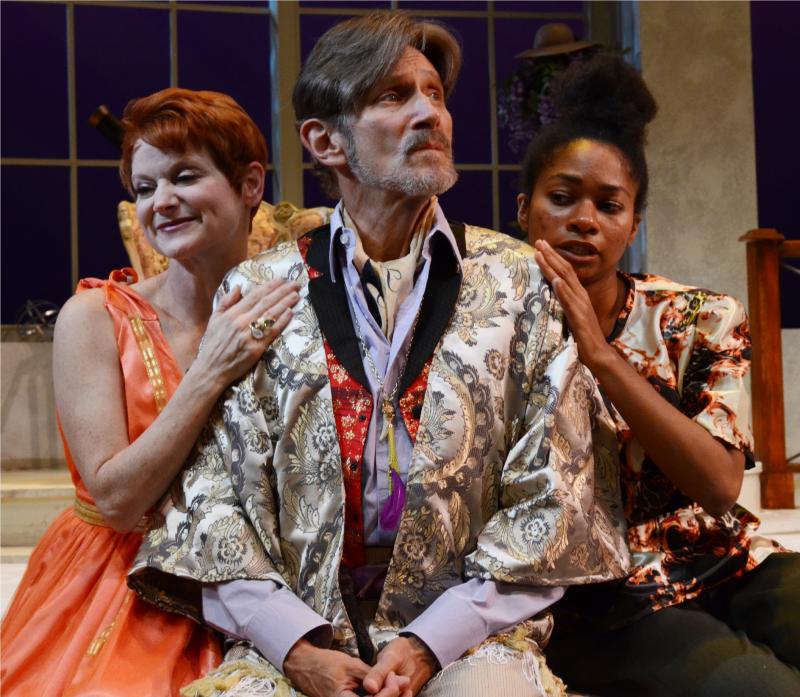 The cast of The Learned Ladies is a dream team. Each member of the troupe captures the essence of their roles as they deliver the cleverly crafted dialogue without missing a beat. They company includes Amy Griffin as Belise; Lizzie Engelberth as Henriette; Nadia Brown as Armande; Chris Young as Lycandre; Lea Antolini as Arista; Isabel Cade as Martine; David Cantor as Chrysale; Sandy York as Philamente; David Edwards as Trissotin. Rounding out the cast is Nick Bettens as Vadius; Joe Anthony as the Judge/Buddist Teacher; Connor Goerk, Al Lewis, Briana Morris, Megan Schmiedhauser as Servants. Liz Kent is the understudy for Martine.
The Artistic Staff has done an excellent job of bringing The Learned Ladies to the stage. The set design, costuming, and special effects add to the flair of the production. They include set design by Tim Golebiewski; costume design by Ashley Poteat; lighting design by Ed Matthews; sound design by John Salutz. The Stage Manager is Danielle Constance; Assistant Director is Liz Kent; Assistant Stage Manger is Matthew Fralley; Carpenter is Chuck Lid; Wardrobe Supervisor is Brianna Wistuba; Dressers are Jasmine Fox & Nicole Wilkowski; Light Board Operator is Anthony Raddi; Sound Board Operator is Matthew Fralley; Wigs Supervisor is Lia Valencia.
Moliere's satiric comedy on academic pretension and romance never grows old. The Centenary Stage is presenting a lively production of The Learned Ladies that is a must-see for metro area audiences.
Performances for The Learned Ladies at The Centenary Stage run now through October 22 in the Sitnik Theatre of the Lackland Performing Arts Center at Centenary University. Tickets for The Learned Ladies are $27.50 for adults on matinee and Friday evening performances. Saturday evening ticket prices are $29.50 for adults. Tickets for children under 12 are $17.50 for all performances. Thursday evening performances are $27.50 for all seats with a Buy One/Get One rush ticket special. To qualify for BOGO offer tickets must be purchased in person at the Centenary Stage Company box office as early as two hours prior to performance time. For more information, or to purchase tickets visit http://www.centenarystageco.org/ or call the Centenary Stage Company Box Office at 908.979.0900.
Photo Credit: Robert Eberle