BWW Review: MY VERY OWN BRITISH INVASION at Paper Mill Playhouse Hits All the Right Notes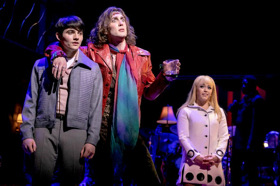 You don't have to remember the '60's scene to relish My Very Own British Invasion at Paper Mill Playhouse. Theatergoers of all ages will be engaged by this new musical. The exciting world premiere hits all the right notes. It is expertly directed and choreographed by Jerry Mitchell with the finest musical direction by Lon Hoyt. The book, written by Rick Elice, has an enthralling storyline. It is produced in association with Hal Luftig, Craig Haffner and Rodney Rigby.
The tale is based on a concept and the experiences of Peter Noone, best known as the lead singer and front man of the popular British rock band, Herman's Hermits. The show opens in a London club, The Bag O' Nails, where many of the top area musicians were known to gather and play music in the mid 1960's. It is the era of the "British Invasion" when bands from across the pond began performing in America and were influencing everything about pop culture. The story centers on two very different musicians, Peter and Trip who are both in love with the same alluring woman, Pamela. Peter is a charming and sincere young talent while Trip is a fast-talking, egotistical rock star. The romantic fable takes place in both Britain and America as vibrant characters depict the culture of the times and the conflicts that are caused by the lovers' triangle.
The gifted cast members master the music in the show along with the spirit, humor, and emotionally charged moments of the story. They include Jonny Amies as Peter; Bryan Fenkart as John; Erika Olson as Pamela; Kyle Taylor Parker as Geno; Conor Ryan as Trip; John Sanders as Fallon; and Daniel Stewart Sherman as The Hammer.
The talented ensemble includes Travis Artz, Gemma Baird, John Campione, Emma Degerstedt, Trista Dollison, Jay Donnell, Graham Scott Fleming, Douglas Goodhart, Cory Jeacoma, Sage Melcher, Jen Perry, and Daniel Yearwood.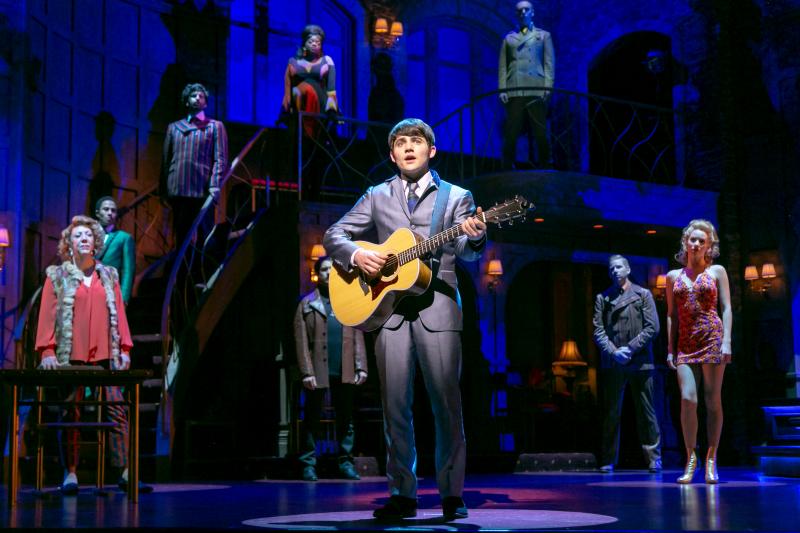 The production is brimming with hit songs. There are more than twenty selections, recorded by top British bands that fit perfectly into the fast-moving scenes. Some of our favorites are "I'm Into Something Good" by Geno, Peter and Company; "Don't Let the Sun Catch You Crying" by Pamela, Trip, John, and Company; "House of the Rising Sun" by Geno and Pamela; "I'm Henry the Eighth, I Am" by Peter and Company; "Born to Be Wild" by the Full Company; "There's a Kind of Hush (All Over the World)" by Peter, Pamela and Company; and "She's Not There" by Peter and Company.
The Creative Team has designed a setting that brings the '60's to life on the Millburn stage. They include scenic design by David Rockwell; costume design by Gregg Barnes; lighting design by Kenneth Posner; sound design by Andrew Keister; projection design by Andrew Lazarow; hair and wig design by Josh Marquette. The Production Stage Manager is Tripp Phillips. Casting is by Telsey + Company, Patrick Goodwin, CSA.
My Very Own British Invasion accomplishes everything that a musical should. The story, the music, the dancing, and the staging all come together to captivate and entertain. See it while it is being performed at Paper Mill Playhouse. Our compliments to Producing Artistic Director, Mark S. Hoebee and Managing Director, Michael Stotts for continuing to bring metropolitan audiences the very best in new theatre.
My Very Own British Invasion will be performed at Paper Mill Playhouse through March 3. The schedule is Wednesday at 7:30 pm; Thursday at 1:30 pm and 7:30 pm; Friday at 8:00 pm; Saturday at 1:30 pm and 8:00 pm; and Sunday at 1:30 pm and 7:00 pm. Tickets may be purchased by calling 973.376.4343, at the Paper Mill Playhouse Box Office, 22 Brookside Drive in Millburn and online at https://papermill.org/.
Photo Credit: Jerry Dalia and Evan Zimmerman for MurphyMade