BWW Review: LADY WRITES THE BLUES at Hackensack Performing Arts Center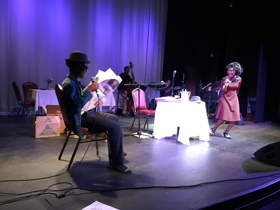 Editor's Note: Broadwayworld.com welcomes this guest review by Lianna Albrizio. Lianna is a seasoned journalist and editor of DiningOut New Jersey Magazine. In addition to penning book reviews for self-published authors, she's written for various local weeklies in her native, Bergen County, New Jersey. She is also a volunteer writer with the Winter Film Awards and a correspondent with Tapinto.net, a hyperlocal news website covering communities in New York and New Jersey. You can follow her on Instagram at https://www.instagram.com/liannaalbrizio/
Behind the effortless cool of Elvis, the suave warbling of Nat King Cole, the profound croons of Etta James, the rhythmic whimsy of Dizzy Gillespie, the eyebrow-raising grittiness of Big Maybelle, and other musical styles embodied in countless celebrated singers of the rock 'n' roll era of the 1950s and '60s, was a resolute woman from Arkansas who used her gift of gab to pen the songs of her life story that these pop legends put a voice to.
Her name was Rose Marie McCoy, and to enlighten the unfamiliar, she one of the most prolific, multifaceted and perhaps underappreciated songwriters of her time. On February 19 for Black History Month, the Hackensack Performing Arts Center shined a stage light on McCoy's songwriting legacy spanning rhythm and blues, jazz, gospel and country with a spirited program aptly dubbed, "Lady Writes the Blues." Outfitted in '50s-era dresses, and in her best southern drawl, Audrey Martells, a local actress and singer, delivered a soulful performance of McCoy's rags to riches story chronicling her life events (both special and ordinary) that inspired the lyrics to her songs about loneliness, romance, destitution and making her mark which she dove into with a bass, piano and drum-infused backing band after each sassy monologue.
"Ain't it crazy?" queries a curly-haired Martells, wore a purple dress, to a riveted audience. "You can fit a whole lifetime in a box."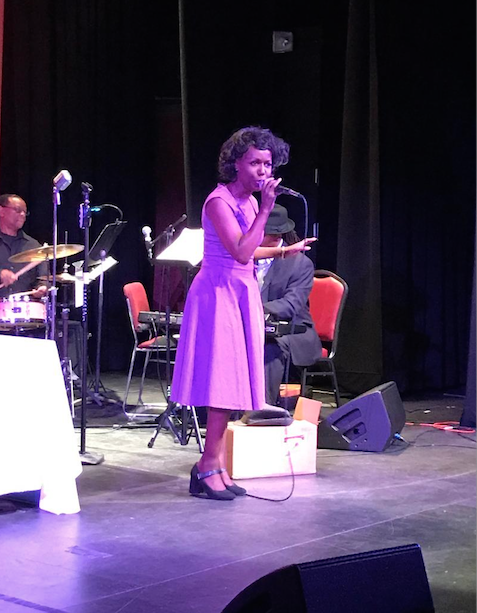 The two-hour show began with a young McCoy seated at a white linen clothed table trawling through her photo album. She begins her story reminiscing about her songwriting, which she recalled a labor of love and undeniably the reason behind her expansive track record recognized by Motown Records' past president Al Bell. From her short-lived songwriting partnership with Charlie Singleton, with whom she penned a number of hit songs namely, Elvis Presley's "I Beg Of You" and Ruth Brown's "Mambo Baby," she took away two important lessons about the business: don't credit anyone who didn't help you write the song, and grab that cash before you get ripped off from your loyalty checks.
Relentless and determined, McCoy learned to find her place in a male-dominated industry, despite it taking a toll on her marriage to her longtime love, James. Apart from relationship difficulties, other catch-22s became the driving force for her songs. From the beginning, in Oneida, Arkansas, she she lived in a tin-top shack on a farm, a place where blues was considered the devil's music, though the genre derived just farther south in the Mississippi Delta. In high school, the skinny, 5'7" songstress fought off catty classmates and sang in the choirs at school and for Sunday service. After breaking up with James, who later went on to serve in the army and was deployed to Germany during World War II, McCoy decided to embark on a new path. After all, the other professions she had thought about pursuing, a career in journalism, for one, wasn't a long-term lucrative option especially for a woman in those days; she had her sights set on bigger dreams. With a suitcase in her hand and a gleam in her eye, Martells talks of the 19-year-old who made the bold move to New York and lived briefly in the Catskill Mountains and the Bronx in squalid conditions, facing occasional racism, and working odd jobs before moving to Manhattan near the Apollo Theater circa 1942.
"I would dream about one day being on that stage," said Martells. "INTRODUCING... Rose Marie MCCOY SINGING MAMBO BABY!," she said to an amused audience, emphasizing each word.
"That would happen one day," she affirmed, though at the time nobody knew her "from a hole in the wall."
In the midst of her nonlinear path to success, performing in clubs in New Jersey and her shaky venture opening up her own club and the bills and stress that go along with it, McCoy penned a song to reflect this lonely time in her life in a little song she called, "If I Had Any Sense I'd Go Back Home," which was recorded by Louis Jordan, and one of the many songs from an eclectic repertoire Martells crooned that evening.
As any viewer may have inferred from the show that night, McCoy was not the type to throw in the towel. Unsurprisingly, she wittingly pressed on and her hard work paid off. Mid-show, Martells brought her two sons, Nile and Cole Bullock, onstage who tapped a rousing dance-off, a show highlight alongside their mother's stellar performance as McCoy.
While climbing up the ladder to stardom and experiencing all the highs and lows that accompany the struggle to the top: lonesomeness, the excitability of getting letters from her lover and holding onto hope while courageously living the life of a starving artist, she kept a good attitude and learned the value in "doing the best with what you've got."
Apart from unearthing the life of a little known entertainer who helped play a pivotal role in rock 'n' roll with her relatable life story and all the joy and pain that comes with it, Lady Writes the Blues teaches that through any life circumstance and goal trying to be met, there will be singing and dancing.
The Hackensack Performing Arts Center is located at 102 State Street, Hackensack, NJ 07601. For tickets to upcoming shows and more information, please visit https://www.hacpac.org/ or call 201.820.3007.
Photo Credit: Lianna Albrizio