BWW Review: APPLES IN WINTER at Centenary Stage is a Compelling and Insightful One-Woman Show
"When he bites into this pie, he'll know his home is still there."
By Miriam in Apples in Winter
Centenary Stage Company continues their successful 2018/2019 theatrical season with the National New Play Network Rolling World Premiere of Jennifer Fawcett's award-winning play Apples in Winter. The one-woman show features excellent direction by Mikaela Kafka and a stunning performance by Colleen Smith Wallnau. The production will be on the Hackettstown stage through Sunday, November 18. With just one weekend left, we suggest that you get your tickets. This insightful, emotive play is one that should be seen.
The play is set in a prison kitchen where Miriam is lovingly and carefully preparing a pie for her son, Robert to fulfill his final meal request before he is to be executed. She has always regarded the act of baking a "ritual," a way of marking time, and a part of the special bond she has shared with her son. As Miriam mixes the crust, cuts the apples, and prepares the pie to be baked, she thoughtfully recounts her memories of Robert as a child, a teen, and an adult. Her reminiscences are full of love and tenderness, yet they are often painful. Apples in Winter is an extraordinary depiction of a mother whose complex journey has been laced with uncertainties. Colleen Smith Wallnau's portrayal of Miriam is compelling from the first moment of the show to the last. Her performance couldn't be better.
The Creative Team has done a wonderful job of bringing Apples in Winter to the stage. They include set design by Aaron Turetsky; lighting design by Ethan Newman; sound design by Kevin Semanik; costume design by Ashleigh Poteat. The Technical Director is Jeff Chase and the Stage Manager is Danielle Constance.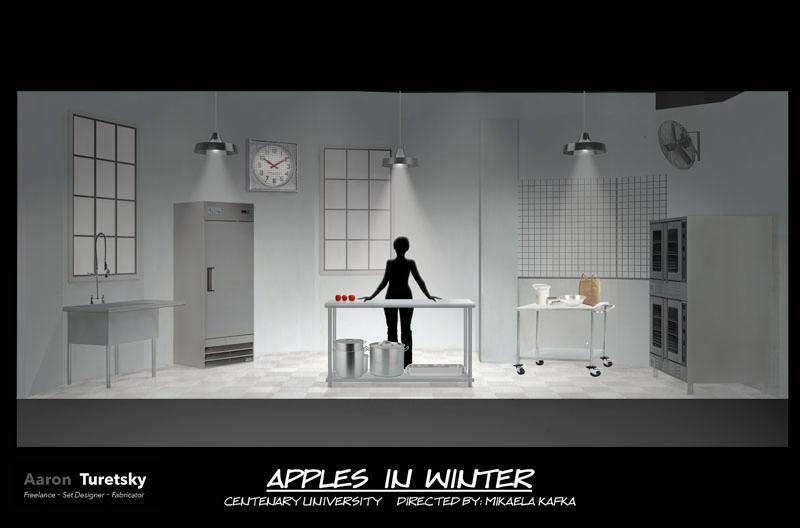 Performances of Apples in Winter will be held at the Centenary Stage Company Lackland Performing Arts Center at 715 Grand Ave. Hackettstown, NJ. Tickets are $25.00 for adults on matinee performances, $27.50 for adults on Friday evening performances, $29.50 for adults on Saturday evening performances and $27.50 for ALL SEATS with a Buy One/Get One rush ticket special when purchased in person at the Centenary Stage Company box office beginning at 5:30PM. BOGO offer not valid for advance ticket sales and may not be combined with any other discounts.
For more information or to purchase tickets visit http://www.centenarystageco.org/ or call the Centenary Stage Company box office at 908.979.0900.
Photo Credit: Courtesy of Centenary Stage