BWW Interview: Director Danny Campos of BOY SEES FLYING SAUCER at The Growing Stage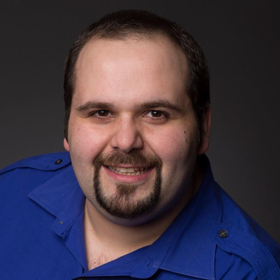 The Growing Stage, The Children's Theatre of New Jersey is presenting the world premiere production of Boy Sees Flying Saucer from March 9 to March 25 with performances on Friday evenings at 7:30 PM, Saturday and Sunday matinees at 4:00 PM. Boy Sees Flying Saucer, written by Mike Czuba and based on the true and original story by Brian Dorscht, is the winner of the theatre's 2017 New Play-Reading Festival. This production is under the direction of Danny Campos, veteran Actor and Teaching Artist of The Growing Stage.
Boy Sees Flying Saucer tells the story of Bobby Radcliffe, who is sure he has lost his brand-new bicycle. After his parents go out for the evening, he is left with his sister and instructions from his father to "make sure the bike is found and in the garage" before Bobby goes to bed. Frustrated that he can't find his bike, he returns home and decides to tell a lie to his gullible sister; "A flying saucer came down and took my bike". Half believing what he says, she asks him for details of how it happened - and the adventure starts to develop. The story quickly spreads around the neighborhood, as folks get excited to know that a UFO landed in their city. It hits the media, and before you know it the entire town becomes a tourist attraction with Bobby telling his story.
Broadwayworld.com had the pleasure of interviewing Danny Campos about his career and the upcoming show.
Danny is an Actor, Director, Teaching Artist and Arts Administrator from The Growing Stage, The Children's Theatre of New Jersey. He holds a Masters Degree in Educational Theatre from New York University and a Bachelors Degree in Theatre/Music from Albright College. He also attended the Eugene O'Neill National Theater Institute. Danny is a member of TYA/USA, the American Alliance of Theatre and Education and the International Performing Arts for Youth organizations. As a performer, Danny has appeared in many Growing Stage productions including Hubie in the world premiere production of The Secret Life of Hubie Hartzel, Frosty in Frosty and the Cowardly Lion in The Wizard of Oz. In addition to performing, Danny's directing various productions at The Growing Stage. Danny's a proud member of Actors Equity Association, the professional union of actors. When he's not on stage or in the director's chair, you can find Danny in the classroom as a theatre teaching artist for The Growing Stage and throughout the state. Danny is an integral part of our education program. Recently, Danny returned to his alma mater, Albright College as an Adjunct Professor teaching a course in Theatre for Young Audiences and directing the Theatre Department's production of The Masque of Beauty And the Beast.
Did you have a fascination with the performing arts as a youth?
Yes, I remember as a child dancing in my family's kitchen as my father played his accordion. Music was a huge part of my childhood having first played the violin in 4th grade followed by the accordion for 10 years and a brief stint with the saxophone in Junior High and the High School Marching Band. Also, I was always singing in a choir beginning in elementary school through college. Theatre came later when I was a Freshman in High School and cast as Officer Krupke in West Side Story. The acting bug bit hard and I knew this is what I wanted for a career.
How does your teaching career complement your work as a performing artist and director?
I feel my teaching career holds me accountable to what I do. I'm constantly reminding my students to "Be the character! Project your voice! Use emotions!" that if I'm not doing that as a performer or as enlisting it in my actors as a director, why should my students? Like the saying goes, "practice what you preach!"
Tell us a about some significant mentors who have inspired your career?
I think my first mentor was my accordion teacher, Maddalena Belfiore because she was always pushing me to do better. Then in high school, my choir teacher Mr. Brynes introduced me to musical theatre. In college, I was fortunate to have professors (Julia Matthews and Jeffrey Lentz) who believed in me and what I wanted to accomplish in my 4 years at Albright College. They always gave me opportunities that challenged me creatively and always pushed me to find my next opportunity, whether it was an internship or acting gig. In my professional career, I fortunate enough to work with two individuals who inspire me constantly---Steve Fredericks gave me my 1st professional opportunity and is the reason why I decided to continue my professional career in Theatre for Young Audiences and attend graduate school at NYU in Educational Theatre. Lori B. Lawrence, our Director of Educational Programming at The Growing Stage inspires me as a teaching artist and constantly challenges me to provide more for my students and be a better teacher.
What are some of the challenges of directing a "World Premiere" play?
The biggest challenge for me is making sure I make the playwright proud. This is essentially their passion project and you want to take care of it and give it the respect and guidance it needs. Another challenge is making sure you provide the audience with a well- rounded production---excellent acting, great scenery, fun music. Audiences are walking into something completely new and you want to make sure you they enjoy this wonderful journey you've set forth for them.
We'd love to know a little about the cast and creative of Boy Sees Flying Saucer.
I have the best team working on this production! This company is made up of actors who are completely invested in the rehearsal process and this production. As a Director, you hope to get actors who will "play" and I feel I've gotten that times 10. As for my Creative Team, they keep me on track and make my job easier. My stage manager Casey Druga is my right hand ready to take on any task and make sure I don't fall apart. I'm fortunate enough to work with The Growing Stage's Artist-in-Residence, Perry Arthur Kroeger on such an incredible set. He's taken the comic book world and brought it to life on our stage. Audiences will love it! Plus, the 1960s are in full display with wonderful costumes curated by our Costume Coordinator, Lori Lawrence and provided by Scaramouche Costumes.
What would you like audiences to know about the show.
I want audiences to know that this show will leave a smile on your face the whole time. Expect to walk in grooving to some great tunes, hear a wonderful story and ultimately spend a great afternoon or evening with your family.
The Growing Stage has been an exemplary venue for families and children. Why do you think it has been so successful?
The Growing Stage values its audience---we do not talk down to children, we respect them as audience members and prepare them to be the adult theatre-goers of the future. For families, we continue to provide high quality shows at VERY AFFORDABLE prices. You can't beat that!
What's going on for you in the future?
I hope to direct again! And of course I will to teaching at The Growing Stage's Creative Arts Academy and our Summer Arts Camp.
Boy Sees Flying Saucer will be performed at The Growing Stage, The Children's Theatre of New Jersey from March 9 to March 25. The theatre is located at 7 Ledgewood Avenue, Netcong, NJ 07857. On Opening Night, March 9th there will be a special post-show talkback session with the playwright and creative team. All tickets for this production are $15. To purchase tickets, please visit http://www.growingstage.com/ or contact the Box Office at (973) 347-4946. Special group rates are available.
Follow The Growing Stage on Facebook, Instagram, Twitter, and YouTube.
Photo Credit: Courtesy of Danny Campos