Seacoast Rep Presents IN THE HEIGHTS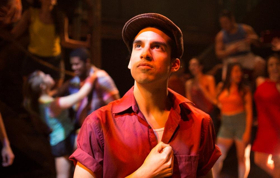 New Hampshire theater audiences will have their first chance to see a professional production of a Lin-Manuel Miranda musical when the Seacoast Repertory Theatre stages In the Heights, the Tony-award winning debut work by the creator of Hamilton.
In the Heights opens March 23 at the Seacoast Rep. It displays the first flowering of Miranda's theatrical revolution, with a celebratory emphasis on American ethnic and musical diversity. The musical is set in the mostly Hispanic-American Washington Heights neighborhood of New York City. It is scored with a rich blend of salsa, hip-hop, merengue and soul.
"It's getting away from the traditional and putting the spotlight on people who don't often get it," said the Seacoast Rep's artistic director, Miles Burns.
"We're the melting pot. It feels like something we should be celebrating. It feels like something we should be fostering, and he's doing that," Burns said, referring to Miranda. "Everything he has worked on has inspired people."
The Seacoast Rep's production of In the Heights is evidently the first staging in New Hampshire of a Miranda musical, Burns said, although the play has previously been produced by a high school in the state.
The production's musical director, Jesse Sanchez, is a veteran in Miranda's sphere. Based in New York and San Francisco, Sanchez has served as music assistant for the national tour of Hamilton: An American Musical.
In the Heights takes place over three days on the northern tip of Manhattan and tells the stories of neighborhood inhabitants from three generations who are struggling with money and romance. Usnavi de la Vega owns a corner bodega and dreams of opening a bar in his Dominican Republic homeland. Nina Rosario falls in love but her father wants her to finish a Stanford University education that is causing him financial hardship. He is also opposed to Nina's relationship with Benny, an African-American employee of his. Usnavi's mother, "Abuela," Claudia, receives a financial windfall from a numbers bet.
"There's a lot of universal themes," Sanchez said. "We've all had a grandmother in our lives and can relate to Abuela."
Miranda's first version of In the Heights was staged as a student production in 2000 while he was at Wesleyan University. The Broadway production opened in 2008 and won four Tony awards, including best musical, as well as a Grammy and a Pulitzer Prize.
Miranda's theatrical impact is evident not only in the music - with each significant character of In the Heights identified by a distinct musical genre, but also in the lyrics. Said Burns, "He created a whole new and different sound and lyric structure - putting the emphasis on the words, rather than giving the performers a super-high note to sing."
Sanchez said lyric clarity is a focus of the rehearsals. "We want to make sure the audience understands everything."
The cast of "In the Heights," reflects the ethnic diversity of the characters, and the Seacoast Rep spread its net across the country looking to fill the roles. Of the cast of 16, all but three come from outside New Hampshire - from California, Vermont, the New York City area and North Carolina. Hundreds of actors submitted video auditions.
The musical's director, Tyler Christie, is making his main-stage directing debut at the Seacoast Rep, after leading the PAPA youth theater's production last year of "Violet." Christie is a rare young talent, and well suited for the ambitious production, Burns said. "He's got a director's brain. He's got every single minute of that show mapped out the way he sees it. That's hard to find."
Miranda also is seen as a new light in American theater with a long and influential career ahead, in the manner of Stephen Sondheim and other enduring titans. In the Heights at the Seacoast Rep will be, for many who see it, their introduction to Miranda.
"When a person like that comes around, you know they're going to be around for a long time," Burns said. "He came around at the right time. We needed a voice like that."
Said Sanchez, "For Miles and the Seacoast Rep to want to bring a show like this to this community is really awesome. I would hope that the audience would be leaving with the thought, 'now I want to see Hamilton.'"
In the Heights runs March 23-April 22. Show times are Thursdays at 7:30, Fridays at 8 pm, Saturdays at 2 pm and 8 pm, and Sundays at 2 pm. Tickets are available through the Seacoast Rep box office at 603-433-4472, or online at www.seacoastrep.org/tickets. For student discounts, call the box office. In The Heights is generously sponsored by The River House Restaurant, Johnson & Johnson, and Shilo Farm. The Seacoast Repertory Theatre's 2018 season is sponsored in part by Bondgarden Farms, Portsmouth Public Media, MacEdge and the Sheraton Portsmouth Harborside Hotel.
The Seacoast Repertory Theatre is a 501(c)3 non-profit theatre committed to providing a variety of programming for the community. The Rep presents professional programming through its Mainstage, alternative programming through its Red Light Series and also offers a variety of programs for youth and seniors.