Colin Hay Comes to Capitol Center For The Arts, 10/ 14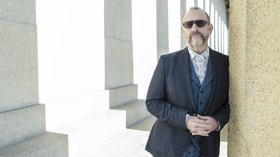 Australian musician / actor Colin Hay, who performed in the 1980s as lead vocalist of the band Men at Work and later as a solo artist, is coming to the Capitol Center for the Arts on Saturday, October 14 at 8PM. The show is being presented in conjunction with Meadowbrook Productions.
Following the break-up of Men at Work in 1985, Hay released several major label solo albums. In 2011, he is said to have commented, "Men at Work really didn't build a foundational audience. We came in as a pop band with enormous radio success; once that goes away and the band breaks up, the audience tends to go away with it. You're left with what you want to make of it." In addition to recording, Hay also established his own recording label and made appearances in several movies and television shows (some of which have included performances of some of his previous songs.) On January 2017, he released the first single "A Thousand Million Reasons" from his new album, Fierce Mercy. Hay also released his first audio book, in which he narrated 24 of Aesop's Fables. He continues to perform regularly. Tickets for the
October 14 Colin Hay performance
are $35 - $59.50, plus any applicable fees for phone/Internet sales. They may be ordered by calling the Capitol Center for the Arts at
(603) 225-1111
or online at
ccanh.com
. Tickets may also obtained at the Center's box office at
44 South Main St., Concord, NH
, which is open Monday, Tuesday, Thursday and Friday from 11AM to 6PM and Saturdays from 11AM-2PM.
About the Capitol Center for the Arts The award-winning Capitol Center for the Arts (
ccanh.com
) inspires, educates, and entertains audiences by providing a quality venue for the performing arts as well as a wide range of professional-level, artistically-significant presentations. The Center is conveniently located off Rt. 93 in downtown Concord, New Hampshire and is close to several quality restaurants, shopping boutiques, and other area attractions. The facility first opened in 1927 as the Capitol Theatre, a prime stop on the Vaudeville circuit; it later became Concord's premier movie house and concert hall. After closing in 1989, it underwent a multi-million dollar renovation / modernization and reopened in 1995 as the Capitol Center for the Arts. Today, the Capitol Center is home to the 1304-seat Chubb Theatre, the Spotlight Café, The Governor's Hall ballroom, and the Kimball House, a Victorian mansion.