Bradley Moore Finds His Theater Home at Music City's Historic Chaffin's Barn
Bradley Moore has always had a lot of theatrical projects going on since he settled in Music City a few years back. But ever since Norma Luther became the owner of Nashville's iconic Chaffin's Barn Dinner Theatre in early 2017 - and he became assistant artistic director - he's only gotten busier. With this summer's first musical hit (Sister Act) to his credit, his resume is growing yet again with the Barn's production of the ABBA megamusical Mamma Mia, which opens next Thursday at the eponymous red barn on Highway 100 in West Nashville.
Obviously, Moore's become adept at mounting big musicals on the Barn's 16- by 16-foot stage, creating theater magic in-the-round for loyal patrons and the growing number of new fans who've flocked to the revivified dinner theater for another round on the chow-and-bow circuit. His production of Mamma Mia, even with a scaled down design, features a huge cast of Barn veterans and newcomers and the show's lighter-than-air, confectionary tale of a young woman trying to determine who among three of her mother's former lovers could be her dad promises to pack as big a wallop as any production of the show - whether on Broadway, in the West End, on national tour or in regional theater.
And coming from Bradley Moore, audiences - and critics - could expect no less than stageworthy razzle-dazzle, stellar performances, colorful design and flashy costumes...all set to the undeniable and unrelenting disco beat of an ABBA score.
Even Broadway veteran Rachel Potter, playing newly engaged Sophie at Chaffin's Barn, admits to succumbing to the iconic venue's charms, its venerated history and palpable sense of family and tradition and the allure of ABBA: "It's like we're rehearsing the show in a disco every day, so I'm exposing my eight-month-old son to all these great ABBA songs every day - he's learning all about pop music!"
With a cast led by nine-time First Night Award-winning Martha Wilkinson, Moore's crafting a certain-to-be-a-hit-show in a matter of two weeks or so of intense rehearsals ahead of its September 7-October 21 run. Miraculously, he somehow found time to talk with us about Mamma Mia and how Chaffin's Barn has become his theater home in Music City.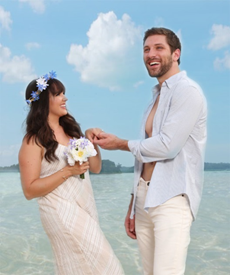 Why did you want to direct Mamma Mia? I have wanted to direct Mamma Mia ever since it first opened on Broadway in 2001. Then, of course, it became a huge, smash hit and I knew I would have to wait a while. After 16 years, the opportunity finally presented itself to me. The show is beyond fun. The music is infectious. I feel that no one who comes to see the show can leave without a huge smile on their face.
What's the biggest challenge about doing this show in the round? I don't really look at it as a challenge as much as an opportunity to stage the show in my own unique way.
What was your casting process like? Lots of talent. Many hard decisions. So, basically like casting any other show. I just trusted my gut like I always do. It rarely lets me down.
Are you pleased with the people you've cast? Absolutely! I feel so spoiled to consistently have these amazing casts filled with beautiful human beings. I could not be happier.
What's your next project after Mamma Mia? I am gonna be busy at The Barn! I will appear in Southern Fried Funeral as Beecham in October/November. Then, I will direct our Children's Christmas Show Ken Ludwig's 'Twas The Night Before Christmas in December, followed by directing the regional premiere of Disney's Freaky Friday: The Musical in January.
What's your Barn experience like thus far? I don't think I have ever loved working somewhere as much as I love working at The Barn. We are honestly a family. Every single day there is so much creative energy, love, support, and laughs. We are a bunch of people who are fortunate enough to be living our dreams which means we work our butts off and put our heart into everything we do. My first professional gig was at a dinner theatre outside of D.C. when I was 19; I think the whole dinner theatre atmosphere and vibe has always been something I have been drawn to.
If you could direct any three shows, what would they be and why? Evita - It has been on my directing bucket list since about 1999. I think the music and story are beautiful and complex. My concept would present the show in a way that is completely different than anyone has ever seen before. I hope one day to get that opportunity.
Side Show - Another show that has been on my directing bucket list since about 1999. The music is infectious and moving. The story is heartbreaking yet hopeful. It is a show that, conceptually, could be presented in many different ways. I would love the challenge to explore all those characters, emotions, and storylines.
A Gentleman's Guide To Love & Murder/Fun Home/Dear Evan Hansen Well, I may have to wait until 2025 for Dear Evan Hansen, but as far as other new musicals go, I would love to get my creative hands on A Gentleman's Guide To Love and Murder & Fun Home.
What's your favorite ABBA song? I used to think I knew, but during my preparations for Mamma Mia and through rehearsals, it seems to change every day. However, I will also have a soft spot in my heart for "Take A Chance on Me."
Why should people come see Mamma Mia? It is the most fun you will have all year! There is so much negativity and crap going on in the world on a daily basis, we all truly need an escape. And what could be better than to escape to a Greek Island filled with ABBA music!
About the show Broadway vet Rachel Potter stars with the nine-time First Night Award-winning Martha Wilkinson (a 2015 First Night Honoree) in the upcoming Chaffin's Barn Dinner Theatre production of Mamma Mia!, the hit musical set to a score of ABBA's biggest hits. Mamma Mia! runs September 7-October 21 at Nashville's iconic dinner theatre.
Opening on Broadway in October 2001 - just weeks after 9/11 - the musical provided a much-needed dose of escapism to a battered New York City theatre scene still reeling from the attacks of September 11. It went on to run for 14 years on the main stem, with some 5,773 performances to its credit. The North American touring production, which opened in Providence, Rhode Island, in 2002, continued until its final performance in St. Louis on July 30 of this year, racking up in excess of 4,000 performances along the way.
Starring Broadway veteran and former X Factor finalist Rachel Potter as Sophie and Martha Wilkinson as Donna, Mamma Mia! tells the comic story of bride-to-be Sophie and the hilarity surrounding her wedding on a Greek island paradise. The magic of ABBA's timeless songs propels this enchanting tale of love, laughter, and friendship, creating a trip down the aisle audiences will never forget!
Bradley Moore directs, with choreography by Everett Tarlton and music direction by Kelsi Fulton.
Chaffin's Barn's production of Mamma Mia! will include 30 performances, staged on Thursday, Friday, and Saturday evenings, as well as Thursday matinees, with one special Sunday matinee on September 17. Reservations for Mamma Mia! are now available via www.ChaffinsBarnTheatre.com.
In addition to Potter and Wilkinson, the cast include Gracie McGraw, Meggan Utech, Jenny Norris-Light, Cat Arnold, Taylor Novak, Will Pope, Austin Olive, Greg Frey, David Arnold, Geoff Davin, Curtis Reed, Christina Candilora, Brett Cantrell, Anna Carroll, Heather Hershow, Jenna Pryor and Sarah Katherine.
Jeffrey Ellis is a Nashville-based writer, editor and critic, who's been covering the performing arts in Tennessee for more than 35 years. In 1989, Ellis (read more...)