SHOW
DATES
THEATRE

Hairspray


This fun-loving new musical delights audiences by sweeping them away to 1960's Baltimore, where the 50's are out-- and change is in the air. Lovable
3/24 - 4/1/2023

Bhs Panther Playhouse
5688 Woodlawn St
Bartlett

Legally Blonde

3/31 - 4/1/2023

Auditorium
Chattanooga

Les Miserables School Edition


The legendary Broadway musical has been specially adapted to meet the needs of young performers. This author-approved, PG-rated edition has been abridged to a running
3/30 - 4/1/2023

Nolensville Performing Arts Center
Nolensville

Lucky Stiff


pTony Award winners a href="http://www.mtishows.com/show_detail.asp?showid=000049#"Lynn Ahrens/a and a href="http://www.mtishows.com/show_detail.asp?showid=000049#"Stephen Flaherty/a exploded on the musical theatre scene in 1988 with their first off-Broadway show, strongLUCKY STIFF/strong.
3/24 - 4/1/2023

Belmont Black Box Theater
Nashville

Shrek The Musical Jr


Beauty is in the eye of the ogre in Shrek The Musical JR., based on the Oscar-winning DreamWorks Animation film and fantastic Broadway musical. It's
3/30 - 4/1/2023

Auditorium
Nashville

The Addams Family School Edition


Visual content only
3/30 - 4/1/2023

Fayette Academy
15090 US-64
Somerville

The Music Man

3/30 - 4/1/2023

Auditorium
Johnson City

Into The Woods

3/24 - 4/2/2023

South Jackson Civic Center
404 S Jackson St
Tullahoma

Little Shop Of Horrors


A down-and out skid row floral assistant becomes an overnight sensation when he discovers an exotic plant with a mysterious craving for fresh blood. Soon
3/29 - 4/2/2023

Martin Center -bach Theatre
1320 W State of Franklin Rd
Johnson City

Shrek The Musical Jr


Beauty is in the eye of the ogre in Shrek The Musical JR., based on the Oscar-winning DreamWorks Animation film and fantastic Broadway musical. It's
3/30 - 4/2/2023

Hillsboro Performing Arts Center
2227 Hillsboro Rd
Franklin

Smoke on the Mountain


Smoke on the Mountain tells the hilarious and heartwarming story of a Saturday Night Gospel Sing at a country church in North Carolina's Smoky Mountains
3/23 - 4/2/2023

Studio Tenn Theatre Company
Historic Sanctuary of Franklin First United Methodist Church - 148 5th Ave S, Franklin, TN 37064
Franklin

The Curious Incident of the Dog in the Night-Time


Visual content only
3/24 - 4/2/2023

Nashville Repertory Theatre
161 Rains Ave
Nashville

Willy Wonka


Bravo invites audiences on a fantasy ride into the land of pure imagination! Roald Dahl's Willy Wonka  follows enigmatic candy manufacturer, Willy Wonka (Bryant Swords),
3/31 - 4/2/2023

Bravo Creative Arts Center
2227 Hillsboro Road
Franklin

Magic Tree House: Pirates Past Noon Kids


An adaptation of the fourth of Mary Pope Osborne's award-winning fantasy adventure books from the Magic Tree House book series. This time around, Jack and
4/3 - 4/4/2023

Eaton Elementary
423 Hickory Creek Rd
Lenoir City

Disney's Aladdin Kids


Welcome to the marketplace of Agrabah, where we?re about to begin the fantastic tale of the street rat who became a prince! This stage adaptation
4/5 - 4/5/2023

Auditorium
Cleveland

Disney's The Little Mermaid Jr


In a magical kingdom fathoms below, the beautiful young mermaid Ariel longs to leave her ocean home to live in the world above. But first,
4/6 - 4/8/2023

Viking Center
15090 US-64
Somerville

Disney's Frozen Jr


For the first time in forever the theatrical take on a modern classic, Disney's FROZEN JR is set to be performed right here in the
4/13 - 4/15/2023

Emmons Auditorium
401 Gay St
Memphis

Roald Dahl's Willy Wonka Jr.


Roald Dahl's timeless story of the world-famous candy man and his quest to find an heir is a golden ticket to adventure.
4/14 - 4/15/2023

Theatre
Eads

The Drowsy Chaperone

4/13 - 4/15/2023

Christ Presbyterian Academy
2323 Old Hickory Blvd a
Nashville

Disney's The Little Mermaid Jr


In a magical kingdom fathoms below, the beautiful young mermaid Ariel longs to leave her ocean home to live in the world above. But first,
4/13 - 4/16/2023

Legacy Performing Arts Center
Franklin

Freckleface Strawberry The Musical

3/6 - 4/16/2023

Circuit Playhouse
Memphis

Mary Poppins Jr


One of the most popular Disney movies of all time is capturing hearts in a whole new way: as a practically perfect musical! Mary Poppins
4/13 - 4/16/2023

Auditorium
Cleveland

The Drowsy Chaperone

4/14 - 4/16/2023

Mt Juliet Christian Academy
735 N Mt Juliet Rd
Mount Juliet

Seussical Jr.


Horton the Elephant, the Cat in the Hat, and all of your favourite Dr. Seuss characters spring to life onstage in Seussical jr, a fantastical
4/19

Concord United Methodist Churc
11020 Roane Dr
Knoxville

Fiddler On The Roof

4/21 - 4/22/2023

Creekside Theatre
Chattanooga




Back to the Main Page | Browse Local Theatres
---
Latest Nashville Reviews
BWW Review: Street Theater Company's ORDINARY DAYS Ushers In New Barbershop Theatre Residency in Extraordinary Ways
by Jeffrey Ellis - March 27, 2023
Street Theatre Company makes its long awaited and eagerly anticipated debut as a resident company at Nashville's Barbershop Theatre with its thoroughly entertaining production of Ordinary Days, the sung-through 2008-2009 work with music and lyrics by Adam Gwon....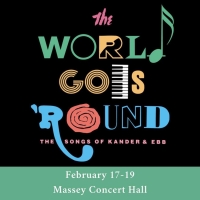 Review: BUMT's Sparkling and Sophisticated THE WORLD GOES 'ROUND Is Gone Too Soon
by Jeffrey Ellis - February 22, 2023
Sometimes, even imperceptibly and when you least expect it, you may find yourself in search of something that helps to take you away from the rigors of the real world, to transport you to a long-dreamed-of land of fantasy which exists in your heart of hearts. Perhaps that journey is spurred on by a ...
Review: The Queens of SIX The Musical Enchant Their Nashville Audience On Opening Night
by Jeffrey Ellis - February 22, 2023
Make no mistake about it: SIX, the Tony Award-winning musical about six women historically tethered to one another by a common – but not "a commoner" – ex-husband, is raucously funny one moment, remarkably heartfelt the next, with plenty of history punctuating the moments in between. SIX, the high-s...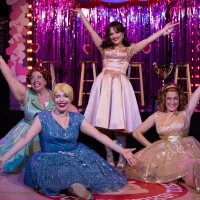 Review: Nostalgic and Warm MARVELOUS WONDERETTES May Be the Cure For What Ails You
by Jeffrey Ellis - November 16, 2022
There's really nothing better for what ails you – particularly on a cold, wet and dreary Sunday afternoon – than a stroll down memory lane, thanks to a tuneful trip to the 1950s and '60s with The Marvelous Wonderettes, a nostalgic and enormously entertaining musical revue by Roger Bean....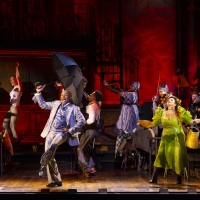 Review: HADESTOWN 'Mesmerizes and Captivates' During Weeklong Stand at Nashville's TPAC
by Jeffrey Ellis - November 02, 2022
Mesmerizing and captivating are just two of the words that might best describe Hadestown, the Tony Award-winning best musical of the truncated 2019-20 Broadway season, which is now commanding ovations of rapturous applause from adoring fans at Nashville's Tennessee Performing Arts Center during an e...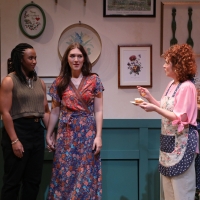 Review: Lauren Shouse's Sublime Direction of THE CAKE Provides Much Food for Thought
by Jeffrey Ellis - October 28, 2022
Lauren Shouse's directorial resume is quite the impressive one and over the years she's helmed productions for Nashville Repertory Theatre that have been justifiably acclaimed both by audiences and critics alike. But despite the notoriety that seems to always accompany a "Lauren Shouse-directed prod...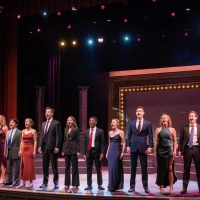 Review: Belmont University Musical Theatre's Inspiring and Astonishing SONDHEIM ON SONDHEIM
by Jeffrey Ellis - October 09, 2022
Since his death in 2021, Stephen Sondheim and his canon of work have justifiably been on the hearts and minds of theater people from around the world, with revivals, retrospectives and remembrances filling the calendars of an amazing range of companies paying homage to the master of contemporary mus...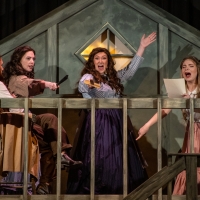 Review: Watershed Public Theatre's 'Nostalgic and Sentimental' LITTLE WOMEN THE MUSICAL
by Jeffrey Ellis - October 08, 2022
With a stellar cast under the direction of Cammy Harris, Watershed Public Theatre's version of Little Women The Musical ends its two-weekend run at Columbia State Community College's Cherry Theatre on Sunday, October 9, with an endearing production that proves once more the timelessness of Alcott's ...
Review: Studio Tenn Collaborates with TPAC for 2022-23 Season Opener of AIDA IN CONCERT at Polk Theatre
by Jeffrey Ellis - October 01, 2022
Studio Tenn – the Franklin-based professional theater company – launches its 2022-23 season in collaboration with Tennessee Performing Arts Center for a concert staging of Elton John and Tim Rice's Aida, playing for just two nights at TPAC's James K. Polk Theatre September 30 and October 1. Under th...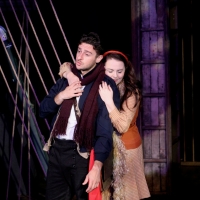 Review: Roxy Regional Theatre's 2022 Revival of INTO THE WOODS May Mark Another Turning Point For The Company
by Jeffrey Ellis - September 30, 2022
In 2010, the Clarksville-based Roxy Regional Theatre staged a production of Stephen Sondheim and James LaPine's "exquisitely off-kilter and melodiously rapturous musical Into the Woods" which remains firmly ensconced in my memory for its many attributes, not the least of which were the actors (Sarah...