Latest News on Kelsi Fulton
Kelsi Fulton News
The Williamson County Performing Arts Center Announces Cast And Creative Team For NUNSENSE
by Marissa Tomeo - Mar 4, 2022
The Williamson County Performing Arts Center at Academy Park and Williamson County Parks and Recreation Department (WCPR) are excited to announce the cast and creative team for Nunsense. Performances will take place April 1, 2022 at 7:30 p.m., April 2, 2022 at 2:30 and 7:30 p.m., and Sunday, April 3, 2022 at 2:30 p.m.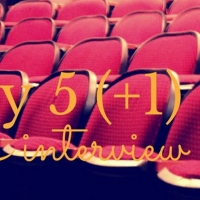 Friday 5(+1): HPAC's World Premiere Production of Michael Kurek's DEAR MISS BARRETT
by Jeffrey Ellis - Jun 17, 2021
We welcome back our regular feature, The Friday 5 (+1), with today's opportunity to get to know four members of the Dear Miss Barrett cast better before the curtain goes up on the show's world premiere production. Crystal Kurek, Deron Ryan Martel, Kimberly Rye and Tyler Evick offer their answers to our queries and tell you why they expect to see you in the audience of Dear Miss Barrett over the next two weekends.
BWW Review: Nashville Rep's 35th Season Celebration Kicks Off With Astonishing URINETOWN THE MUSICAL
by Jeffrey Ellis - Sep 15, 2019
Brilliant social commentary or sophomoric lowbrow humor? Just what is it that makes Urinetown the Musical such a hit with audiences and theater companies a?' is it the biting satire delivered in Greg Kotis' book and lyrics and in Mark Hollmann's music and lyrics, or is it (in the case of Nashville Repertory Theatre's 35th season opening production) director Jason Tucker's fast-paced and quick-witted vision that's nothing short of mesmerizingly entertaining? We'll leave that up to you to decide a?' well, actually, we won't since that's why I am paid the big bucks to tell you what to think a?' but rest assured that no matter the reason, odds are you're going to love Nashville Rep's iteration of Urinetown and you'll want to score tickets before the show evaporates into the creative ether encircling Tennessee Performing Arts Center's Andrew Johnson Theatre.
BWW Review: Theater Bug's SHOWMANCE is The Timeless Musical for Theater People of All Ages
by Jeffrey Ellis - Aug 1, 2019
Cori Anne Laemmel continues to do amazing things at The Theater Bug a?' whether it's creating new and compelling art, engaging in revealing collaborations with other creative individuals, or, more importantly, providing a safe space for a new generation of young theater artists eager to transform their own lives through self-expression a?' and there is absolutely no reason to believe that she's anywhere near a stopping point. And, because of her sincere endeavors to give back in much the same way her own life has been enriched by theater, Nashville directors may rest assured that the bench of skilled and capable actors willing (yearning!) to take to the stage for years to come is indeed very deep.

BWW Review: Studio Tenn's Deliciously Campy, Fun and Sexy JOSEPH AND THE AMAZING TECHNICOLOR DREAMCOAT
by Jeffrey Ellis - May 18, 2019
With Joseph, which opened last night at Franklin's Jamison Theater inside The Factory at Franklin, further establishes its brand: presenting exceptional musical theater with production qualities that might rival Broadway, performed by a cast (a dreamcast, if you will) made up of actors from Nashville, New York and various and sundry points in between. The show's title role is entrusted to New York-based Jesse Michels, who oozes great charm and is fairly dripping in sex appeal which ensures the audience is riveted to his performance - but it's his gorgeous baritenor and prominent stage presence that makes certain this production of Joseph is so appealing and we daresay noteworthy.
BWW Review: Chaffin's Barn's Earnest and Uneven New Musical ESTHER Premieres
by Jeffrey Ellis - Mar 23, 2019
Nothing fills a critic's heart and soul with as much glee as the premiere of a brand-spanking-new musical, heretofore unseen by mortal men (and women). Thus, I'm happy to report that Esther, a new musical that premiered Thursday at Chaffin's Barn Dinner Theatre in an abbreviated four performance run, has some exceptional elements to be found in its two hours of performance time, although clearly there's a lot of work to be done if the show is to have a future outside The Barn.

First Night's Top Ten of 2018 Announced in Nashville Tonight
by Jeffrey Ellis - Dec 10, 2018
In anticipation of the gala 30th anniversary celebration of The First Night Awards, Tennessee's best and brightest in live theater were revealed tonight as First Night's Top Ten of 2018 - reviewer and critic Jeffrey Ellis' annual recognition for theater in the Volunteer State - were announced during a Facebook Live presentation from Nashville.
SAVE THE DATE: Nashville Theater Calendar for November 5, 2018
by Jeffrey Ellis - Nov 5, 2018
Looking ahead, you'll find a number of new productions on tap for your entertainment pleasure, thanks to the efforts of theater companies all over Middle Tennessee. Here's our calendar for November 5, 2018, to help you plot your course through the end of the year...
BWW Review: Lipscomb University Theatre's GODSPELL Filled With Heart and Soul
by Jeffrey Ellis - Nov 3, 2018
Patriq James' graceful portrayal of Jesus Christ in Lipscomb University Theatre's production of Godspell - now onstage in Collins Alumni Auditorium on the school's Nashville campus - shines like a beacon in the very center of the show, providing the very heart of every story told by director Scott Baker's 17-person cast. But if James provides the show's heart, it is perhaps the members of Baker's ensemble, which includes a deft blending of experienced student actors with an assortment of newcomers to their company, who provide its soul.

BWW Review: Life Springs Eternal in Nashville Children's Theatre's TUCK EVERLASTING
by Jeffrey Ellis - Sep 19, 2018
Ernie Nolan and his stellar crew of theatrical collaborators at Nashville Children's Theatre once again prove their mettle with a production worthy of adulation and acclaim, thanks to their world premiere of the TYA (theater for young audiences) version of the recent Broadway musical Tuck Everlasting. Based on Natalie Babbitt's 1975 novel - long considered one of the finest works ever written expressly for young readers - Tuck Everlasting is a thing of beauty, whether onstage or on the page, and audiences unfamiliar with either the book or the play are in for an emotional, thought-provoking journey that reverberates long after the final bows ring down the show's curtain.