BWW Review: PETER PAN AND TINKER BELL: A PIRATE'S CHRISTMAS Brings Panto Tradition to Music City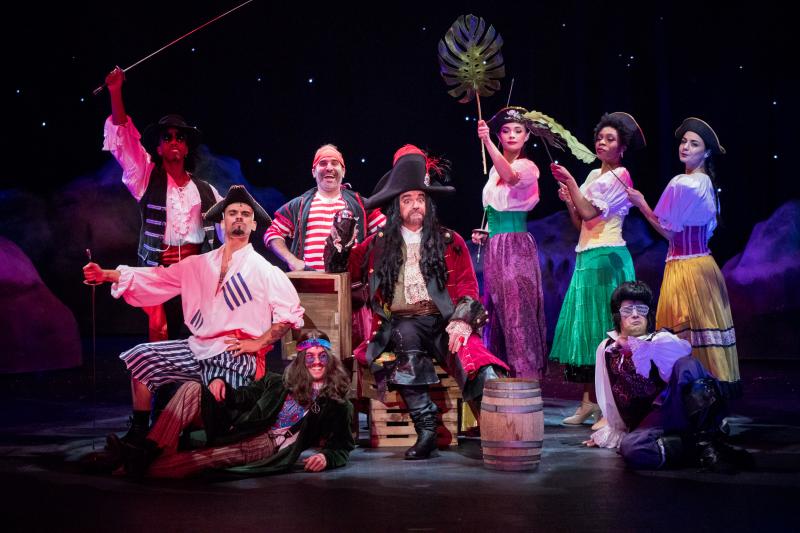 Audiences have until next Sunday - December 23, to be precise - to experience what is likely to become a Music City holiday tradition: Peter Pan and Tinker Bell: A Pirate's Christmas at Tennessee Performing Arts Center's James K. Polk Theatre. A somewhat Americanized version of a peculiarly British seasonal entertainment, aka "panto," Peter Pan and Tinker Bell is a winning blend of theater, Christmas pageant, vaudeville and British music hall all rolled into one bright, shiny, kind of weird, but altogether fun and rather unique holiday-themed package that's a welcome addition to yuletide revelry.
What with all the expected productions of Christmastime theatrical offerings - there are more productions of A Christmas Carol (that chestnut of a Charles Dickens Christmas story that provides fodder for all manner of diversions) and Miracle on 34th Street (arguably, the worst musical ever written) than you can shake a stick at, truth be told - Peter Pan and Tinker Bell: A Pirate's Christmas is an unexpectedly welcome addition to the entertainment calendar, featuring an intriguing collection of notable performers in an art form with which audiences are probably unfamiliar, but to which they are sure to warm the very moment snow begins to fall in Polk Theatre.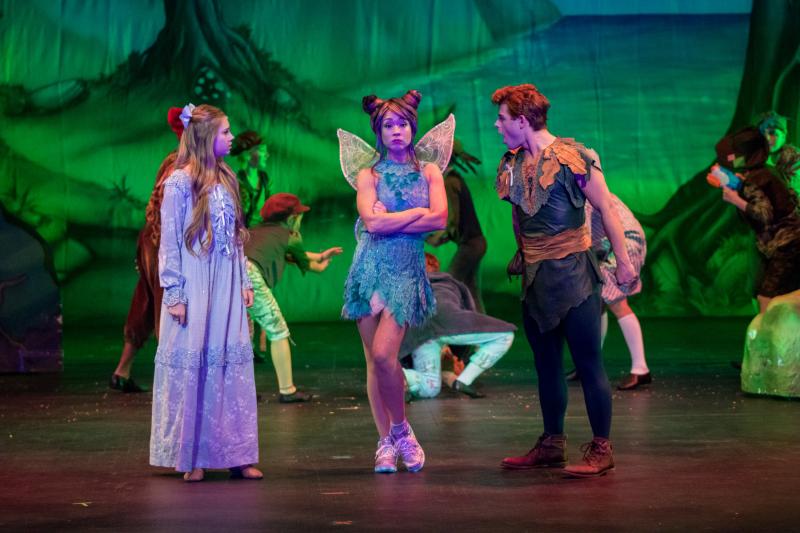 Thankfully, director BT McNicholl (who was last represented on TPAC's Andrew Jackson Hall stage by the national touring company of Cabaret in 2017 and, even before that, by 101 Dalmatians - The Musical, starring Rachel York, for which he wrote the book) ensures that all the moving parts of a sizable production (and all the disparate, vibrant personalities are on the same page) are brought sharply into focus for maximum impact.
McNicholl's cast for Peter Pan and Tinker Bell: A Pirate's Christmas - which features teen heartthrob Garrett Clayton (Link Larkin from NBC's acclaimed live musical version of Hairspray, among a host of other things) and Nashville's own - and American Idol finalist - Diana DeGarmo, who's gained a following among local theaterati with her critically acclaimed (which means I wrote good notices about her) performances in Studio Tenn's The Wizard of Oz and Grease, in the eponymous title roles - also includes Broadway veteran John O'Hurley (perhaps best known to audience members of a certain age as Seinfeld's J. Peterman), fresh off his most recent run as Billy Flynn in Chicago at Studio 54; up-and-coming Warner Music Nashville recording artist Tegan Marie (making an impressive theatrical debut as Wendy); So You Think You Can Dance top-five finalist Clarice ORdaz (as the gorgeously exotic Tiger Lily); and actor Ben Giroux (from Nickelodeon's Henry Danger), who very nearly steals the show with his perfectly timed comic delivery.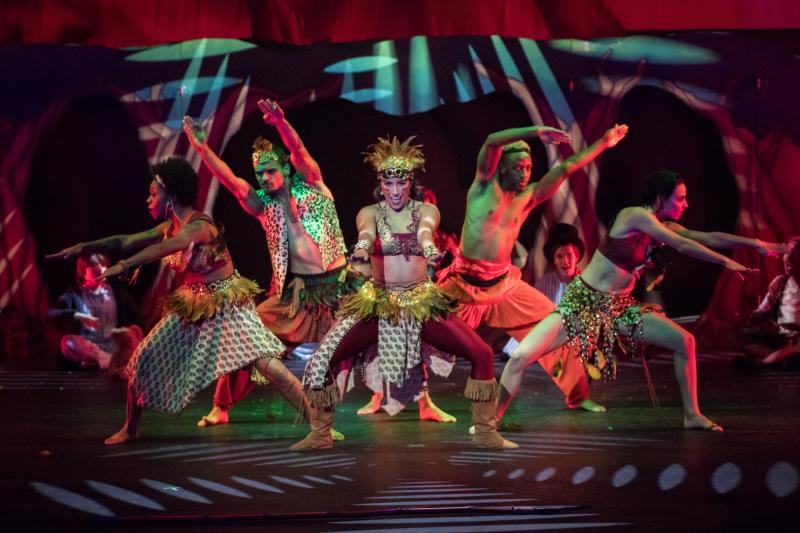 Their casting in Lythgoe Family Panto's first-ever Nashville production further exemplifies the notion (one of the enduring traditions of panto, actually), of celebrities joining in on the seasonal fun and lending a certain starpower to the festivities in order to entice theater-goers to see the show. And, if that's not enough, there's an awfully sweet dog onstage as Nana, the darling family's beloved canine, to win your hearts over to something new.
If you are still in want of more, the cast (both human and dog) are joined onstage by a number of local youngsters who alternate in the roles of Michael and John Darling and as Peter Pan's coterie of Lost Boys, who help give Neverland a shot of Tennessee-flavored adrenalin. At the Friday night performance we reviewed, Lucas Shane of Hermitage played Michael, with Franklin's own Jackson Nolan as John - both of whom proved to be capable actors possessing more than a little stage presence while holding their own among their more "seasoned" co-stars and a multi-talented singing/dancing ensemble.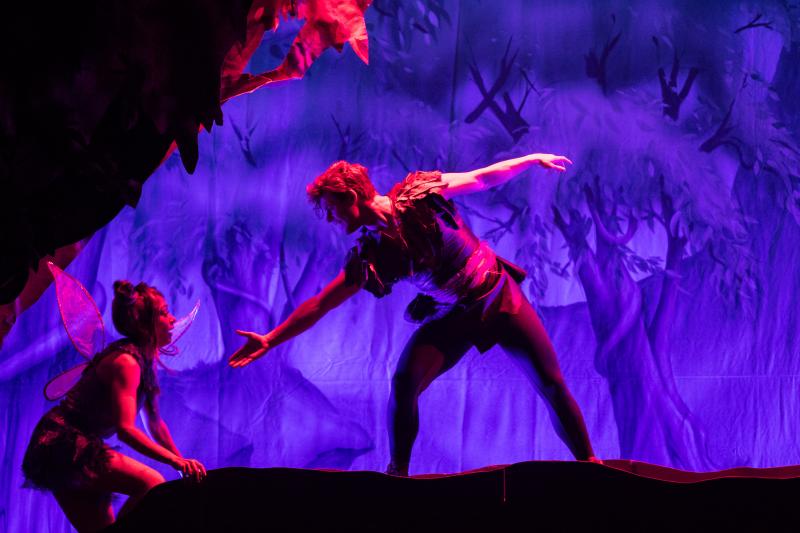 What is perhaps most interesting about panto is its storied past, which has its roots in commedia dell'arte and which grew out of the tradition of the British music hall and vaudeville - which is apparent as soon as the lights go down in the Polk Theatre and the stage is illuminated for the cavalcade of talented performers to strut their stuff in a version of Peter Pan that's more amusing than what you've encountered before. J.M. Barrie's story is "filled out," if you will, with a contemporary musical score, enough double entendre to fuel countless French farces, and generous helpings of slapstick comedy and tongue-in-cheek humor to satisfy the most sophisticated connoisseur of such ribaldry.
Christmas pantos, more often than not, are based upon well-known children stories and holiday tales that audiences are certain to be familiar with, peppered with local references (nothing Nashville-centric is sacred, with everything from hot chicken to the Parthenon, Tootsie's Orchid Lounge to pedal taverns and bachelorette parties providing the punch lines for many of the jokes included by Kris Lythgoe in the updated Peter Pan script) that guarantee audiences are responding raucously, and featuring songs familiar enough to help set the mood and to further enhance the storytelling with musical theatre aplomb.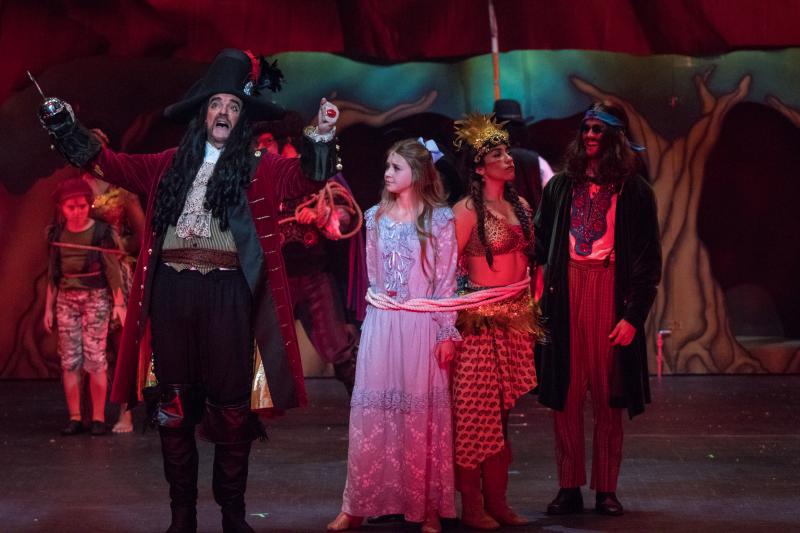 Opening with Nat King Cole's 1948 hit "Nature Boy," performed by DeGarmo's Tinker Bell and Tegan Marie's Wendy Darling, the score for Peter Pan and Tinker Bell: A Pirate's Christmas is an eclectic mix of tunes, to be certain - Giroux (playing Smee) and the company really open things up with a well-choreographed (credit goes to Spencer Liff for the show's creative dance steps that are high-spirited and high-energy) version of "Uptown Funk," followed in short order by The Village People's "In The Navy," which serves as the riotous intro for Captain Hook (O'Hurley) and his wacky cadre of pirates (which include characters that riff on Michael Jackson, Elvis Presley and John Lennon, complete with groan-worthy snatches of dialogue that prove to be just as laugh-worthy), DeGarmo's soul-stirring "Think" offers a worthy salute to the inimitable Aretha Franklin, and the second act opening "Hooked on a Feeling" which gives O'Hurley an opportunity to put his own way with a song fully on display. As Wendy, Tegan Marie performs her own recent hit, "I Know How to Make a Boy Cry" with a dramatic intensity that shows off her estimable capabilities.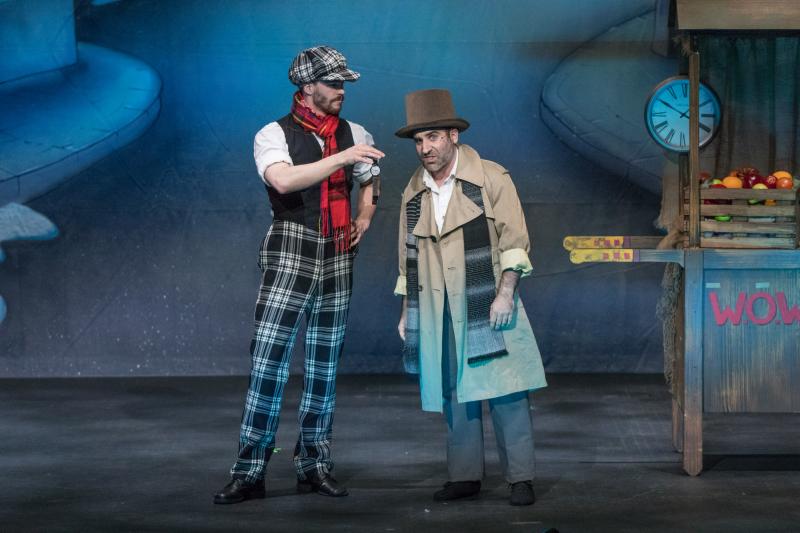 In the meantime, Captain Hook endeavors to exact revenge on Peter Pan, while engaging in all sorts of slapstick and enough onstage hijinks to help the most harried moms and dads in the audience find a much-needed respite from a busy and tumultuous holiday season - while the youngest members of the crowd joyfully take part in the festivities playing out in the theater, obviously loving all the shenanigans taking place. Frankly, we can't imagine another Christmastime diversion that provides the much-sought-after "something for everyone" that's provided by Peter Pan and Tinker Belle: A Pirate's Christmas. In fact, we can't wait to see what they have in store for us next year when Nashville audiences will most certainly be clamoring for more.
Peter Pan and Tinker Bell: A Pirate's Christmas. Written by Kris Lythgoe. Directed by BT McNicholl. Choreography by Spencer Liff. Musical direction by Doug Peck. Produced by Lythgoe Family Panto and Tennessee Performing Arts Center at TPAC's James K. Polk Theatre, Nashville. Through December 23. For more information, go to www.tpac.org or call (615) 782-4040. Running time: 2 hours (with one 20-minute intermission).
All Photos by Derrick Minyard
Jeffrey Ellis is a Nashville-based writer, editor and critic, who's been covering the performing arts in Tennessee for more than 35 years. In 1989, Ellis (read more...)